Winning combination
by
Dave Ornauer
October 15, 2009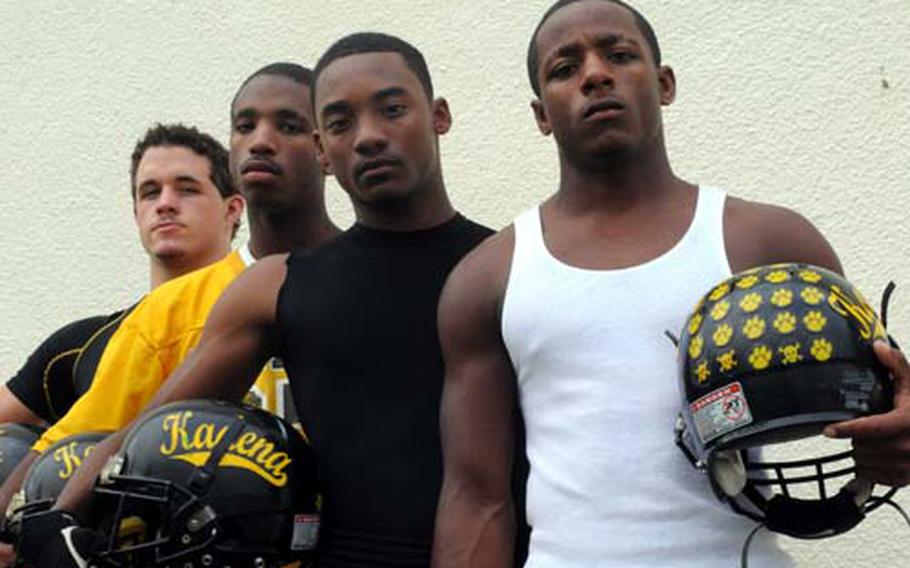 KADENA AIR BASE, Okinawa — Kubasaki football coach Fred Bales could only shake his head in grudging admiration. Kadena junior halfback Shariff Coleman carried the ball toward the left side of the line, saw it bottled up and cut back to the right without losing speed for a 30-yard gain.
"Man, did you see that kid stop on a dime?" Bales asked of nobody in particular. "Unbelievable."
Coleman's run was part of the Panthers' 528 rushing yards on 54 carries with seven touchdowns en route to a 43-0 romp over the Dragons and a 3-0 sweep of the best-of-five Okinawa Activities Council championship series.
Coleman, Thomas McDonald and Lotty Smith, all juniors, are just the latest running-back set unveiled by Kadena coaches Sergio Mendoza and Steve Schrock, groups that have paced the Panthers (4-0) to the past three Class AA title games and a championship in 2007.
"We've been lucky that we've had those types of players," Mendoza said.
But this group above all others, Mendoza said, is doubly special. "We've relied on natural ability. These guys have natural ability and a strong work ethic," he said.
That work ethic, Mendoza said, was evident over the summer. Every day, the players would condition for three hours in the searing Okinawa heat, lifting and pulling tires, running hills, lunging, weightlifting, even doing squat walks with 45-pound weights on their shoulders.
"It was tough," Mendoza said. "I think they were all at the point where they wanted to quit."
But 20 varsity and 20 JV players stuck it out. Though grueling, in the end, the conditioning was "rewarding," Coleman said.
Their diverse offense helped Kadena up its winning streak over Kubasaki to 14 straight, hold the Dragons scoreless for 11 straight quarters and outscore Kubasaki 120-0 since the first quarter of the first game, a 27-10 Kadena victory on Sept. 4.
Mendoza and Schrock have worked toward a good balance between ball carriers, so if the right hand doesn't get you, the left one will. Coleman cited a play in which the Dragons' defense yelled, "Watch for Shariff!" and McDonald carried instead for a 23-yard touchdown.
"It gives us a lot of combinations," Mendoza said, adding that the backs don't compete for carries. "They don't get jealous of each other. I had a really selfish back once. He could have been the best I ever coached, but it was all about him. These guys aren't like that."
The backs and line also hold a solid respect for each other. "I'm always glad to go out and give it my all for these backs," senior center Tyler Broome said. "When one of us scores, it's like we scored."
"You feel that if you're running behind Tyler, Sean O'Neil, Big Mikey (Correa), pretty much the whole line … you feel happy. You feel protected," McDonald said.
Bales and other coaches have certainly taken notice over the years.
"They have the ability to do a lot of things," said coach Tim Pujol of Yokota, a 39-13 loser to Kadena in the 2007 Class AA title game and 37-30 loser in the 2006 semifinals. Kadena visits Yokota on Saturday in the first regular-season interarea clash between the schools.
"If you don't get hold of those guys before they get rolling, it's pretty much over," Bales said. "They're well-coached, they have a great line, they execute quickly. They have a great triggerman in (quarterback Stan) Schrock. They're hitting on all cylinders."
Mendoza hopes that hitting on all cylinders will continue all the way to a second Class AA title in three years — and erase the bitter taste left in the Panthers' mouths after their 22-21 Class AA title game loss at Seoul American in November.
After that game, "the kids vowed to do whatever it took to not feel that way again," Mendoza said, adding that all the hard work they've done, through the summer and through practices and games thus far, "we've done everything possible."
Whatever the outcome, it won't be the last Okinawa and the Pacific sees of Coleman, McDonald and Smith. They're all due to graduate in 2011, and that means one more football season and two track and field seasons — Mendoza coaches the Panthers track team as well.
Football or track, it makes no difference in one coach's eye.
"The track season has already started," Bales said. "They're just wearing football uniforms."