Wiesbaden wrestler Gagnon overcomes injuries, surgeries in title pursuit
---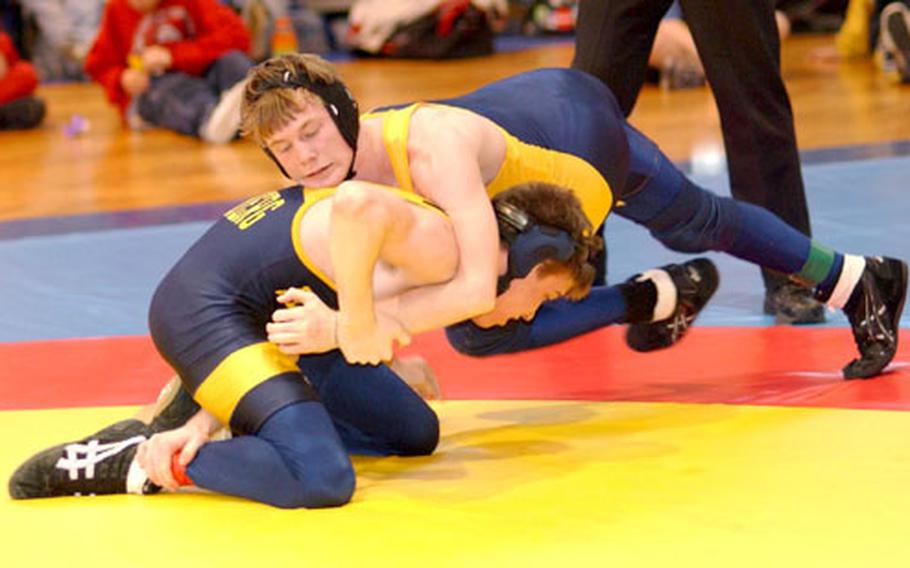 WIESBADEN, Germany — Considering what Wiesbaden senior Tony Gagnon has been through in the past year, wrestling in this weekend's European championships might seem like a walk in the park.
Last season, Gagnon dropped a 5-4 decision in overtime in the 145-pound final. Still, the second-place finish was remarkable because he wrestled all season with a torn anterior cruciate ligament and a 6-inch titanium plate in his leg to heal a fracture suffered while playing football.
Gagnon, 18, then had an operation to repair the torn ligament and underwent jaw surgery, which required him to forgo solid food for six weeks.
Because of all of his injuries and surgeries, Gagnon didn't start physical training until October — he missed his senior football season.
But Gagnon took it all in stride, making what contributions he could.
"When he got hurt, he was still there at [football] practice with the team every day," Wiesbaden football and wrestling coach Steve Jewell said. "Most kids don't do that. They skip practice, saying they have to rehab. Tony didn't. He's the ultimate team player."
In December, Gagnon finally returned to the wrestling mats.
"I was inhibited from using some moves," he said about going into competition with a surgically rebuilt knee, "but I was surprised at how well it held up."
So was his doctor.
"The doctor said there was some risk of serious long-term injury," said Gagnon, who took up wrestling as a Vicenza seventh-grader and who's been at Wiesbaden for his entire high school career.
"Had I known that before I started wrestling again, I would have quit."
Instead of quitting, Gagnon has put himself in position to win the 145-pound European title that eluded him last year. He credits his teammates for bringing him back to that point.
"I'd have to say that Matt Alexander is responsible for 50 percent of where I am," Gagnon said of his three-year wrestling partner, Wiesbaden's 160-pounder.
Also helping, Gagnon said, were Wiesbaden 189-pound contender Chad Abramson, whose height, strength and quickness provide a severe challenge, and 275-pounder Gregg Surpris, who provides encouragement and tension-breaking humor.
"We're best friends," Gagnon said of the wrestling quartet.
Alexander said the benefits of quality opposition in practice run both ways.
"His technique is really good," Alexander said. "Normally in Europe, wrestlers with good technique are really dispersed in different schools. Getting to wrestle someone that good every day is a real advantage."
Gagnon said he finds another advantage in film study.
"I love to watch tape," he said. "I've have a specific plan for each man I wrestle, based on weaknesses I've seen that I can exploit."
Although Gagnon says "basics, basics, basics" are the keys to victory, Jewell sees plenty of creativity in Gagnon.
"He understands the sport," Jewell said. "When he sticks a guy, it's never the same way twice. I'll ask him about the move and he'll say, 'It's just something I saw.'"
In the 145-pound class this weekend at the Wiesbaden Army Airfield gym, Gagnon will see tough competition from the other regional champs: defending 140-pound champion Karl Saucier of Ramstein; Alconbury's Kyle Lucas; and Vicenza's Gary King.
"Whatever he gets," Jewell said, "he deserves."
European wrestling championships
When: Wrestling begins at 10 a.m. Friday, and at 10:30 a.m. Saturday.
Where: Wiesbaden Army Airfield gym.
Admission: Both days — $5 adults, $3 students; daily — $3 adults, $2 students.
At stake: Individual crowns in 13 weight classes and divisional team titles.
Returning champions: Johnathan Scott, London Central; Jesse Painter, Würzburg; Michael Monaco, Naples; Karl Saucier, Ramstein; Andrew Zachar, Heidelberg. Seedings for all weight classes will be released on Thursday.
Raymond T. Conway/Stars and Stripes
Wiesbaden's Tony Gagnon, top, tries to flip Heidelberg's Jeremy Brady during the 2004 DODDS Division I championships in Schweinfurt, Germany. Gagnon won the Div. I title last year despite wrestling with a torn ACL.
---
---
---
---