Wiesbaden's Jensen enjoying role as mentor
---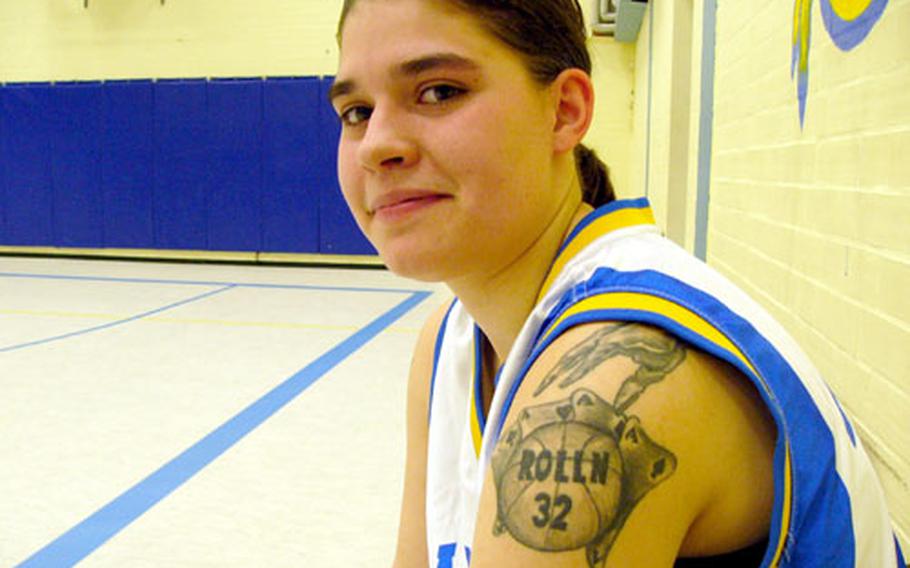 WIESBADEN, Germany — In her fourth year as a starter for the Wiesbaden varsity basketball team, Nancy Jensen has become more than a game-time mainstay. She has also become a mentor to a youthful Lady Warriors squad that suits five freshman.
"It makes me feel good to play with all the young players," she said Tuesday, moments after leading a defensive charge that helped Wiesbaden pin the first defeat of the season on visiting Kaiserslautern (5-1), 37-21.
"I know I'll be leaving something behind when I'm gone."
Helping her team upset one of the favorites for this season's European Division I championship is a good feeling for Jensen. It's even better, she said, than winning last fall's doubles title in tennis with partner Jessica Smith.
"Basketball's my main sport," said Jensen, whose progression in European doubles went from third as a sophomore to second as a junior to last October's title.
"It was fantastic to beat (Kaiserslautern). They came in here hoping to roll over us, but we were more connected, more of a family, than we were in our earlier games."
"Family" looms large in Jensen's view of sports teams, "especially here at H.H. Arnold High School," she said, using the school's official name. "The community comes together around the team, the teachers come together around us, and each player watches out for the other."
Jensen watches out for everybody, a big sister to freshmen Leandra Thomas, Shealy Williams, Jill Frederickson, Keyosha Wilcox and Taylor Dore.
"She's even out there warming up the JV players before their game," girls basketball coach Jim Campbell said.
On the floor, the 6-foot Jensen, who is averaging eight points, nine rebounds and 3.5 steals per game, becomes the family's defender, its hustling but tranquil attack dog.
"I really have Nancy focus on post defense," Campbell wrote Wednesday in an e-mail. "She does an excellent job of post defense and she controls the paint. She always holds opposing teams' forwards to low statistical games."
Tuesday's game, which evened Wiesbaden's record at 3-3, was a case in point. Only one Lady Raiders player, All-European Latanya Wilson, scored in double figures (11). Kaiserslautern found the middle closed to it by Jensen and fellow senior Lakendra Washington. Moreover, Jensen and Washington swept the glass with 12 and 11 rebounds, respectively.
Jensen's on her way to a bigger stage — playing basketball at NAIA Missouri Valley College in Marshall, Mo. — but said she has relished her time as a Lady Warrior thoroughly.
"Playing overseas has given me a greater cultural experience," she said, "getting to travel and getting to know different people from different places."
She's not through being a Lady Warrior. There's the matter of the European tournament Feb. 20-23 in Mannheim to deal with.
"I think we have a good chance," she said of the Division II title Wiesbaden will vie for in Mannheim. "We have to keep working hard."
And when things get stressful, Jensen indicated the Lady Warriors are welcome to look to her, just as they have all season.
"I don't get the jitters much anymore," she said. "You just go out and play your game."
---
---
---
---