Wiesbaden men rebound from loss, win U.S. Forces title
by
Rusty Bryan
April 4, 2006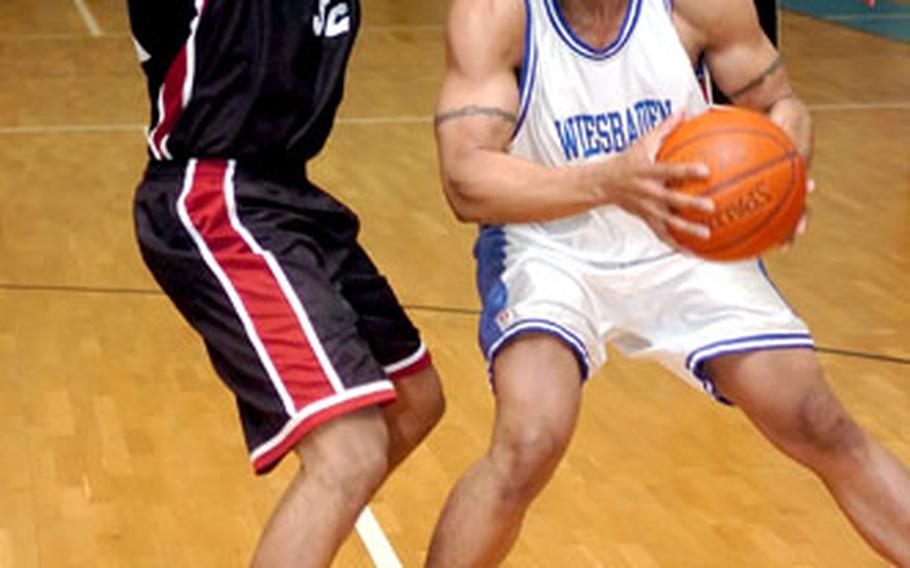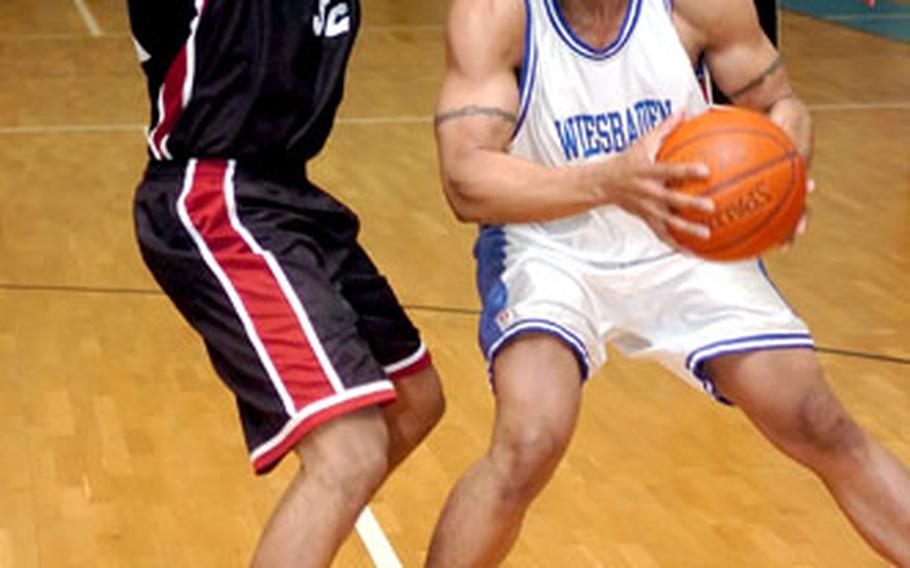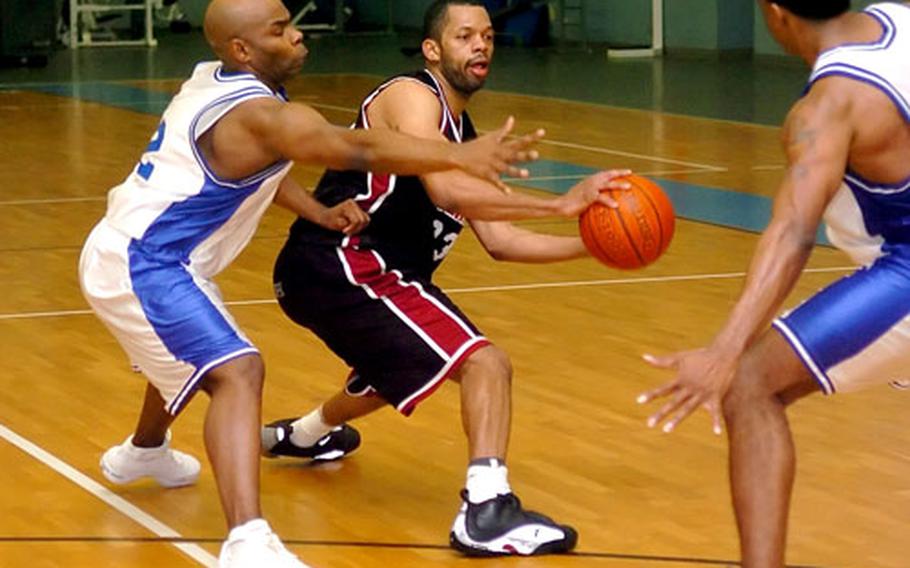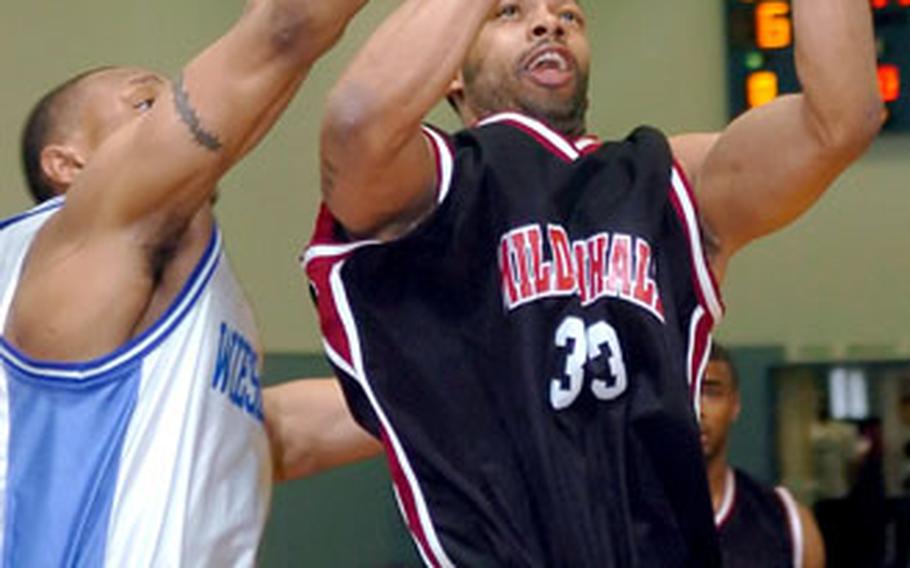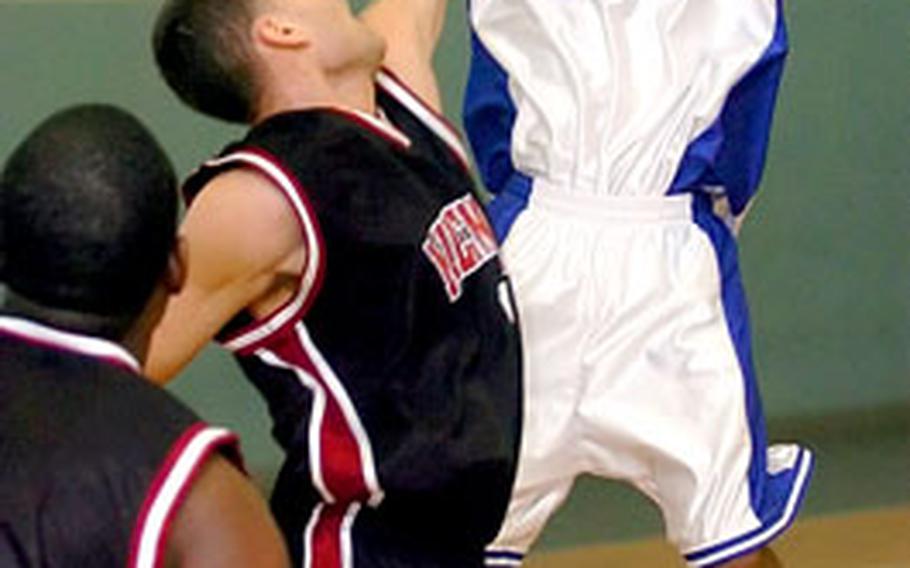 KAISERSLAUTERN, Germany — The Wiesbaden Eagles will value their U.S. Forces Europe basketball trophy for a long time.
"We had to dig deep," said Wiesbaden's Londaryl Perry after the Eagles rebounded from an 84-69 loss to the Mildenhall Marauders in Sunday's first championship game and held off the Air Force champions 84-79 in the "if" game that followed. "We had to fight."
The Eagles were in a couple of struggles Sunday. First, there was the emotional burden of concern for their teammate Phileas Williams. The 6-8, 320-pound Williams, who led the Eagles to the Army-Europe championship, was placed in intensive care Saturday with blood clots in his lungs.
"All we've been doing is praying for him," said Perry.
The Eagles' second fight was against a taller Mildenhall squad that fielded three legitimate three-point shooters in Cory Fletcher, Felton Scott and Reggie Minton.
Fletcher was 5-for-6 from behind the arc in Sunday's first game, en route to 36 points.
In the decider, the trio sank a combined 10 of 27 treys.
"After the first game, we re-evaluated our offense and adjusted our man-to-man defense," Perry said when asked how his team reacted to being outgunned in the opener. "We had to go man. If we had played zone, they would have eaten us up. They're taller than we are, and they have those three-point shooters."
Wiesbaden's three-point shooter, Patrick Bates, turned unexpectedly frigid on Sunday. After sinking his first two three-pointers, Bates missed his next 11 tries, scoring 12 points in the opener and just five in the title showdown. With Bates cold and Williams out in the middle, Perry took charge.
"I'm the leader on this team," he said, "and you've got to lead by example."
Perry scored 20 of his game-high 32 points in the first half, including a three-pointer from 10 feet beyond the arc at the buzzer for a 42-31 halftime edge. It didn't hurt Wiesbaden's cause, either, that the Eagles cut their first-half turnovers from 10 in the first game to five in the second.
With an 11 point-lead halfway through, the game became a matter of defense and free throws for the soon-to-be champions.
"Everyone did what he had to do," summed up Wiesbaden player-coach William Satterwhite of the suffocating defense his team unleashed.
And Wiesbaden was drawing fouls, too, going to the line 23 times after halftime. It sank a mediocre 10 of them, but Deon Pearman went 6-for-8 from the stripe in the final 3:08 to put the game away.
---
---
---