Wiesbaden men, Heidelberg women win on second try
by
Rusty Bryan
March 20, 2007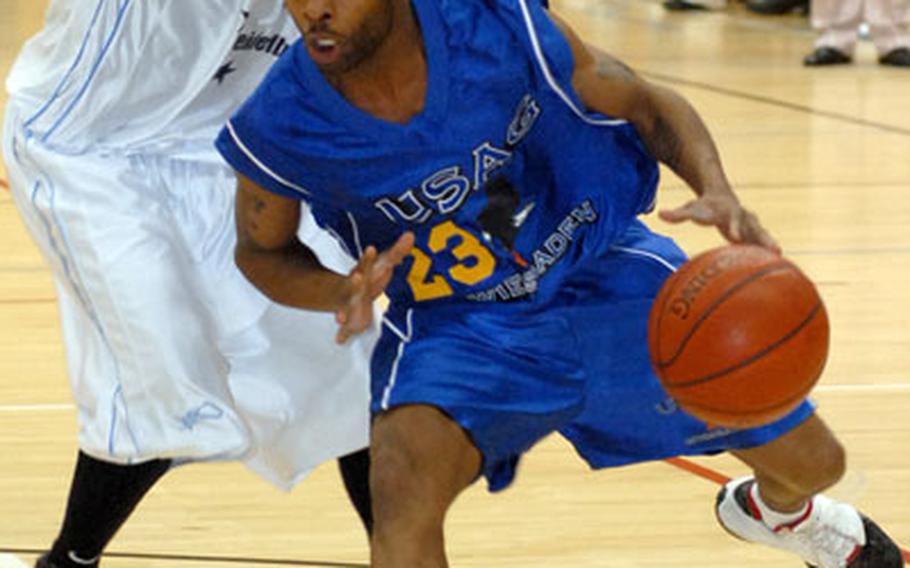 WIESBADEN AIR BASE, Germany — Wiesbaden's men and Heidelberg's women — both winners-bracket champions going into Sunday's title games of the 2007 Army-Europe community-level basketball tournament — took the long way to their tournament crowns.
Wiesbaden's men rebounded from a 79-69 defeat to Heidelberg on Sunday afternoon to retain their Army-Europe title with a 73-46 romp over Heidelberg in Sunday night's if-necessary game. Similarly, Heidelberg's women shrugged off a 54-46 afternoon loss to Wiesbaden and put the crown away with a 50-36 victory Sunday evening.
All four teams qualified for the Army-Air Force Final Four tournament scheduled to be played here March 30-April 1.
WomenHeidelberg 50, Wiesbaden 36:"It was all about heart," said Heidelberg's Danielle Brooks after her Lady Generals fended off a late Wiesbaden bid. "Basically, it came down to who wanted it more."
No one wanted it more than Brooks, who scored a game-high 14 points in the title game after fouling out, with 11 points, with 10:25 left in Sunday's first game.
Brooks was one of three Heidelberg players in double-figures in the nightcap. Tourney MVP Jacinta Ojannaka, who posted a game-high 16 points in the opening loss, scored 12 points, and guard Fontella Ross added 10.
Atasha Potter, who scored 15 points in the first game and a team-high 11 in the nightcap, led Wiesbaden, which was playing its third game of the day.
MenWiesbaden 73, Heidelberg 46:After being pushed around by Heidelberg big men Rodney Bailey, Kenyatta Mack and Harry Davis in the first showdown, Wiesbaden changed its plan of attack.
"One of the things we decided to do was get up and down the court," said Wiesbaden's Patrick Bates after he scored a game-high 14 points in the near-40 point turnaround the Eagles fashioned in Game 2. "In the first game, they bodied-up on us and took us out of our game."
Wiesbaden coach William Satterwhite said up-tempo was the only way to go against a veteran Heidelberg team that was playing for the third time on Sunday. The Generals eliminated Mannheim 45-41 in a noontime losers-bracket final.
"We made a commitment to run," Satterwhite said. "We were determined not to let them slow the game down."
Wiesbaden's Mike Joyner, 5-for-6 from the floor in his 12-point night in the title game, followed the plan to the letter. His teammate, tourney MVP Chris Everett, added seven points after a 20-point outing in the opener.