Girls basketball Athlete of the Year
Weinland helped Mustangs dominate foes
---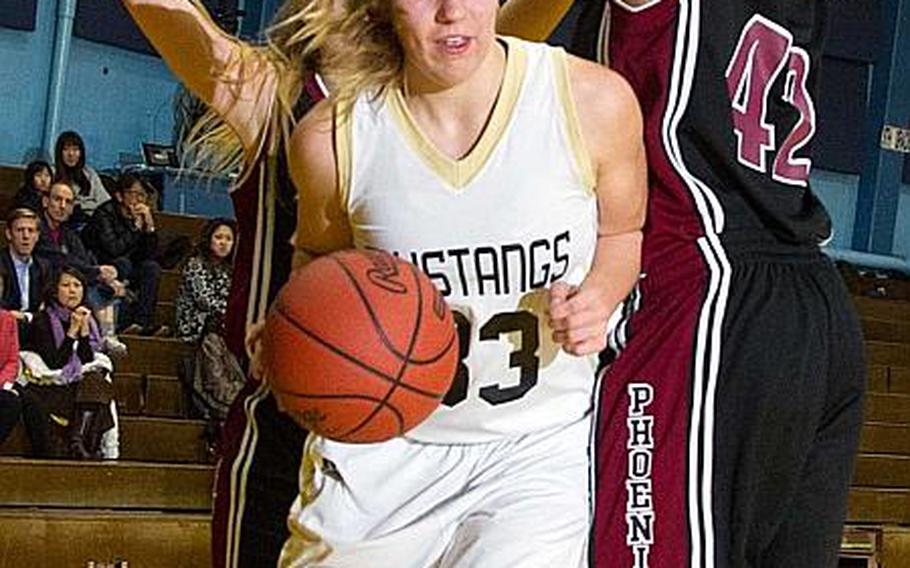 Mia Weinland and American School In Japan faced some serious trouble.
Their mission to end a 22-year Far East Girls Division I Basketball Tournament drought was in peril at Academy of Our Lady of Guam's hands in last Wednesday's semifinal.
The Cougars led the Mustangs by four at half and the game was tied 31-31 entering the fourth quarter when Weinland picked up her fourth foul.
A substitute appeared at the scorer's table. Thinking it was for her, Weinland turned and trotted toward ASIJ's bench, where coach Julie Rogers, needing her tallest scorer and rebounder, told her: "I'm not taking you out. Use your head."
She stayed in the game, did not foul out and ASIJ outscored the Cougars 11-4 in the final quarter, winning 42-35. The Mustangs finished the mission the next day, beating Kadena 57-37 for the title.
"She's really a smart player as well as an intense player," Rogers said of Weinland, a 6-foot-3 junior who averaged 10.7 points and 7.2 rebounds for a Mustangs team that went 20-2 in the just-concluded season.
It was a team on mission to atone for a 45-32 loss in the D-I finals last year to Nile C. Kinnick. ASIJ lost twice in November's Hong Kong International School Holiday Tournament, then ran the rest of the table, capturing the Kanto Plain title and weren't pressed at all until Far East.
For her efforts, Weinland has been named Stars and Stripes Pacific's girls basketball Athlete of the Year. In the fall, she earned Most Valuable Player honors in the Far East D-I Volleyball Tournament, which ASIJ also won.
It wasn't so much the numbers that Weinland put up, but how she went about her business: Quietly, yet with the same intensity shown by her senior teammates Liz Thornton and Joey Yamada, whom many teams focused on during the season.
"You really don't know she's out there," said Kadena coach Willie Ware. While Weinland scored 23 points on the Panthers, "she did it quietly. She does her job, she doesn't complain, just in there quietly battling, doing what needs to be done."
"But people shouldn't be fooled," Rogers said. "She is just as competitive and intense as the next kid out there."
She also doesn't feel the need to always be out front in the scoring or rebounding departments and won't be the first to ask to see the scorebook after a game, Rogers said.
"She's pleased that the team is successful; she makes everybody else on the court look good, but doesn't necessarily need to take the credit for it," Rogers said. "She's not only fun to play basketball with, she's a nice person off the court."
Weinland edged a crowded field of candidates, including sophomore guard Rheagan Wyche of Division II champion Daegu, D-I Tournament MVP Destiny Castro of Notre Dame and D-II Tournament MVP Debb Avalos of E.J. King.
Stars and Stripes Pacific All-Far East girls basketball teamMia Weinland, American School In Japan, Kanto Plain All-Star, All-Tournament at Far East Division I for champion Mustangs.
Destiny Castro, Notre Dame, Guam regular season's leading scorer, named Most Valuable Player of Far East D-I for sixth-place Royals.
Debb Avalos, E.J. King, DODDS Japan's leading Division II scorer, named MVP of Far East D-II Tournament for fourth-place Cobras.
Rheagan Wyche, Daegu, sophomore point guard for Korea regular-season and Far East D-II champion Warriors.
Lari Robertson, Daegu, senior forward for Korea regular-season and Far East D-II champion Warriors.
---
---
---
---