Weather takes a large bite out of weekend schedule
---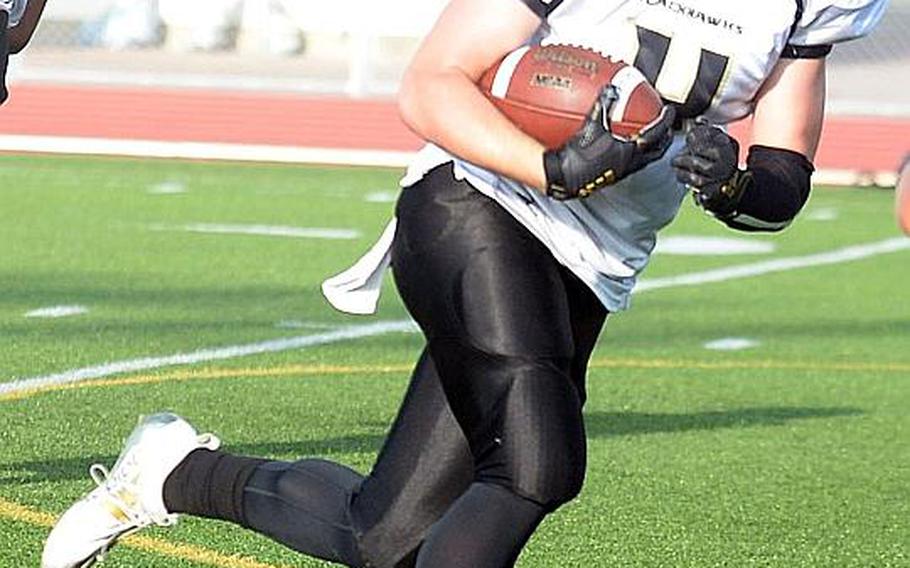 CAMP HUMPHREYS, South Korea – Citing concerns over players' safety while traveling through possible stormy conditions caused by Super Typhoon Hagibis, DODEA-Japan officials announced Thursday that all sports games involving its teams were canceled.
"Due to Super Typhoon Hagibis' storm path, DODEA-Pacific East Schools has cancelled (sic) all weekend school events," the district announced in a memo authored by DODEA-Japan athletics community superintendent Gregg Mowen.
"They (DODEA-Japan officials) would rather that everybody stay safe at their home bases, rather than be on the road," Matthew C. Perry athletics director George Williams said. "This was out of safety considerations … They didn't want to be tracking seven or eight teams on the road in a possible storm."
Super Typhoon Hagibis is forecast by the Joint Typhoon Warning Center to pass directly through the Tokyo-Kanto Plain area late Saturday and early Sunday morning as a Category 2-equivalent storm.
Most of the canceled games involved inter-district travel by football teams to and from DODEA-Japan:
-- Robert D. Edgren at Daegu, a Division II game slated for 3 p.m. Saturday. Edgren was slated to travel to Korea on Friday and return to Japan on Sunday, flying through Tokyo each way.
-- Yokota at Osan, a D-II contest scheduled for 6 p.m. Saturday, involving similar travel arrangements to and from Korea, flying out of and into Haneda Airport.
-- Humphreys at Nile C. Kinnick, a Division I game scheduled for 6:30 p.m. Friday. Humphreys was due to travel to Japan on Thursday and to fly back to Korea at noon Saturday – around the time that heavy winds are forecast to start impacting the Tokyo area.
-- Zama at Matthew C. Perry, a D-II game scheduled for a 7 p.m. kickoff – the second straight year Perry has had its homecoming game canceled. Zama would have traveled by bus to Marine Corps Air Station Iwakuni on Thursday and back on Saturday morning.
"They're looking out for the teams and the big picture," Daegu coach and athletics director Blake Sims said. "I totally understand the decision."
"I think it's a good call, especially with the weather," Humphreys senior running back Brenton Carver said, adding, though, that he viewed it as "an opportunity taken away from us."
DODEA-Pacific football teams schedules are capped at seven games per season. Humphreys was only scheduled for six games, has played just two and only has three remaining. The Blackhawks host Kinnick on Nov. 1 in their last scheduled game of the season.
Only two football games involving DODEA teams are not threatened by Hagibis and will go on as scheduled: Kubasaki at Kadena at 6 p.m. Friday and Tiyan at Guam High at 7 p.m. Saturday in the first round of Guam's island playoffs.
With just three weeks left in the season, there's precious little room to make up games, save for Nov. 1-2 when all Division II teams have the week off. And Zama and Perry are scheduled to play later in the season, Oct. 25 at Zama.
"We will do our best to reschedule these sporting events and other activities," Mowen said in his memo.
Other sports events canceled were a cross country meet at Yokota, and tennis and girls volleyball matches involving Yokota and E.J. King at Perry.
ornauer.dave@stripes.com Twitter: @daveornauer
---
---
---
---