Watkins makes up for lost time as Panthers win second Petty meet
by
Dave Ornauer
April 5, 2004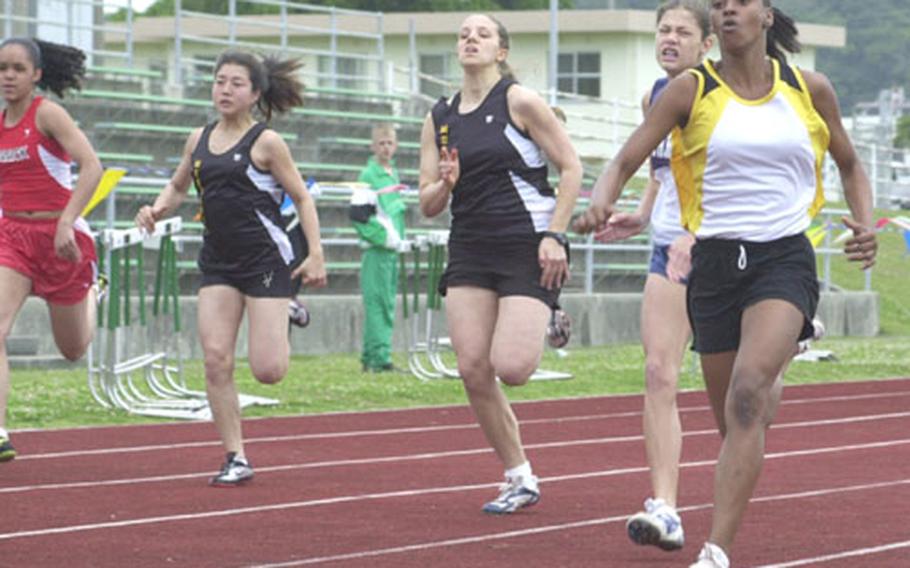 CAMP FOSTER, Okinawa — It seemed an impossible task. Kadena's boys relay team, after dropping the baton on the first exchange, trailed by 45 meters with the two longest legs of the 1,600 medley left to run.
"Watch. He's gonna catch them," a spectator remarked as Panthers speedster Emmanuel Watkins accepted the baton from teammate David McCowan for the third leg, of 400 meters … and turned on the jets.
"All I was thinking was how we were going to catch up," Watkins said after blazing through the 400 in 50 seconds, turning the deficit into a 30-meter lead and eventual victory in 3 minutes, 56.05 seconds, 8.16 seconds better than second-place Kubasaki.
"I didn't think it [baton drop] would happen, but I knew we had the opportunity to come back and I took it."
It was one of four gold medals Watkins won Saturday. He collected five overall, pacing Kadena to the boys title in the Second Annual Dr. Alva W. "Mike" Petty Memorial Track and Field Meet at the stadium named for him.
Kadena scored 125 points, outdistancing St. Mary's International of Tokyo (96) and Japan's Nile C. Kinnick, which managed 83 points with only five competitors. Kubasaki's girls (100) finished nine points ahead of the American School In Japan and 12 in front of Kadena.
Matching Watkins' five gold-medal haul was another medley relay runner bent on coming back, Kubasaki junior Serafina Smith.
Running the 400-meter leg, as Watkins did, Smith erased a 25-meter deficit, passing Kadena's Vanna Carawan on the final turn and never looking back. Kubasaki finished in 4:29.65, 11.36 seconds better than Kadena.
Experience, Kubasaki coach Charles Burns said, led to Smith's performance, which included victories in the 100 hurdles, 400 and 1,600 relays and long jump.
"She's one year older, one year smarter," Burns said. "She's still discovering who she is. The year makes a difference. I can't wait until her senior year. That I want to see."
But of all the achievements at "Petty II," in which every event record was rewritten, the Watkins-fueled medley relay comeback was the most improbable, even surprising coach Jim Daniel.
Keith Loving, running the first of two 200-meter legs, failed to hook up with McCowan on the back stretch. McCowan had to run back 10 meters to retrieve the baton, then restart his engines to get it to Watkins.
"When he got the baton, I knew he would make up ground, maybe put us in the top three and let [anchor runner] Cliff [Johnson] take over," Daniel said. "But he took it all."
Watkins did much the same in the other two relays, the 400 and 1,600, sprinting the 400 meters in 50.87 after claiming the long-jump gold Friday. His 400 victory handed Kinnick's Brenden Lynce his first loss in 11 individual events this season.
But the senior won his three other events — the 100, 200 and 110 hurdles — lifting the short-handed Red Devils into the top three. Lynce, his younger brother Leonard and sophomore Travis Ekmark recorded a 1-2-3 sweep of the 200 and placed in the top six of the 100 and 400.
Brenden Lynce's trifecta included a gold in his very first try at the 100. He sprinted to an event-record 11.46 seconds, mere minutes after breaking the Petty record in the 110 hurdles with a time of 15.63.
He seemed to surprise himself, "especially being the first time in the 100. I'd never run that in my life," he said. "I didn't expect to take first, but things happen. The hurdles, that's a natural for me; I've been running them since the sixth grade."
"Two records in 10 minutes," marveled Kinnick coach Matt Martinez. "That's absolutely amazing."
---
---
---
---