Walk-off single gives Rota DODDS-Europe D-II-III baseball championship
by
Rusty Bryan
May 30, 2010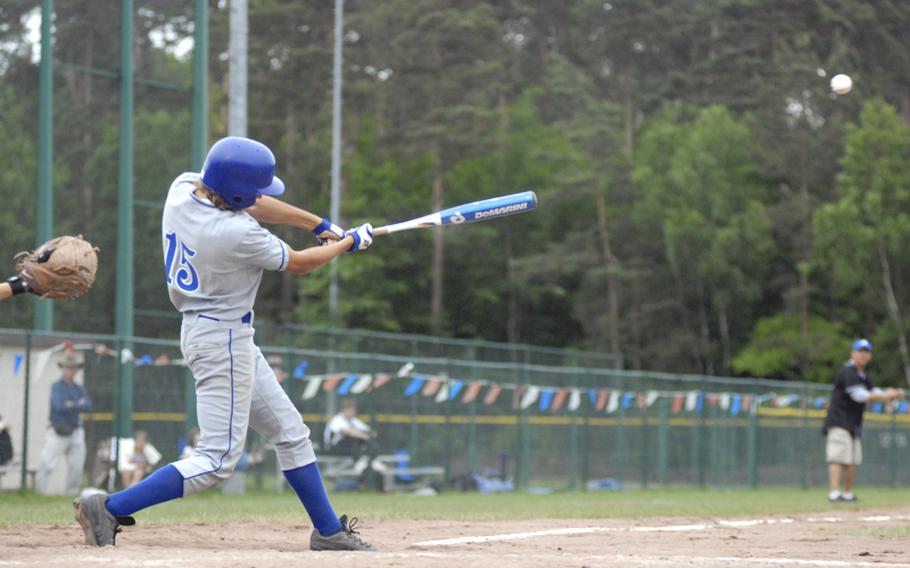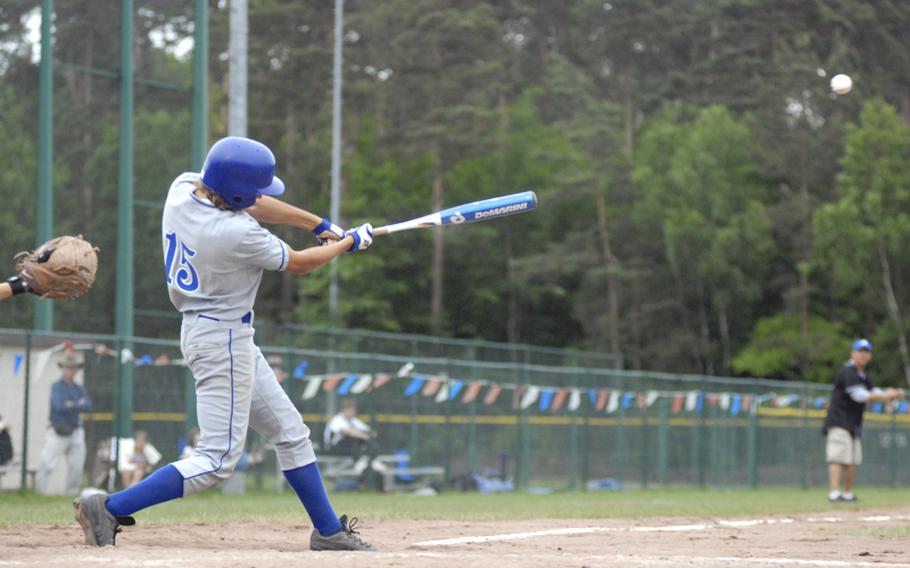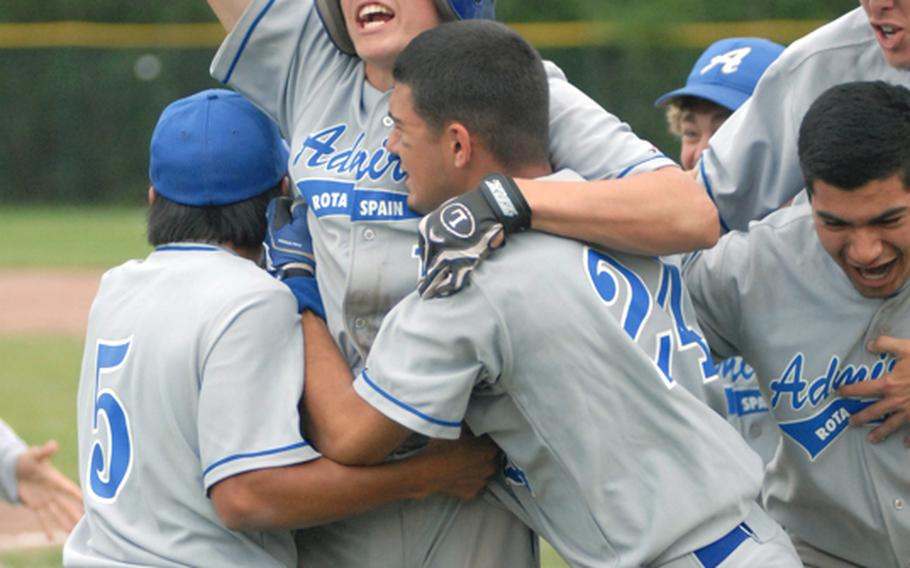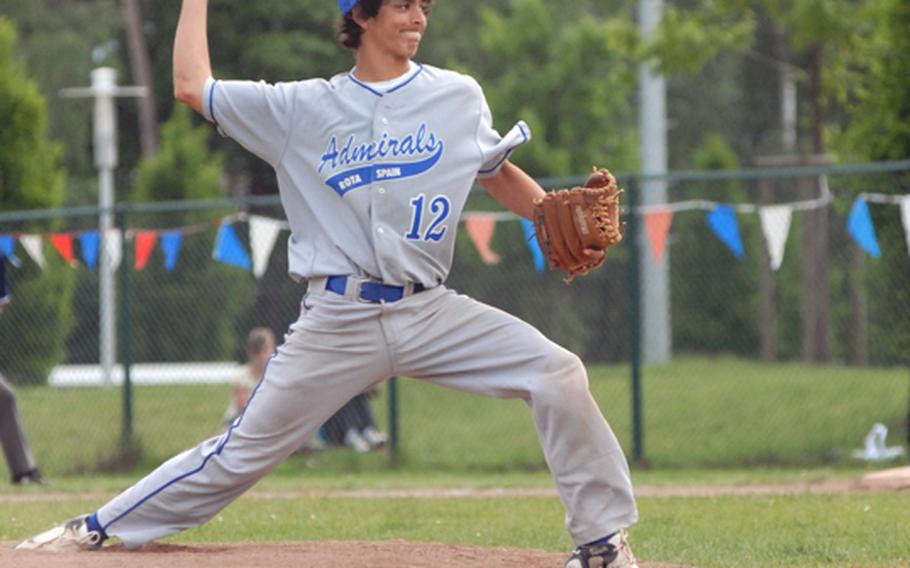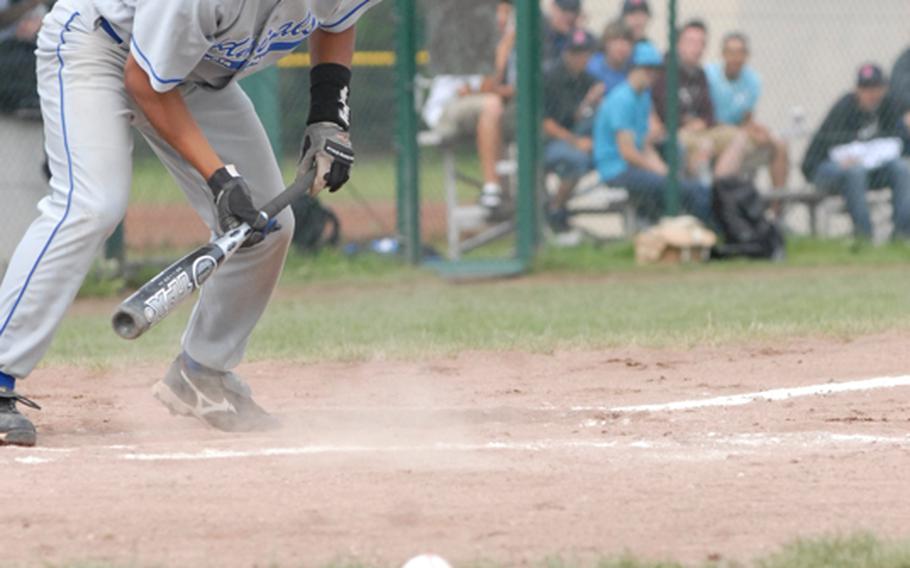 RAMSTEIN AIR BASE, Germany — Rota relief pitcher Tim Morgan delivered the lesson Saturday that the Naples Wildcats will never forget — violate baseball's most hallowed tenets at your own risk.
Stepping into the batter's box in the bottom of the final inning with one out and his team trailing 3-2 in the DODDS-Europe Division II-III championship game after Naples intentionally walked the potential winning run, Morgan laced a single to center field that scored the tying and winning runs in Rota's 4-3 walkoff victory.
"I'm glad I pulled through," Morgan said of his low liner that got past center fielder Ryan Bales and rolled to the fence, allowing Landon Harvey to score. "I had struck out twice earlier."
Harvey had walked to open the inning and took second on a wild pitch by tournament MVP Logan Porchie.
The wild pitch forced Naples to walk the dangerous Cameron Henry, who had started the game on the mound for Rota, to set up a potential game-ending double play.
The move mystified many.
"When they walked him," said Rota coach Bond Henry, "I yelled, 'He's the winning run.'"
Morgan's hit overcame the two runs he had allowed when he took over the pitching chores in the top of the sixth. Bales drove in one of them with a sacrifice fly to the fence in right, and Jono Higgins knocked in the second on a single with two outs.
Zach Smith then walked to load the bases, but Smith, apparently thinking second base was unoccupied, tried to steal the base with Higgins already there. Smith was tagged out trying to return to first to end the inning. Umpires first ruled that Matt Gardner had scored from third on the play before the tag of Smith, but reversed themselves after talking it over and erased what had been the fourth run for Naples.
Morgan, the third Rota pitcher, yielded a lead-off single in the top of the seventh before fanning Porchie on a masterful change-up and retiring Ivo Sabotinov on a low foul pop that Frankie Esquival snagged on a nice running catch in front of the Rota dugout.
Then Dakota Burke bounced off the left field fence to haul in Zach Zimmerman's bid for extra bases.
Morgan had taken over for Harvey, who pitched two innings of no-hit, shutout ball in relief of Cameron Henry. Henry left after reaching his innings-pitched limit of 15 in the third.
A Division III school, Rota fittingly won the combined D-II-III event by eliminating this year's No. 1 seed, D-II Vicenza, 11-4 in Saturday morning's semifinal and downing defending D-II champion Bitburg 12-5 earlier en route to the crown.
Rota won it against Naples' Porchie, who went the distance, allowing nine hits and striking out seven.
"We faced him before," said Morgan, recalling Naples' 4-2 pool-play victory over the Admirals on Thursday. "We knew what to expect this time."