Vilseck, Anderson roar past Patch
by
Warren Peace
October 25, 2009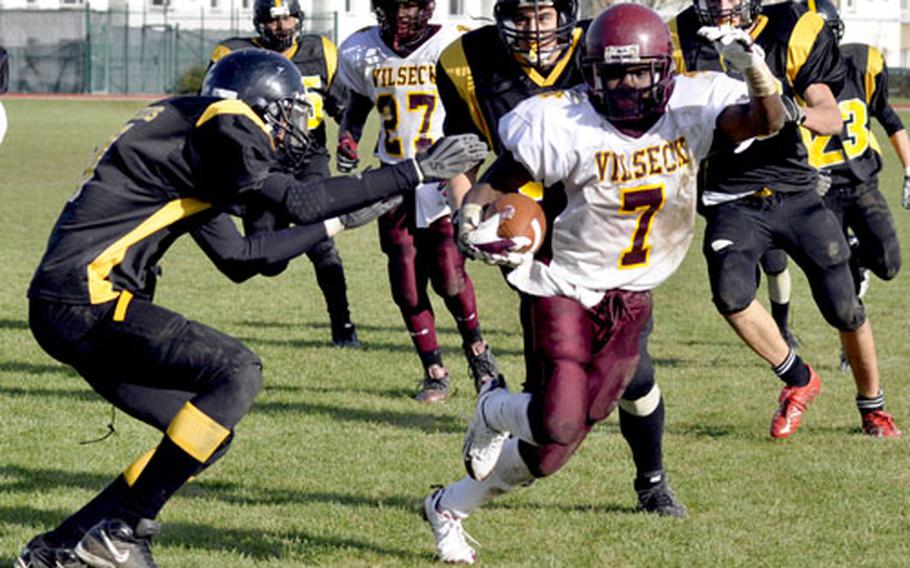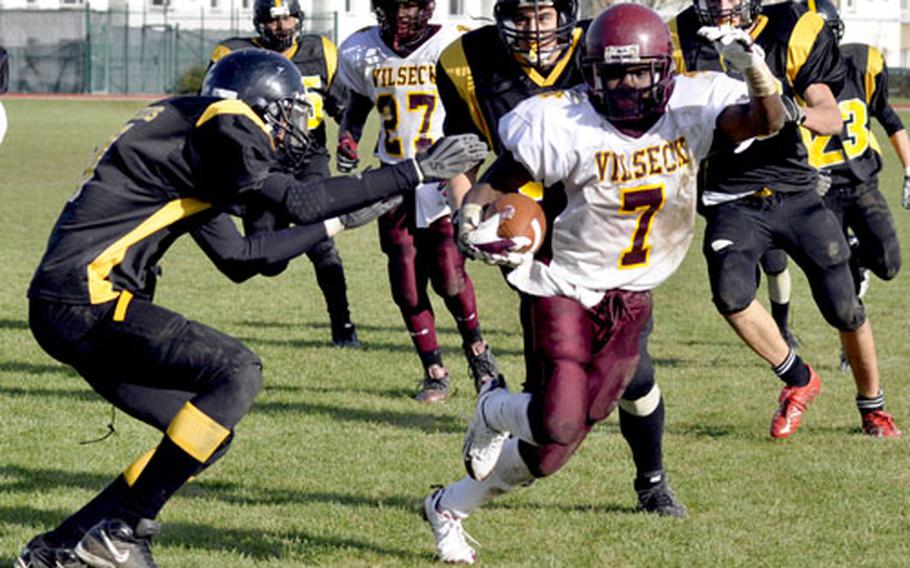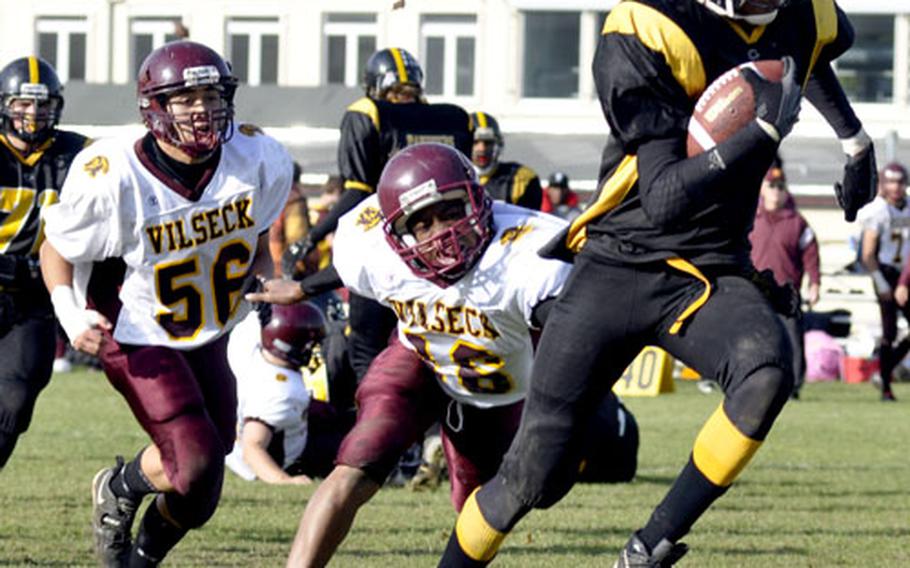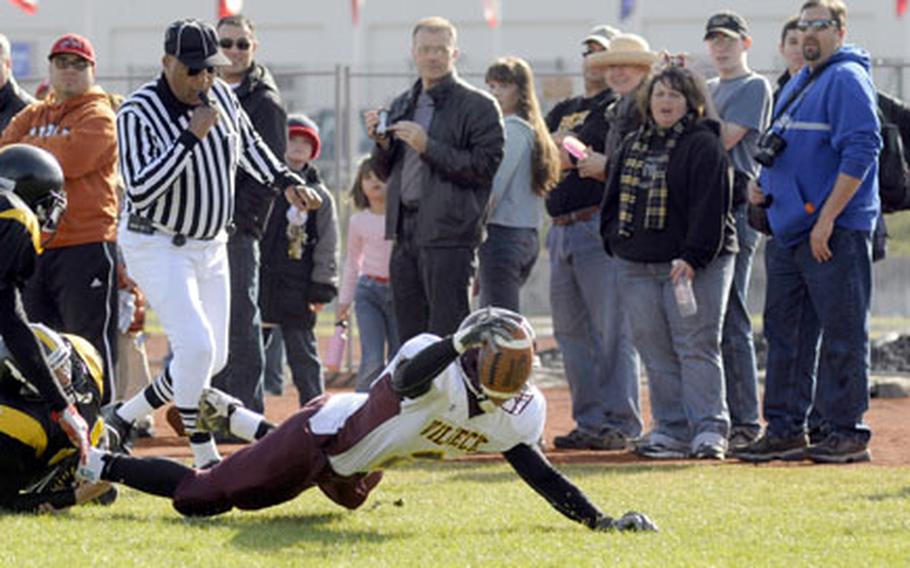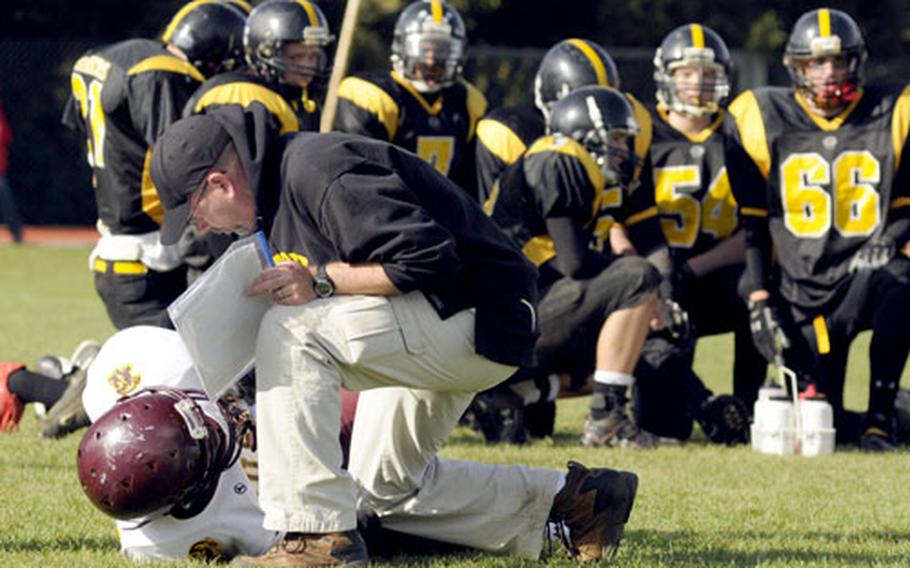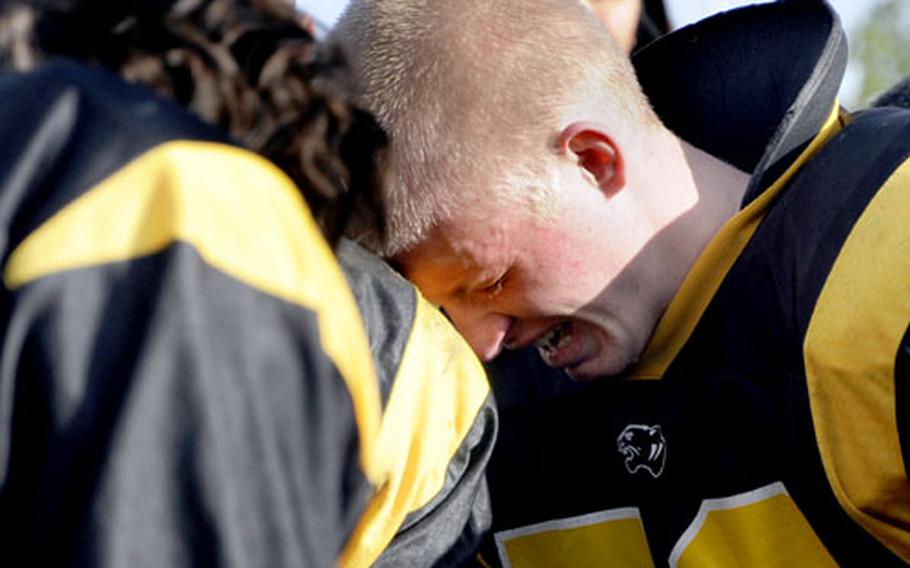 STUTTGART, Germany — The Vilseck Falcons secured a Division I playoff spot and destroyed Patch's chances by winning Patch's homecoming game 47-14 on Saturday.
Falcons running back Angelo Anderson secured the victory by running for three touchdowns during a 2½-minute stretch in the fourth quarter, with the three plays covering 138 yards.
Anderson also scored in the first and third quarters to finish with five TDs.
"The offensive line made holes for me," Anderson said. "I couldn't have done any of that without them."
The tone of the game was set on the second play as the Falcons intercepted a sloppy Panthers pass and ran it in for a touchdown. Then, after a Patch three-and-out and punt, Vilseck added a 2-yard TD run.
The Falcons finished the quarter by intercepting a pass and setting up Anderson's first TD run for a 20-0 lead.
The Panthers, aided by 30 yards in penalties, scored on a 70-yard drive capped by a touchdown run by Marshall Haas.
They later recovered a Vilseck fumble at their 2 and stopped the Falcons on fourth down, but the offense was not able to take advantage of either break.
The Panthers started the second half strong, converting consecutive fourth-down plays. But they fumbled on their next conversion attempt.
That set up Anderson for his second touchdown run, which might have been the play of the game. He ran for 60 yards, breaking several tackles along the way.
The Falcons dominated the fourth quarter, with Anderson putting on his three-TD show. The Panthers were able to do little except for a TD run by Julius Johnson-Rich with a minute left.
Vilseck coach Jim Hall credited his game plan and Anderson's performance for the victory.
"We have been watching them play and capitalized on what we saw," he said.
He said Anderson isn't always the best player on the team, "But, he is today."
Coach Brian Hill, in his first year at Patch, looked at his team's performance philosophically.
"Sometimes you have to look at the small victories," he said of his team's 3-3 record, which came after three winless seasons. He last faced Hall in Okinawa eight years ago when they were head coaches for high schools there.
The Falcons will play at Heidelberg on Saturday in the first round of the D-I playoffs. Heidelberg won a regular-season game at Vilseck, 14-13.