Versatile QB Rice keeps SHAPE's options open
---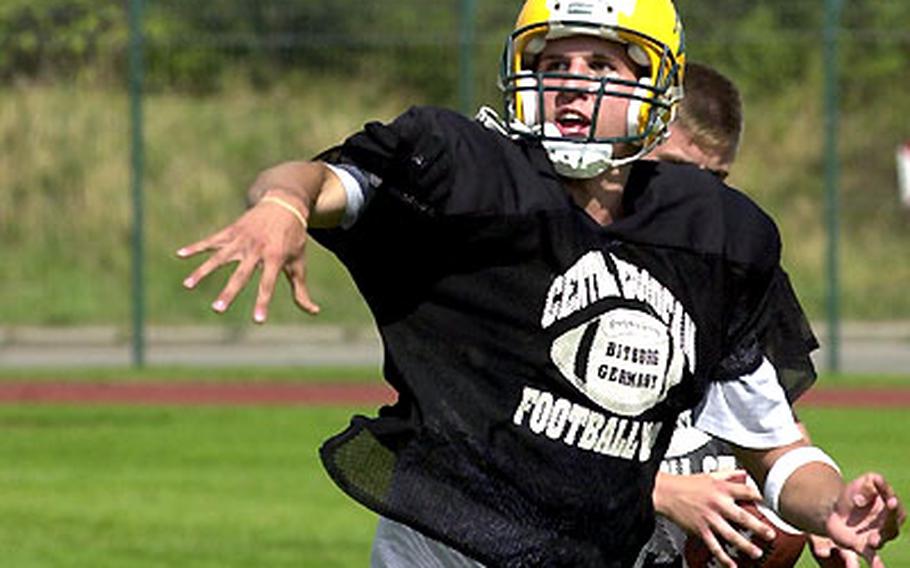 For three years, football coaches around Europe have been devising ways to contain SHAPE quarterback Ryan Rice.
If Saturday's opening game of the 2003 season is any indication, they need to keep trying.
Rice completed eight of 10 passes for 116 yards in a 42-13 victory over Bitburg. He also ran for a touchdown as SHAPE amassed 344 yards in total offense.
"What he is, is a tough competitior," said Mannheim coach Burt Blank, who's had the task of defending Rice for the past three seasons. "The thing he does is take a play that doesn't look like much and do something with it."
The senior signal caller was quick to credit his teammates for his success.
In Saturday's game, "the offensive line did great," Rice said Monday as he and some teammates joined coach Kregg Kappenman for a bit of lunch-hour film study.
"The coaches have been working with the line, and it's made a big difference. I'm able to stay in the pocket more this year."
SHAPE's line does more than form pockets this season. They also carve holes. Running back Brandon Glenn ran for 199 yards on Saturday.
A strong line and tough running game should make Rice even harder to handle this season, Kappenman said.
"He's a lot faster this year," Kappenman said. "He makes good decisions on the option, whether to pitch the ball of keep it. A lot of times, you want your quarterback to pitch the ball as soon as possible.
"This year, we're about 50-50 about wanting him to keep the ball. We'll be using the option a lot this year."
As evidenced by Saturday's numbers. Rice will be asked to throw this season, too.
"He's definitely not one-dimensional," Kappenman said of his QB. "He has nice touch. He knows he doesn't have to burn it in there on a swing pass. He knows when he has to throw a frozen rope and when he doesn't. It allows us to add more to the offense."
The reason for all this growth in Rice's game becomes more understandable when he tells you where it comes from.
"My dad, [perennial U.S. Forces-Europe tennis champion Jeff Rice] always made me work on my sports," Rice said. "My father's been working in the gym since I was a little kid. I've been around gyms all my life."
Turns out, it was a labor of love.
"Sports means everything to me," Rice said. "When my dad and I aren't playing sports, we're watching sports, talking sports."
When his SHAPE career is over, Rice plans to concentrate on basketball. He said he had an offer to play at Allegany College in Maryland, a two-year school noted for feeding D-I prospects to the University of Maryland.
"I haven't committed yet, but I'll probably go there," said Rice, whose elementary-school years were spent in Las Vegas. "My dream is to go from there to someplace out West."
He said he didn't mind spending his high school career so far from the U.S. spotlight.
"At SHAPE, all of the programs are really good," he said, "and over here, I got to play varsity sooner. If I still lived in Vegas, who knows what would've happened?"
Next up for Rice and his SHAPE teammates is a date Saturday at International School of Brussels, against the defending D-II champs. A victory would be a giant step toward SHAPE's 2003 goal.
"We want to make it to the championship game — make the Super Six," Rice said. "Naples beat us last year [in the semifinals], and we've been working hard ever since."
---
---
---
---