USFJ-AFL: Yokota, Misawa earn return to league championship game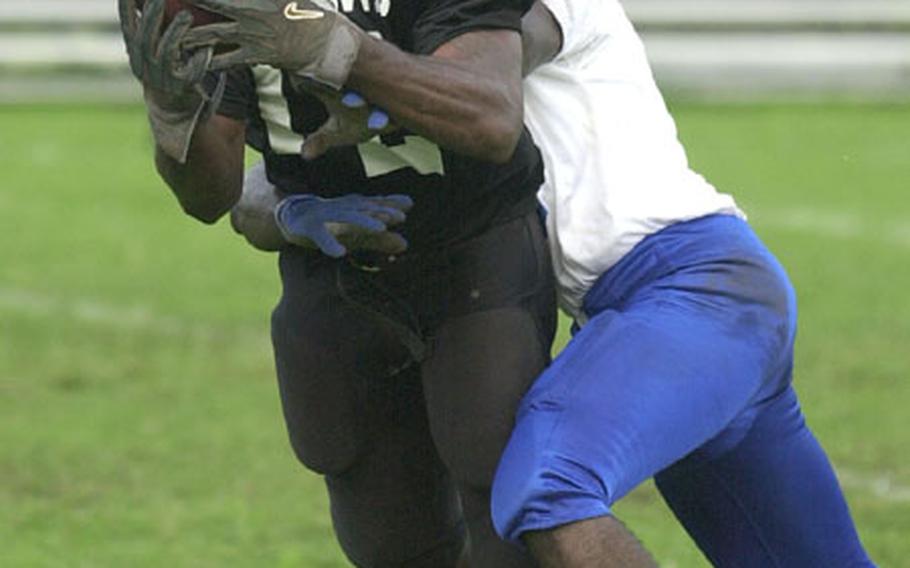 One team breezed to victory Saturday. The other needed defensive heroics.
The end result: the Yokosuka Seahawks and Misawa Marauders are back in the U.S. Forces Japan-American Football League championship game. Yokosuka hosts Misawa next Saturday at 4 p.m. at Berkey Field.
Roy Roberts led a punishing Yokosuka running attack with 136 yards and two touchdowns on 16 carries in the Seahawks' 44-3 semifinal romp over the Atsugi White Dolphins.
The Marauders forced four fumbles, scored their only touchdown on James Garcia's 1-yard burst in the second quarter and David Varner's extra-point kick proved to be the difference in a 7-6 victory over the Yokota Raiders.
Misawa 7, Yokota 6: At Misawa Air Base, Japan, defensive end Kenji Blackwell put on a stunning defensive display, forcing four fumbles that were recovered by teammates before a joyous home crowd bolstered by the ranks of visitors to the annual Misawa Air Show.
"Our special teams got us into trouble," Marauders assistant coach Thomas Mangan said of a unit that allowed Yokota to get 10 shots at the end zone in the fourth quarter, with only Kevin Hill's 1-yard run to show for it.
The Marauders got their usual helping of rushing yards from regular-season league leader James Coleman, who ran 27 times for 187 yards. Blackwell also had a team-leading five tackles and two sacks.
"Any time you get to the championship game, it feels good," Mangan said. "But it's more fitting to go to Yokosuka and try to keep them from a fifth straight title. That's the exciting part."
The teams have played some contentious games: Yokosuka beat Misawa 16-6 in the 2002 title game, also at Berkey. This season, the Marauders handily beat the Seahawks 27-6 at Misawa, but lost a heartbreaker 18-12 to Yokosuka in four overtimes at Ikego Heights Naval Housing Facility.
"There's something between us," Mangan said. "We still have a bitter taste in our mouth from that four-overtime game."
Yokosuka 44, Atsugi 3: The Seahawks know they're in for the fight of their lives, coach Isaac Lee said.
"It seems like that's the way it's been ever since I've been here," Lee said. "We have to buckle up. They're going to hit you in the mouth. That game is going to be a slugfest."
Against Atsugi, the Seahawks stuck with what Lee says works, a ground-oriented attack paced by Roberts. Aaron Stegall also ran for a touchdown, as did quarterbacks Alvin Johnson and Robert Trisby. Even linebacker Lynell Tarver got into the act, scoring on the game's last play.
Yokosuka rushed for 263 yards on 36 attempts. Johnson was 7-for-12 for 93 yards.
On defense, Corey Cloud recovered two fumbles and intercepted a pass, as did former White Dolphin Ryan York. Tarver added a sack.
For outmanned Atsugi, which had just 15 players, Josh Bunn went 10-for-27 for 131 yards, with Jevar Williams catching seven passes for 99 yards. But all they had to show for it was Bunn's 25-yard field goal 7:18 before halftime.
"The weather and them being undermanned, that will take it out of you," Lee said. "A healthy dose of running will wear you down."