USFJ-AFL roundup: Trisby, Seahawks shake off Marauders in 4OT contest
---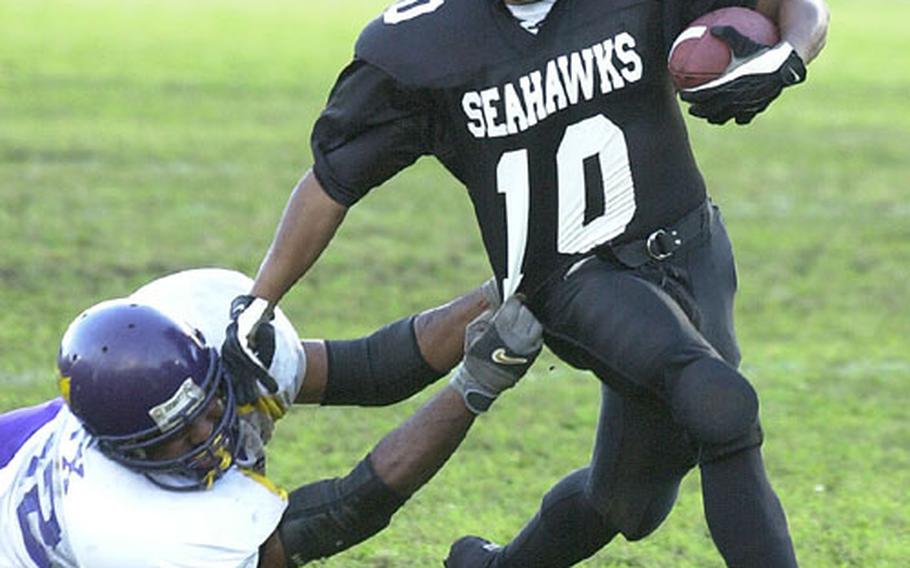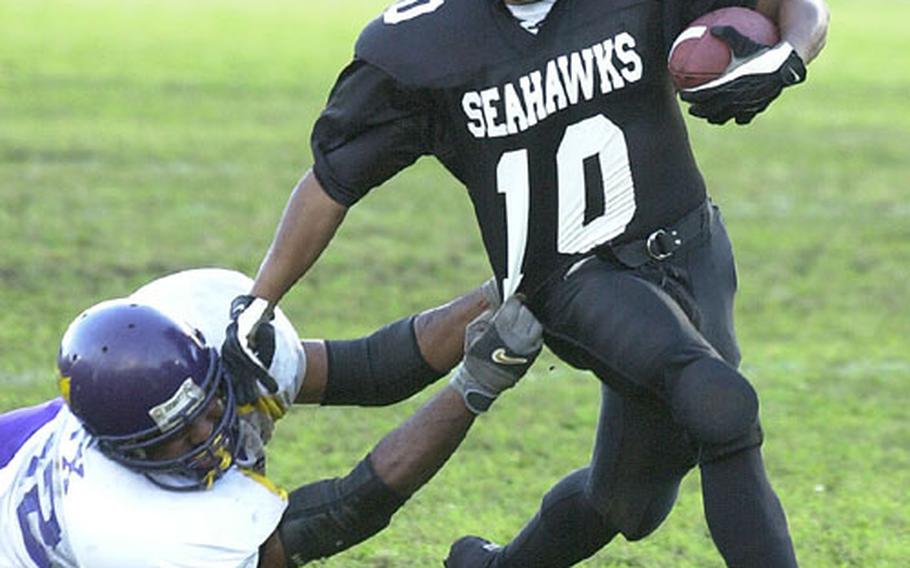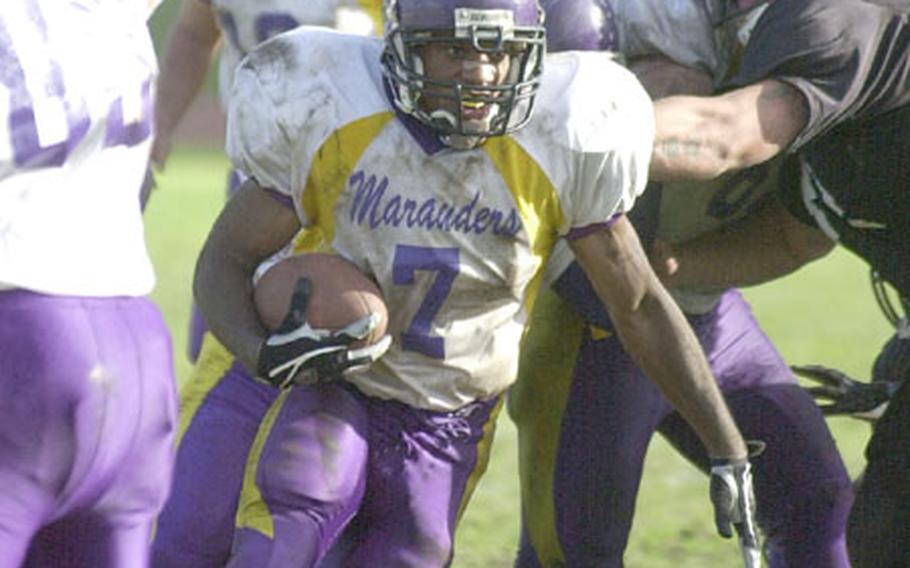 Coach Isaac Lee refers to Robert Trisby as a secret weapon in the Yokosuka Seahawks' arsenal. The 6-foot-3, 220-pound wide receiver showed why Saturday in a U.S. Forces Japan-American Football League battle.
Trisby snagged two touchdown catches, the second coming on the Seahawks' fourth overtime series, leading four-time defending champion Yokosuka past the Misawa Marauders 18-12 and avenging a 27-6 loss two weeks earlier.
The outcome left both teams tied for second place at 2-2, two games behind the unbeaten first-place Yokota Raiders, who took their second victory over Atsugi in as many weeks, beating the winless White Dolphins 43-0.
Yokosuka 18, Misawa 12 (4OT)
IKEGO HEIGHTS NAVAL HOUSING FACILITY, Japan — "He's an automatic mismatch. They pretty much double-team him every time down, but he still poses so many problems for a defense," Lee said of Trisby, who has caught a league-leading five touchdown passes.
Trisby's first TD catch caused a bit of controversy. The 6-yard pass from third-string quarterback A.J. Johnson midway through the second quarter appeared to hit the ground as Trisby reached for it.
Misawa coach John Hemphill called a timeout and protested to the officials, who let the catch stand.
"We got a bad deal, there," Hemphill said.
The game-winner came on second-and-11 from the Misawa 16-yard line in the fourth overtime series. Johnson floated a pass into the right corner of the end zone, where Trisby leaped over two defenders to catch it.
Trisby's heroics highlighted Yokosuka's first "home" contest at Ikego; the Seahawks' normal home venue, Berkey Field on Yokosuka Naval Base, was unavailable because of Sunday's Friendship Day festivities.
Misawa's Dallas Alexander ran back the opening kickoff 75 yards to put the Marauders on the board, but those would be the Marauders' last points until the overtime session — the longest in the league's five-year history.
Neither team could crack the other's defense during the first two overtime series. The Seahawks broke the ice as Johnson sneaked 1 yard to give Yokosuka the lead. Misawa promptly tied it when David Valencia ran around right end 5 yards on a play fake to the left.
Misawa was stopped on its ensuing series, then Yokosuka took over, ran three times for a first down inside the 15, then lost a yard when Johnson was stopped on a keeper. Trisby's game-winning catch followed.
Lee credited the play of offensive line for "moving Misawa off the ball. We went back to smashmouth football. That was the difference" between Saturday's game and the one on July 17 at Misawa, Lee said.
The Marauders, despite getting 106 yards on 19 carries from league-leading rusher James Coleman, had their hands full with the Seahawks' defense, Hemphill said.
"They [Seahawks] did their homework," Hemphill said. "They did some things on defense that we hadn't seen before, and that caused some disruption in our offense."
Misawa next hosts Yokota on Saturday. A Raiders victory seals the regular-season championship; the Marauders need to beat Yokota by more than 13 points to have a hope of earning the top seed in the league playoffs.
"Things get a little more interesting now," Hemphill said.
Yokota 43, Atsugi 0
YOKOTA AIR BASE, Japan — Xavier Reyes ran 39 yards for a score, tossed a 43-yard tailback pass to Willie Fountain for another and caught a 20-yard TD pass from Jake Dowdell as Yokota swept the season series from Atsugi by an overall score of 95-0.
Fountain also caught a 25-yard touchdown pass from Bruce Turner, Al Foster ran 2 yards for a score and Dowdell hit Phillip Rush from 23 yards out.
A.J. Johnson and Andre Thomas each recorded defensive safeties. Anthony Thomas and Jerrick Nunn each had six tackles for Yokota.
The undermanned White Dolphins, with just 15 players, suffered their fourth shutout loss by a combined 181-0 margin.
---
---
---
---