USFE giant slalom course challenges skiers, snowboarders
by
Rusty Bryan
March 12, 2006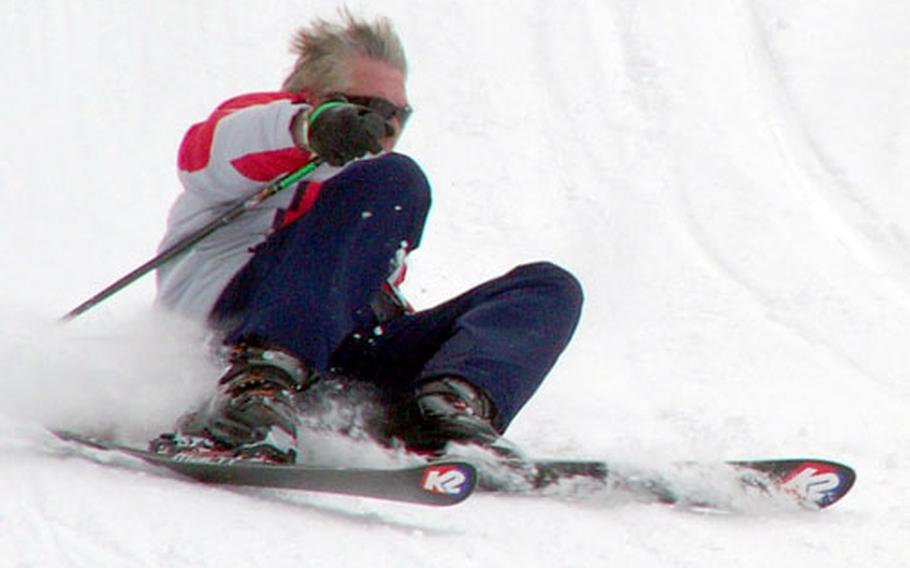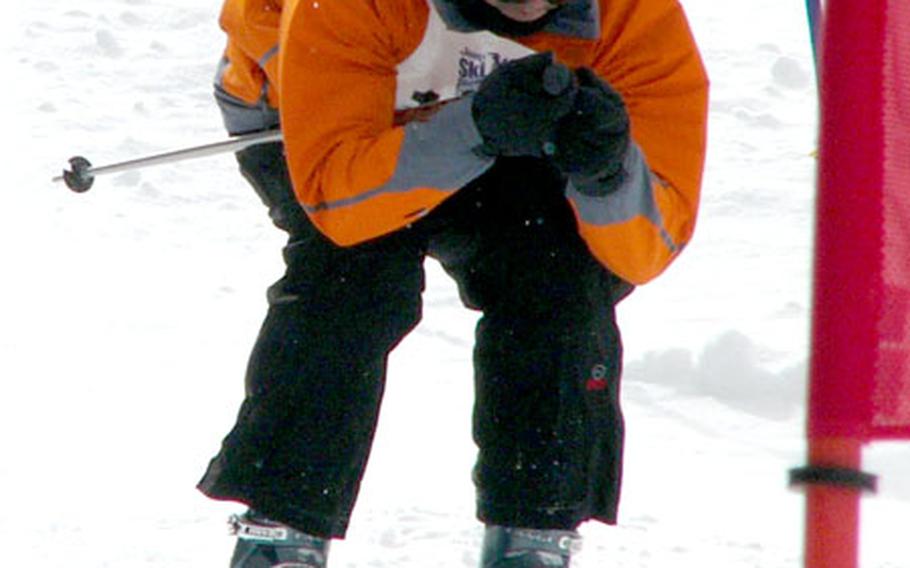 GARMISCH, Germany — Skiers who completed both of their giant slalom runs Saturday in the U.S. Forces Europe Ski and Snowboard Championships found exhilaration in their survival.
"The course was pretty challenging," said John Roberto, 49, of Geilenkirchen, Germany, a veteran of this event. "It was fast and hard-packed and they put some rollers in this year. Some of the faster guys caught some air off them and it was hard to recover."
Roberto was one of those faster guys, posting a combined time of 1 minute, 33.87 seconds to place second to Mark Marchant of Stuttgart in a tight race for skiers 40 years and older. Marchant clocked 1:27.57, while Stuttgart's Gary Griese took third in 1:36.34.
"I'm damn proud of finishing second," said Roberto, a slalom specialist. "I'm happy about that."
Military men's open runner-up Zachary Selznick, 26, of Sigonella, Italy, a Montanan racing again after a seven-year layoff, thought the course architects sited the rollers badly.
"The bumps came at the gates, so you had to dump speed to keep from losing it," said Selznick, who despite the speed bumps clocked 1:37.03. "They should have had the bumps before the gates so you could deal with them and then get your line."
Selnick, who lost to open champion Cory Hodges of Garmisch by .13 seconds, beat bronze medalist Kyle Staples of RAF Fairford, England, by .29 seconds. Staples agreed with Selznick about the course.
"It was fun," he said of his first USFE event, "but the course was sketchy — a bit choppy."
Having no trouble with anything about the course was the day's overall fastest skier, Kristin Ellis of Garmisch. Ellis, 15, covered her runs in 42.65 and 43.96 seconds for a combined 1:26.61 in winning the girls' senior giant slalom for skiers aged 13-17.
"I've been racing for years," Ellis said. "I've had lots of race training."
Ellis was one of three champions from her family on Saturday. Younger sister Joyce, 11, won the girls' juniors for 10-12-year-olds, and mother Christa dominated the women's civilian seniors field with a 1:30.83. For good measure, Kristin and Joyce placed 1-2 in the girls' youth snowboard GS, too.
Fastest of the women's military masters skiers was Deborah Dickson of Vilseck, whose 30 years of ski experience showed in her practically identical runs of 56.81 and 56.21.
"I was actually hoping to improve on my second run," Dickson said, "but I slipped a couple of times at the top."
Saturday's other giant slalom youth champions were Maria Boretti and Logan Lakos, both 9, in the youth minor category; Sebastian Smithback, 11, in the boys' juniors, and Zach Gile, 13, in the boys' seniors. All youth champions came from Garmisch.
Other adult GS champs were Garmisch's Dean Reed in the women's combined masters, Garmisch's Larry Baker in the men's civilian masters, Heidelberg's Eric Magnell in the men's military seniors for skiers 30-39 years, Garmisch's Richard Potterson in the men's civilian seniors, Garmsich's Leigh Plowman in the men's professional masters and Garmisch's Amber Elliott in the women's civilian open.
The snowboard portion of the championships concluded with Saturday's giant slalom. Winning the boys' youth title was Julian Young of Garmisch. The adult men's champs were Oberammergau's Bryan Schulte in the military seniors and masters event, Aleko Lilly of Garmisch in the military open category, and Hohenfels' Jack Givens in the civilian event. Women's champ was Audra Bintz of Garmisch.