Local runners lead the way in 42nd Marine Corps Marathon
by
Michael S. Darnell
October 22, 2017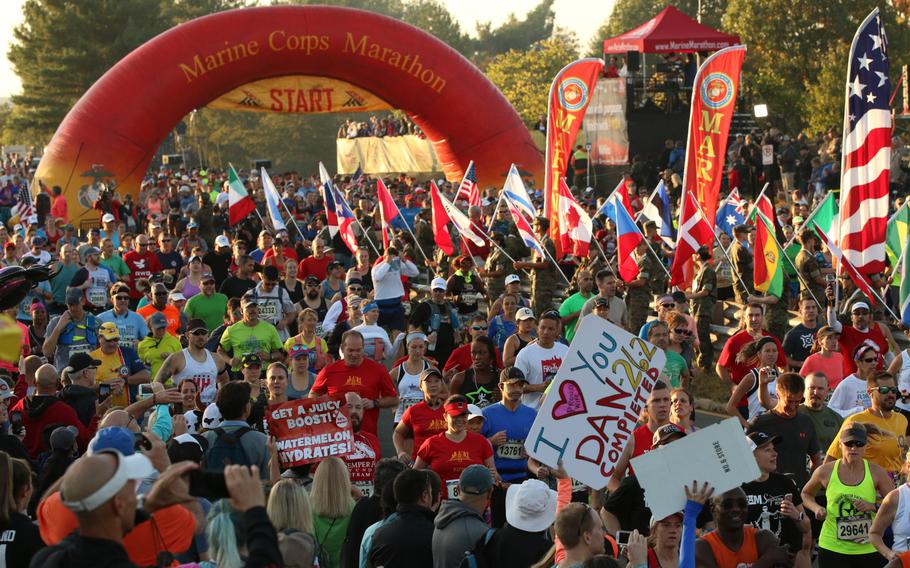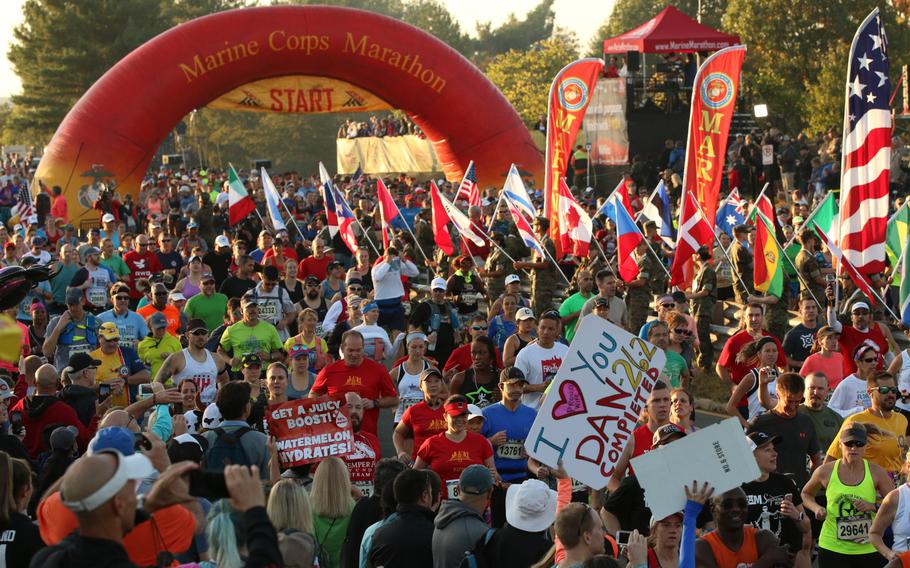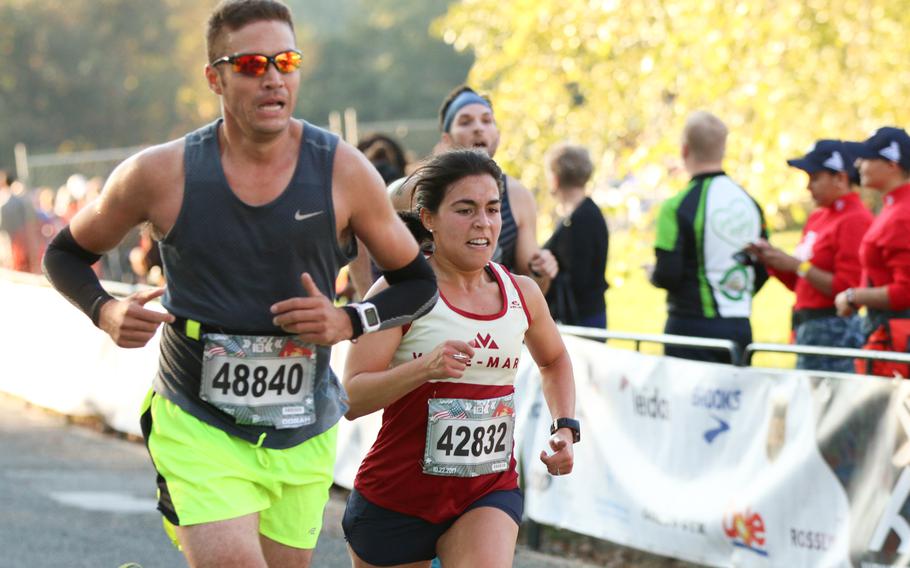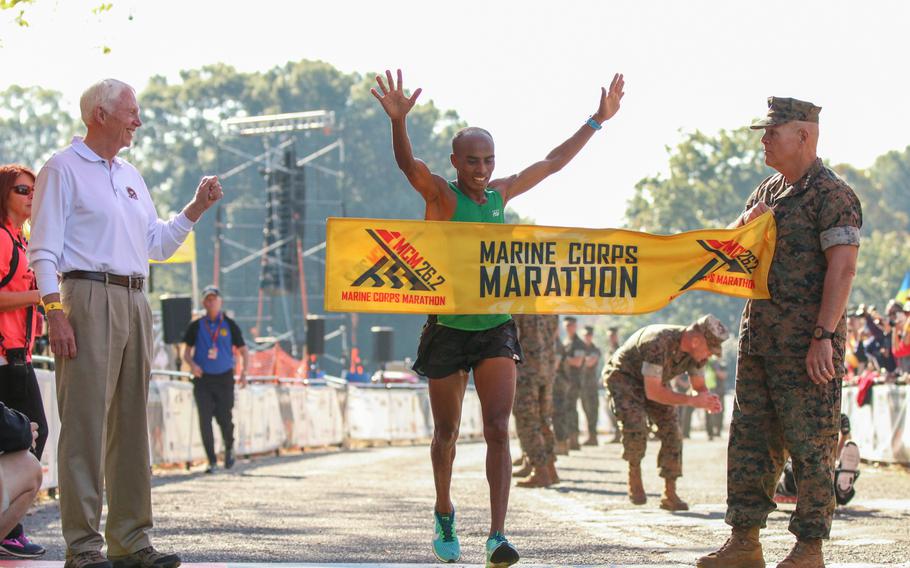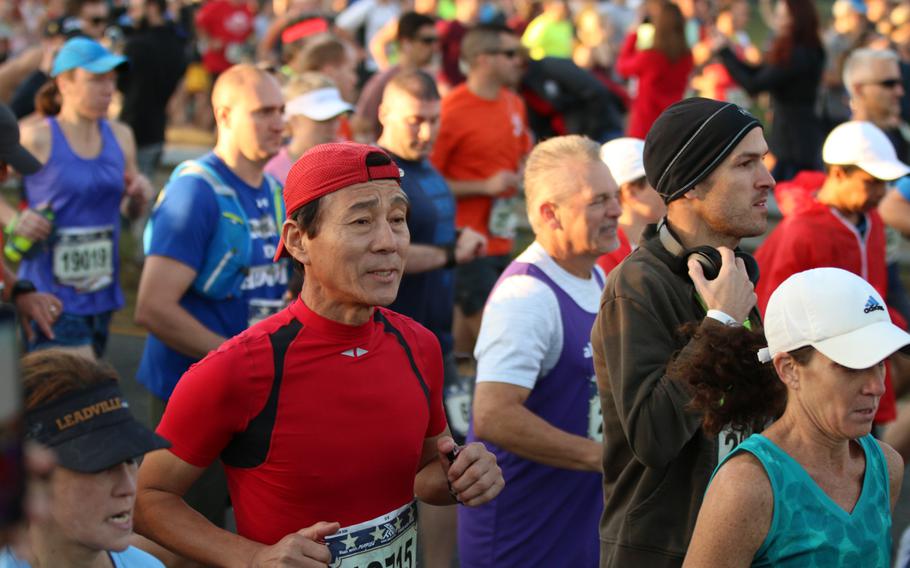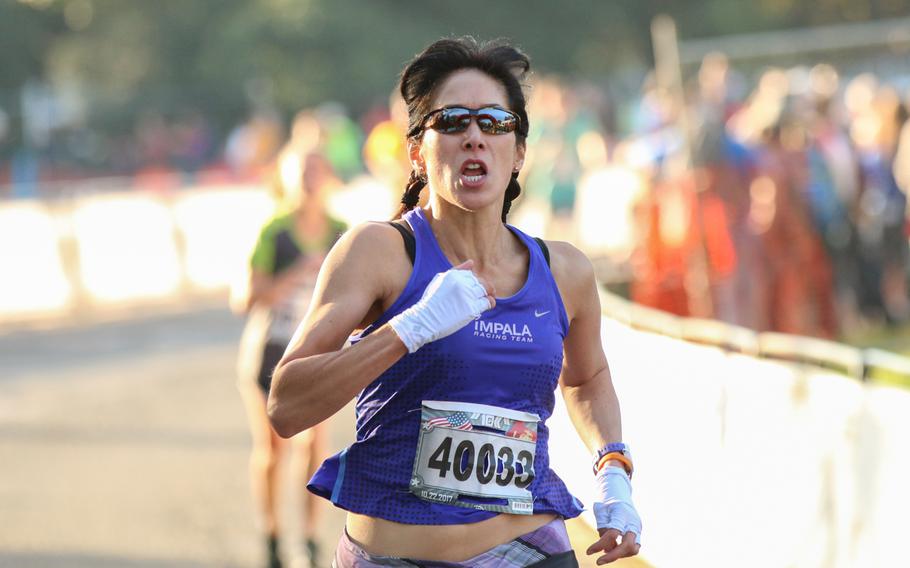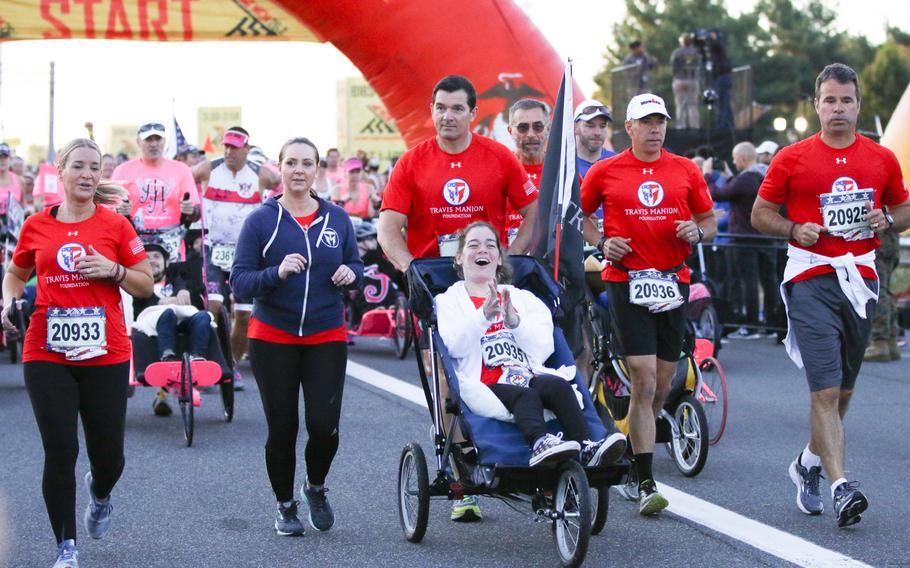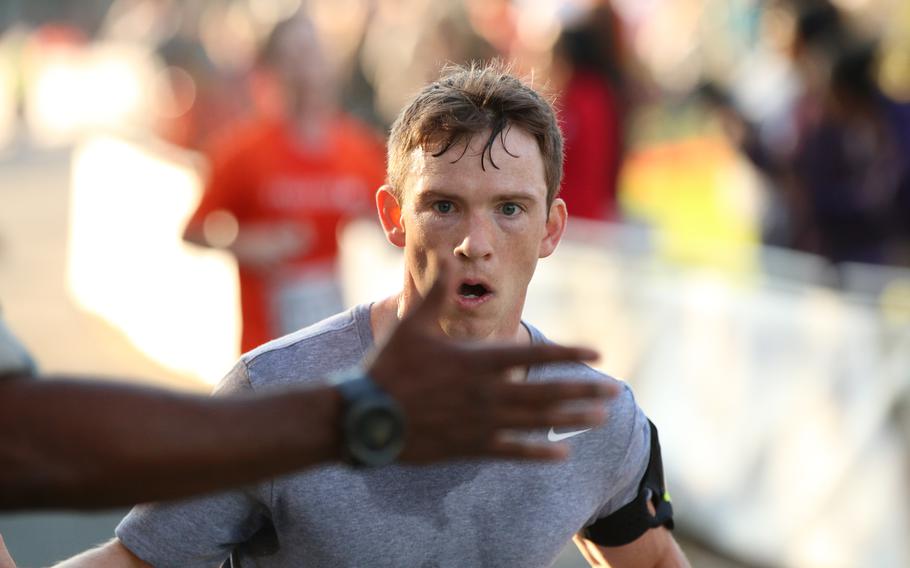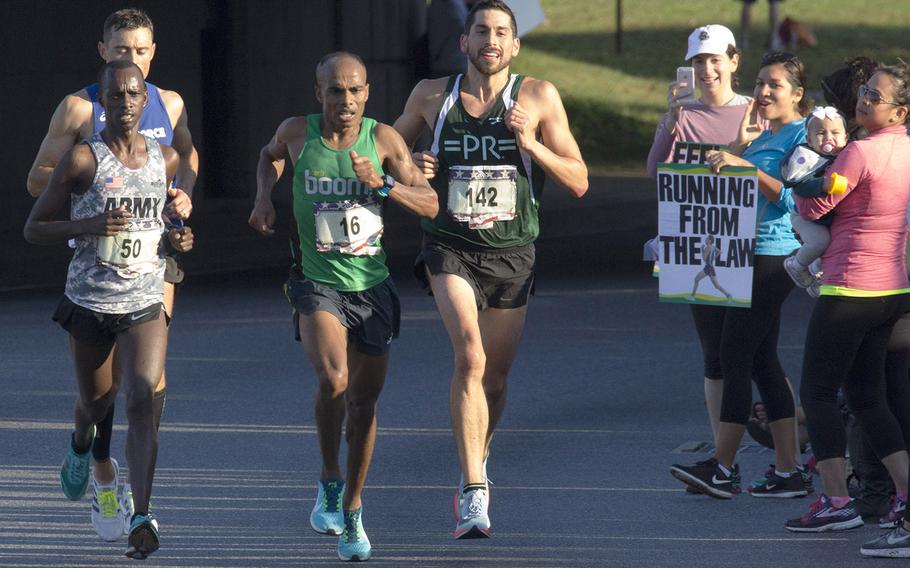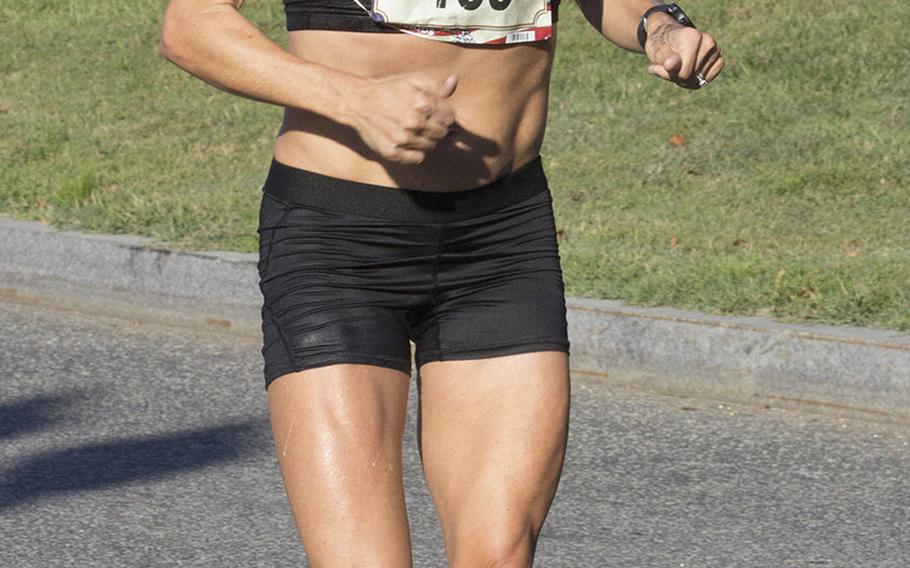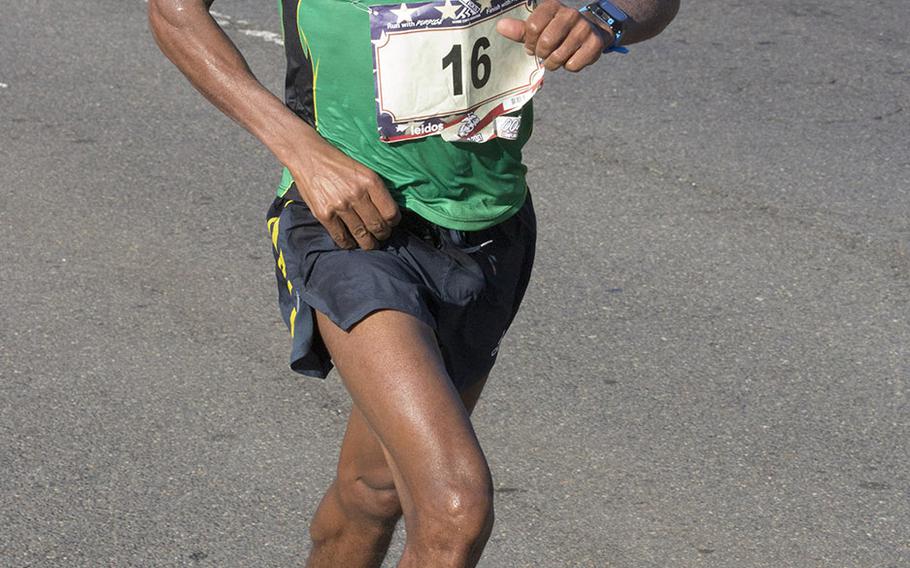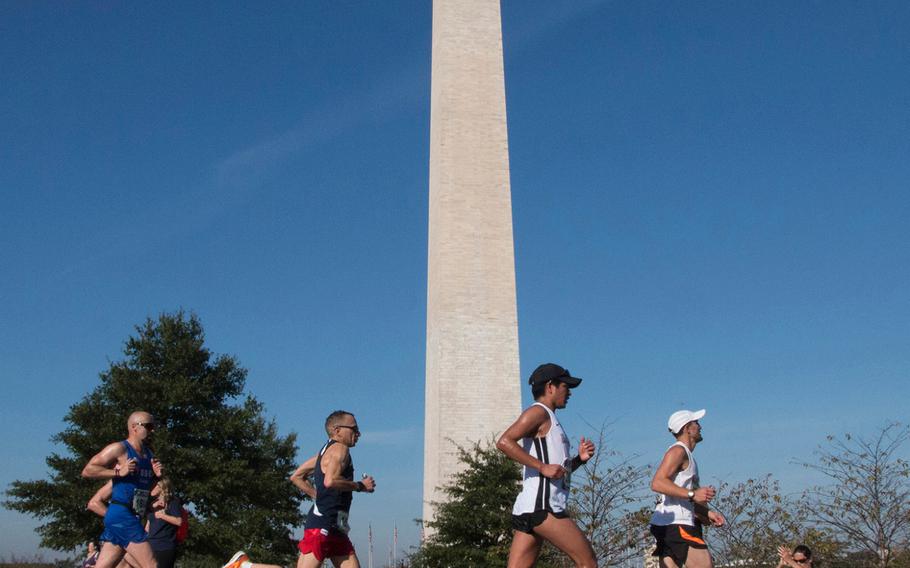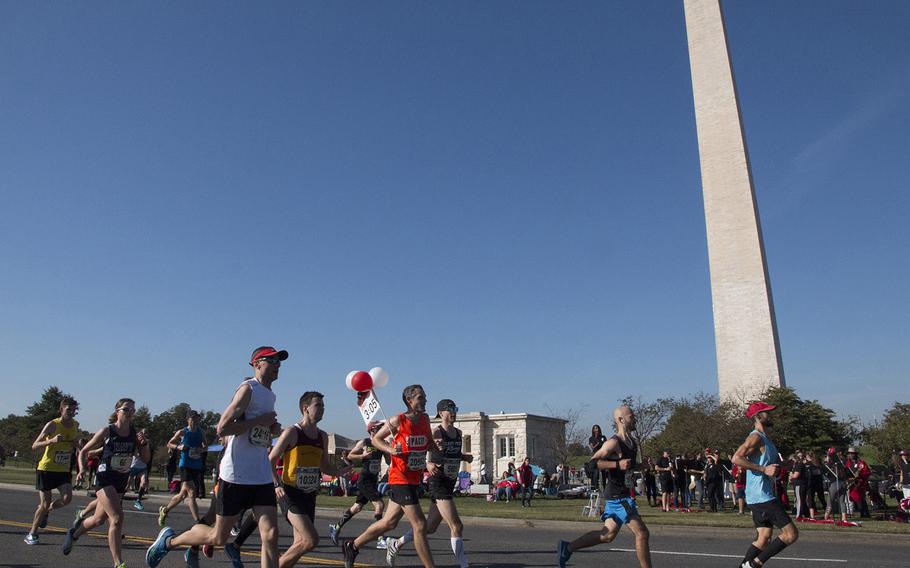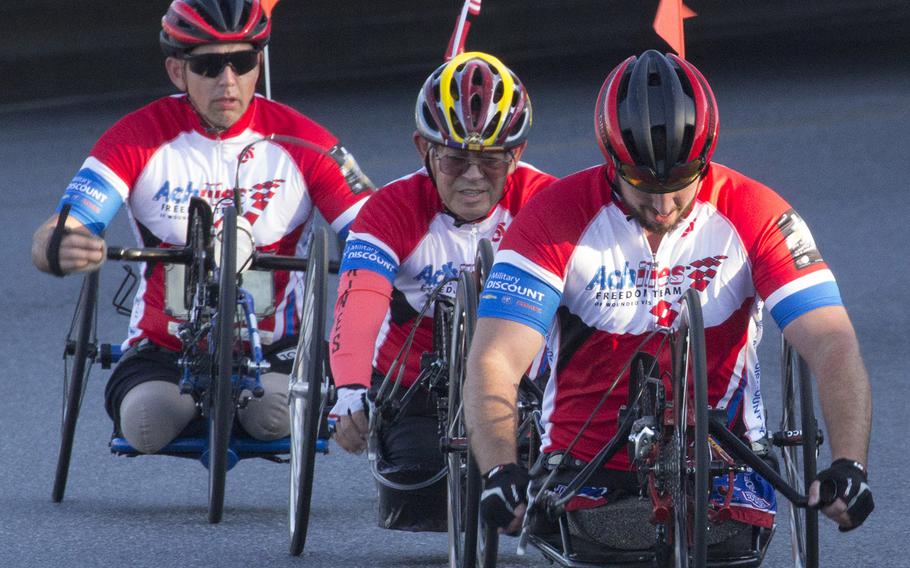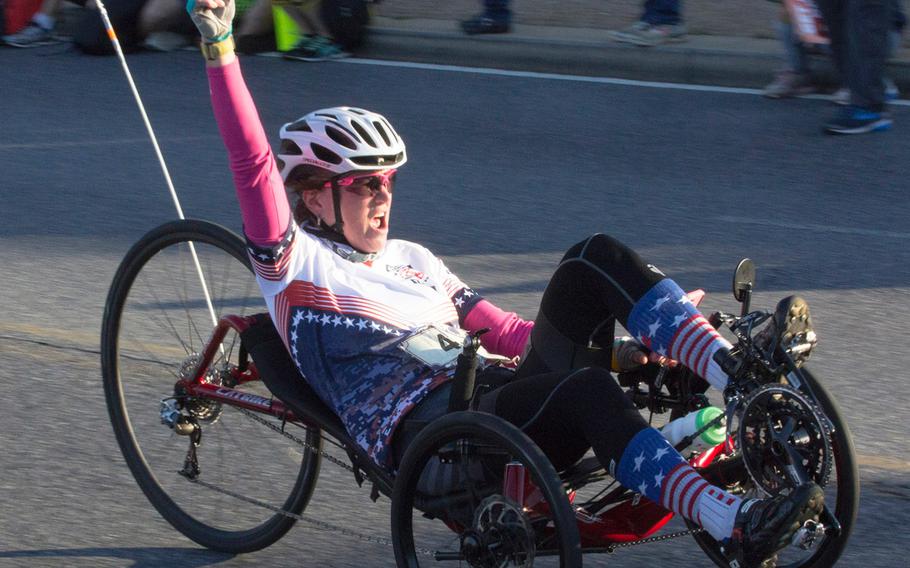 The Marine Corps Marathon's searchable results page can be found here.
WASHINGTON — The 42nd iteration of the Marine Corps Marathon couldn't have fired off on a more beautiful day than the one that greeted runners on Sunday.
It was clear skies and cool temperatures in the nation's capital as 30,000 runners convened on Washington to take on one of the largest marathons in the world. When the event was created back in 1976 – partly as a way to drum up interest in the military after the Vietnam War – only 1,018 people ran the course.
The event has grown exponentially since then, drawing in runners from around the world, some vying for a chance to make history as the course winner; others just hoping to finish the run upright.
This year, it was a pair of local runners taking home the top spots. Desta Beriso Morkama from Arlington, Va., finished with time of 2 hours, 25 minutes and 13 seconds. Sarah Bishop, from Fairfax, Va., was the first woman to cross the finish line with a time of 2:45:06.
Morkama was all smiles at the finish line, saying that all the hard work that went into preparing for the event paid off. He said he won plenty of smaller races this year, but this was the one that mattered the most.
"I'm very happy because it's very hard," he said. "But I won."
Wesley Turner from Danville, Va., was not too far behind Morkama, finishing his run with a time of 2 hours, 27:33 minutes. He had Morkama in his sights and used him as a pace car of sorts.
"It's a really good race, nice to chase somebody down," he said. Far from being disappointed at narrowly missing first place, Turner said he was quite happy with his placement. "Anytime you make it to the finish line healthy – you can't complain."
Army runner Michael Biwott, from the 2nd Cavalry Regiment in Vilseck, Germany, finished sixth among the male runners with a time of 2 hours, 30:13 minutes.
A seasoned veteran of many lengthy races, Biwott was attempting his very first marathon on Sunday. While most people would be ecstatic at coming in 6th, Biwott was already mentally preparing for next year's race, saying he'd do better next time around.
"Because this was my first marathon, my first experience, I know what to do next time," he said.
This being a Marine Corps event – the starting pistol was fired by Medal of Honor recipient Cpl. Kyle Carpenter, and the service's commandant, Gen. Robert Neller, held the finish line banner – many participants had worn the uniform. Many still are, finding time in between deployments, annual training requirement and physical fitness tests to find time to train for the grueling 26.2-mile-long run.
Some, like Capt. Pedro Rodriguez, even found time to train in the face of an upcoming retirement.
"I'm not getting any younger, so you take advantage of the youth that you have left," Rodriguez, 37, said. "Being surrounded by Marines keeps me young, keeps me in the fight."
Rodriguez said he may have one more Marine Corps Marathon in him before he hangs up his sneakers, and it'll likely be the company of his fellow servicemembers that will bring him back.
U.S. Navy Lt. Rob Coslick, an Arizona State ROTC instructor, said much the same thing, saying the culture surrounding this particular marathon is unique.
"It's the comradery, people are good natured about it, everybody is trying to take on their own challenge," Coslick, who finished in 2 hours, 33:39 minutes, said. "It's kind of like you guys are all there beating a monster of some sort."
For some, that monster was age, for others, it was personal expectations. Others still were there to overcome personal injuries, or fear of attempting such a great challenge. But at the end, they all had one thing in common.
They came, they saw (D.C.) and they conquered.