US, NATO grappling with intelligence rules in bid for more war games
by
John Vandiver
October 11, 2017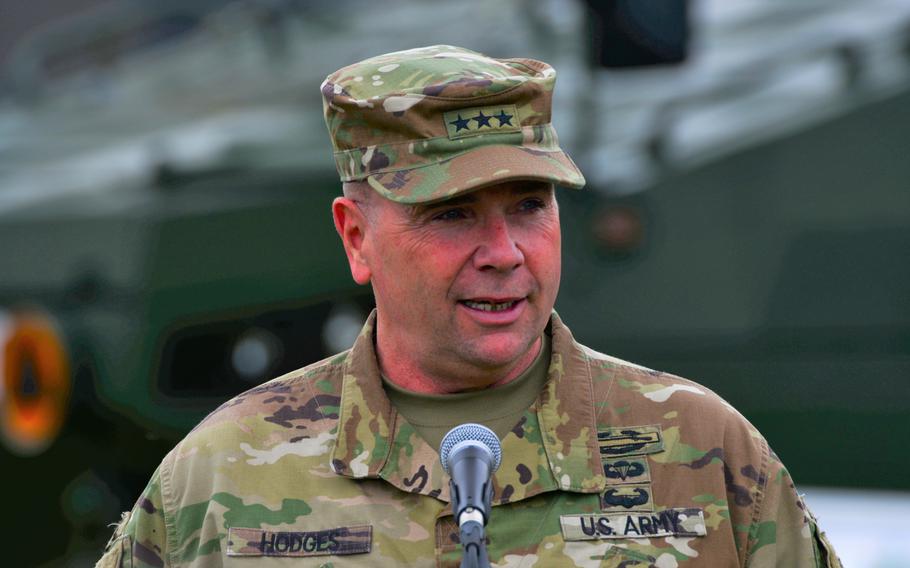 Old rules that limit the sharing of intelligence among allies are challenging efforts by top NATO commanders to boost the alliance's combat readiness, a cause for concern as NATO plots a new series of war games designed to test allied fighting skills.
For allies, a more dynamic training regime focused on contending with Russia has been central to efforts at rebuilding armies focused for years on the battle in Afghanistan. But as NATO pivots toward a more conventional foe, commanders continue to grapple with persistent capability gaps, U.S. officials said.
U.S. Army Europe's Lt. Gen. Ben Hodges said allies operating in the field still cannot talk to each other over secure radio lines, which would emerge as an issue in a crisis. A lack of joint systems means allies are unable to conduct digital fires missions together and could expose forces operating in a "contested cyber environment."
The recent hacking of smart phones of U.S. soldiers operating in Poland, just miles from the Russian enclave of Kaliningrad, is the environment servicemembers now work in, Hodges said. Hodges said allies, and the defense industry that serves them, need to find ways to develop technology that can be shared.
"I continue to be disappointed that almost everything is made for U.S. only … when that is not how we fight," said Hodges, speaking at the annual Association of the U.S. Army meeting in Washington.
The "default setting" of the intelligence community is to keep a close hold on information, but that can hinder operations when allies are out of the loop, Hodges said.
However, there are some indications of progress. Hodges said one outcome of Russia's recent high-profile Zapad exercise is that it forced allies to share intelligence in new ways as they monitored military maneuvers that stretched from Belarus to the Arctic.
"All kinds of walls came down," Hodges said.
A boost in exercises, which will take NATO from one large-scale joint annual drill to three, is part of a broader effort by NATO's Supreme Allied Commander, Gen. Curtis M. Scaparrotti, to add a sharper edge to its command and control structures.
Three NATO joint command and control exercises will take place in 2019, which will serve as "a forcing function to increase readiness in NATO," said Lt. Gen. Darryl Williams, who heads NATO's land command.
NATO's push coincides with a new U.S. Army field manual, unveiled Wednesday, that reorients the service for dealing with a sophisticated adversary in Russia rather than counterinsurgency campaigns that have defined much of the past 16 years.
The groundwork is already under way at NATO as allies prepare for a major drill later this year in Trident Javelin, which centers on countering a "near peer" adversary around the Baltics, Williams said. The focus is "readiness, readiness, readiness," said Williams, speaking at the meeting in Washington.