Up, up and away for Gleaves
by
Dave Ornauer
March 19, 2009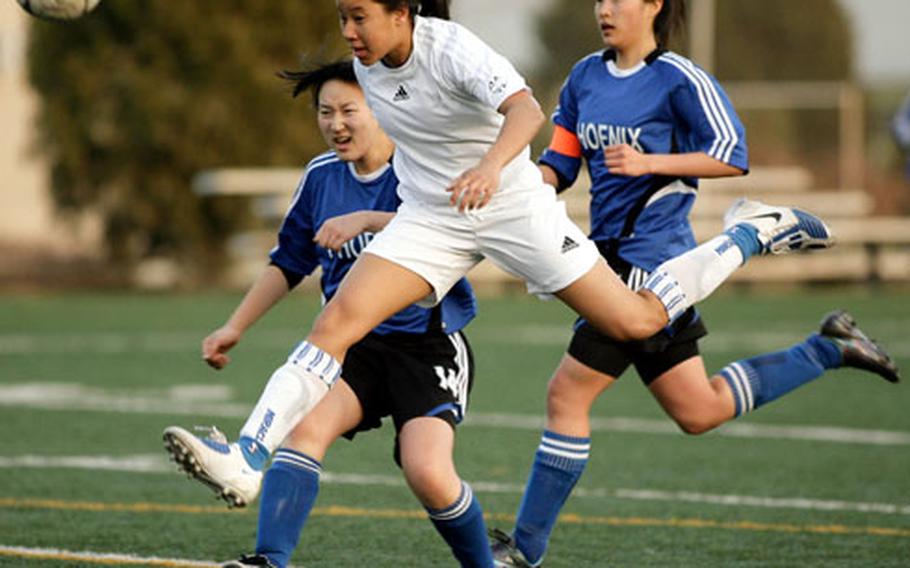 High in the air the ball soared, carried by the wind, then sank toward the Seoul American net. Most times, such shots result in a goal.
Not with Liz Gleaves at goalkeeper, though. Caught several yards upfield outside the net, she somehow doubled back, leaped high and punched the ball over the net and out of bounds.
Her hand was "way over the goal and she made it look like it was nothing," said Falcons boys soccer coach Billy Ratcliff, who observed Saturday's 5-0 girls' victory at Seoul International from the stands.
Leaping and quickness have proved a winning combination for the 5-foot-4 Gleaves, a sophomore who's already garnered three Far East Class AA All-Tournament selections and is poised for more. Her dad, Tony, is a Seoul Middle School teacher; she'll be a Falcon until she graduates.
"She plays much bigger than she is," first-year coach Robert Victoria said. "She can jump up and punch the ball over the net, then be diving full out, body extended, knock balls aside, catch them, whatever."
Thus far, it's worked well for the Falcons, who've won three straight after opening 0-2-1, a year after Gleaves backstopped the Falcons to a school-best 19-2-2 and a Far East Class AA tournament semifinal berth.
Leaping and quickness, Gleaves insists, are the result of "natural ability," not things that she's consciously worked on. She keeps a pair of jumping training shoes at home "but I never wear them."
Gleaves has basketball bloodlines; she's related to former Harlem Globetrotter Sonny Smith. She met Smith three years ago and says he "very much" inspires her.
But above all that, "I just like to play," Gleaves said, calling basketball her No. 1 passion. Easy for that to happen, considering an outdoor court was just yards away from her classroom window. "It looked fun. Why not try it? I always like to try new things."
"She just loves to 'play.' It doesn't matter what sport," said girls volleyball coach Denny Hilgar, adding that when he first saw her play, Hilgar thought to himself: "I hope she never leaves."
Aside from beating any and all foes — mostly boys, she says — on hoops playgrounds, she also worked out with Hilgar and then-girls soccer coach Lori Rogers and their teams. Each noted Gleaves' abilities and wanted her on their teams as a middle schooler.
"I was literally waiting for her to come up to the high school so I could coach her," Rogers said.
Such praise made Gleaves "nervous, being the youngest person out there. I didn't think about it at the time, but my fifth-grade year, I really began concentrating on sports." And she's not stopped since.
As a freshman, Gleaves helped the Falcons to a third-place finish in the 2007 Class AA volleyball tournament. The rebuilding Falcons fell to seventh last fall; on the season, Gleaves posted 157 spike kills in 445 attempts … and a team-high 151 defensive digs. She also had 23 block points.
"She has the ability to hang at the middle blocking position if we need her there, which we did during Far East," Hilgar said.
Gleaves' Falcons hoopsters have posted consecutive runner-up Class AA finishes. Gleaves has been named All-Tournament twice, and averaged 12.5 points, 3.5 rebounds, 3.7 assists and 4.9 steals for a Falcons team that went 31-2 this past season, losing the Class AA final 50-47 to Faith Academy when a Gleaves-fueled rally fell just short.
"I was more concerned with how to stop her than their two big girls" Destinee Harrison and Devanee Taylor, Faith coach Dan Beaver said.
Ratcliff would occasionally use Gleaves as a low-post defender despite her height. "She can play any position on the court," he said.
Then, there's soccer, where she's amassed a 20-2-3 record and has even scored four goals when Rogers and Victoria used her up front.
Her versatility no matter what the sport has impressed all her coaches.
"She has natural athletic ability," Rogers said, along with "an uncanny mental ability to see the court or field in a way that others do not.
"She has a strong work ethic … she appreciates strong competition because it forces her to raise the level of her play. She is the epitome of excellent sportsmanship."
Victoria says Gleaves reminds him of a three-sport star he coached at E.J. King, Kristia Suriben, now playing tennis at the Naval Academy. Suriben was a four-time Far East Class A basketball selection and two-time Far East tennis singles champion.
"She'll go out and give you 100 percent every single time," just as Suriben did, Victoria said. "She's also one of those rare individuals who make people around her play better."
Gleaves, her father and Ratcliff have discussed getting her into a stateside basketball camp this summer. Oklahoma, Gleaves said, is atop that list "but we're still looking."
As for her future, Ratcliff said he could "easily see" Gleaves playing Division II basketball. "The biggest thing that would hinder her from playing Division I is her height," he said. "But you don't have to be tall to be a good player."
For now, Gleaves says she's focused on winning, especially bringing that elusive Class AA hoops title home. The Falcons have seven of 10 players who suited up for the Feb. 21 final returning.
"I think we have a chance," she said.