USFJ-AFL football
Unbeaten Misawa squeaks by again
---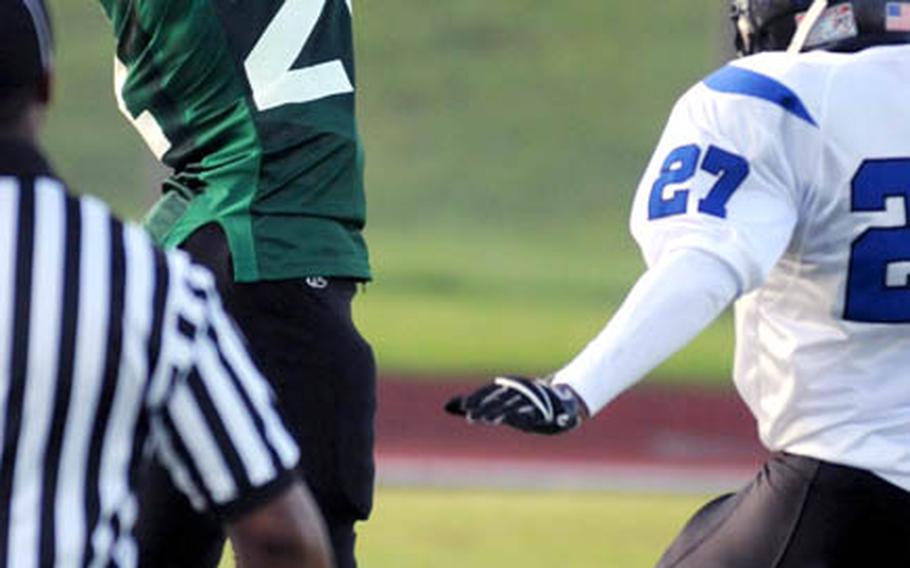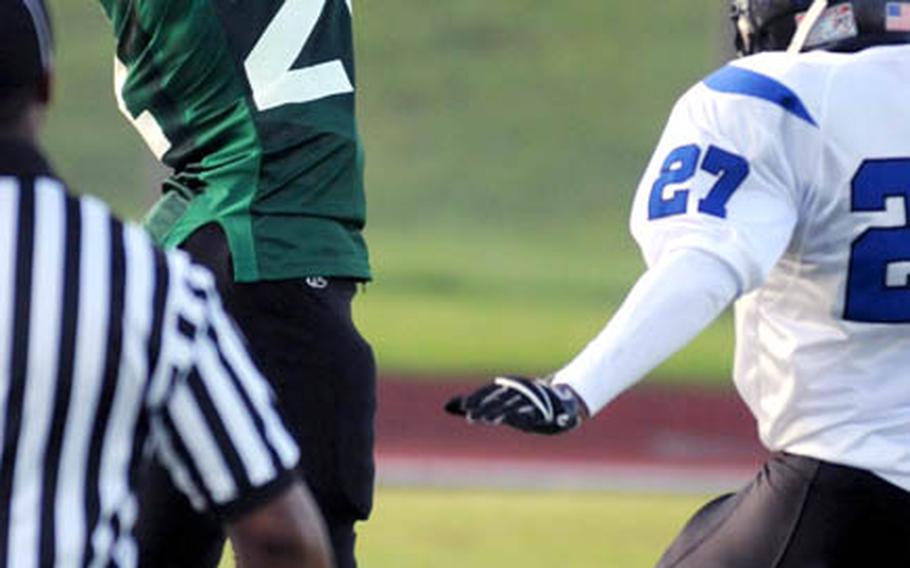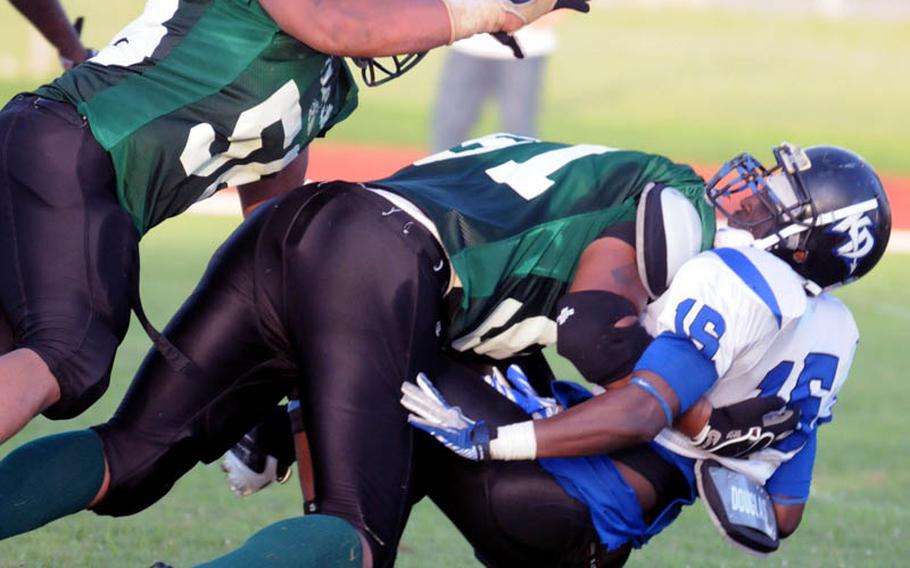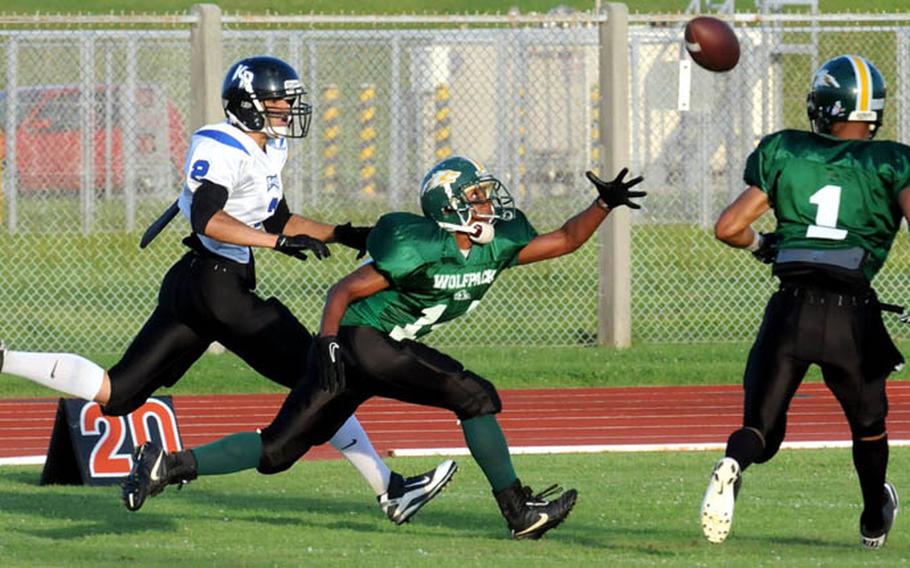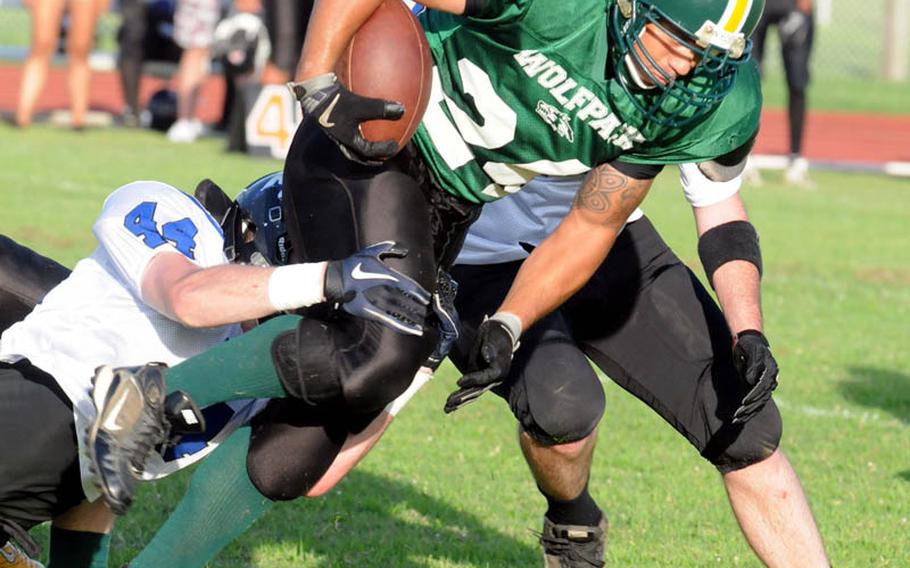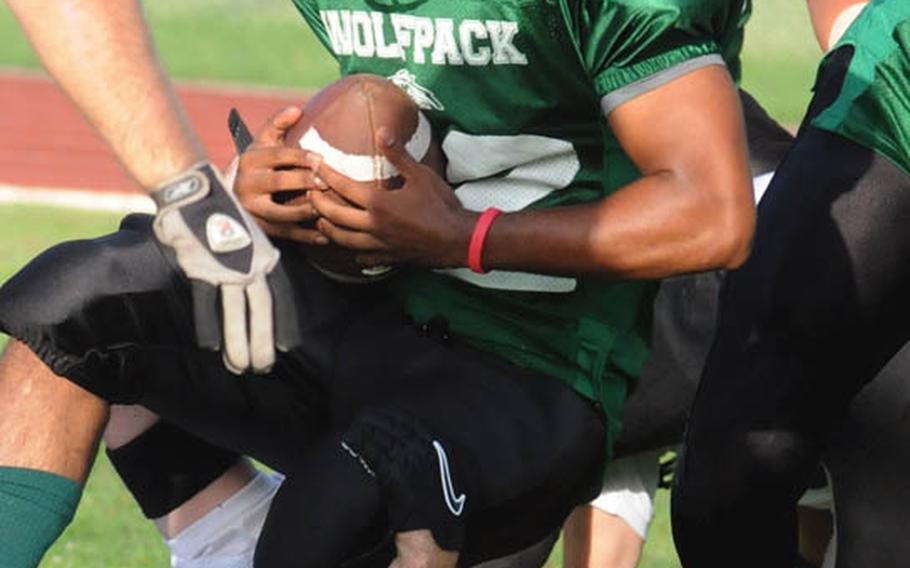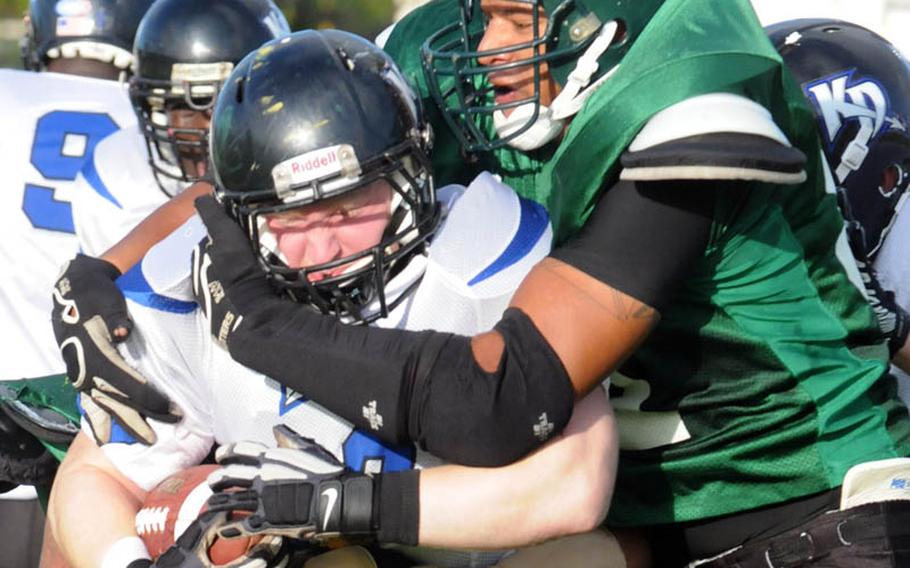 They may be North Division regular-season champions, but the road to that honor has been anything but easy for the Misawa Jets. That they managed to keep their unbeaten record intact the last two games in the U.S. Forces Japan-American Football League has been due in large part to versatile Douglas Brown.
He ran 40 yards for a touchdown and booted a 32-yard field goal in the first quarter, and the Jets defense held from there as Misawa capped a perfect 4-0 North regular season by winning 9-7 at last-place Yokosuka.
Meanwhile, Kadena swept its South Division season series with Joint Task Force, getting rushing touchdowns from Curtis Conrad, Emanuel Griffin and Kelvin Lewis in a 22-12 victory over the Wolf Pack at Kubasaki High School's Mike Petty Stadium.
North DivisionMisawa 9, Yokosuka 7
YOKOSUKA NAVAL BASE, Japan – It was the fourth close call the Jets (4-0) have endured this season; they beat defending champion Yokota twice by a combined eight points, and the last time they faced the Seahawks (0-3), Yokosuka trailed 13-12 at half before fading 34-12.
"Yokosuka played a great game. Hat's off to them for defending their home turf to the end," Jets coach Ben Mathe said. "This team (Jets) has character and heart. It's evident when we pull out games like this."
Brown, who played semi-pro football in Texas before coming to Misawa, has four touchdowns and a field goal in the Jets' last two games.
"He's stepped it up for us," Mathe said of Brown, who plays running back, quarterback, safety and kicker-punter. "All-around player."
The Jets' defense held firm until midway through the fourth quarter, when veteran DeForest Pittman, playing quarterback for the Seahawks for the first time, hit Eddie Collins for a 25-yard TD pass.
Yokosuka now needs to win at Yokota by 36 points or more to host the first-round playoff game July 30, also against Yokota.
"We're going to get it together," Seahawks coach James Price said. "It's not the kind of season we would have liked to have, but we're OK going into the playoffs."
South DivisionKadena 22, Joint Task Force 12
CAMP FOSTER, Okinawa – All season long, coach Ted Danecki had hoped the Dragons' offensive line would gel and lead the team to a win. "It was the O-line's best game all year so far," he said.
Kadena added to its single wing set some old-school T-formation plays as well as mixing in some spread option. "We can run multiple formations. We gave them (JTF) something to think about," Danecki said.
Griffin's 25-yard touchdown with 1:39 left capped Kadena's scoring; he had 99 yards on 15 carries. Earlier, Lewis ran a bootleg 8 yards for a score and Conrad put Kadena up 8-0 late in the first period. The Dragons got on the board with a safety on JTF's second possession.
Rodney Hunt, quarterbacking for the first time, fired a 21-yard TD pass to Matthew Everett early in the second quarter and got the Wolf Pack to within 16-12 with a 4-yard sneak at the start of the fourth period.
With the victory, Kadena (2-2) clinched host rights to the July 30 first-round playoff, also against Joint Task Force (0-3).
---
---
---
---