Far East girls soccer
Unbeaten Kinnick looks to regain title
by
Dave Ornauer
May 20, 2019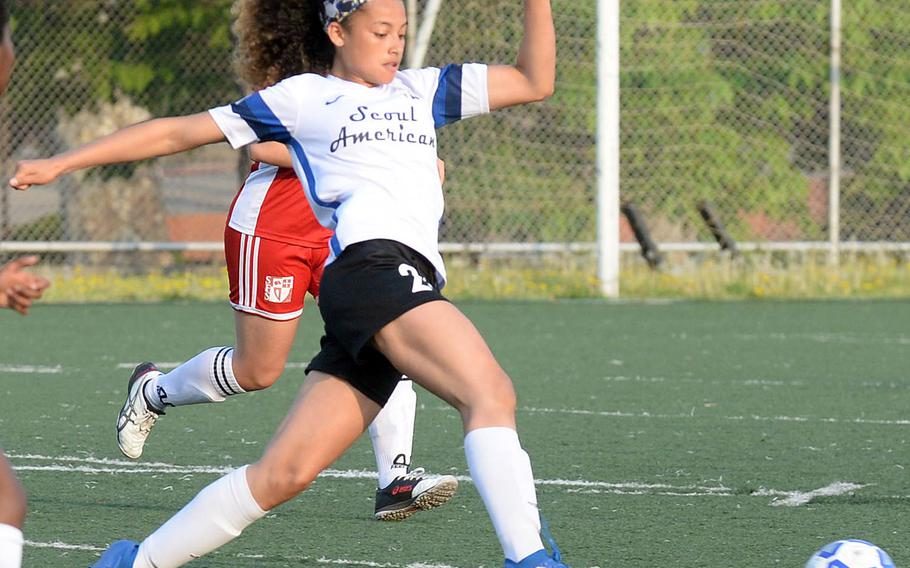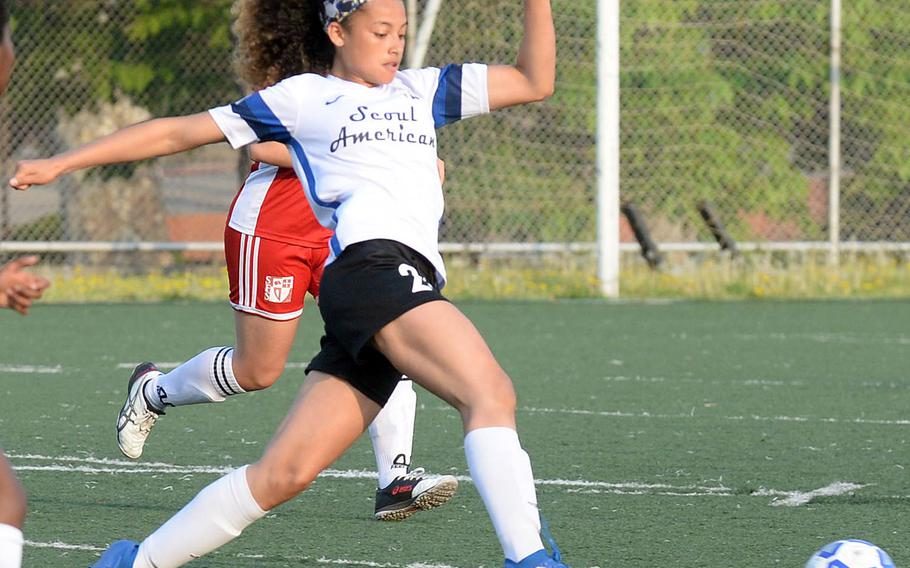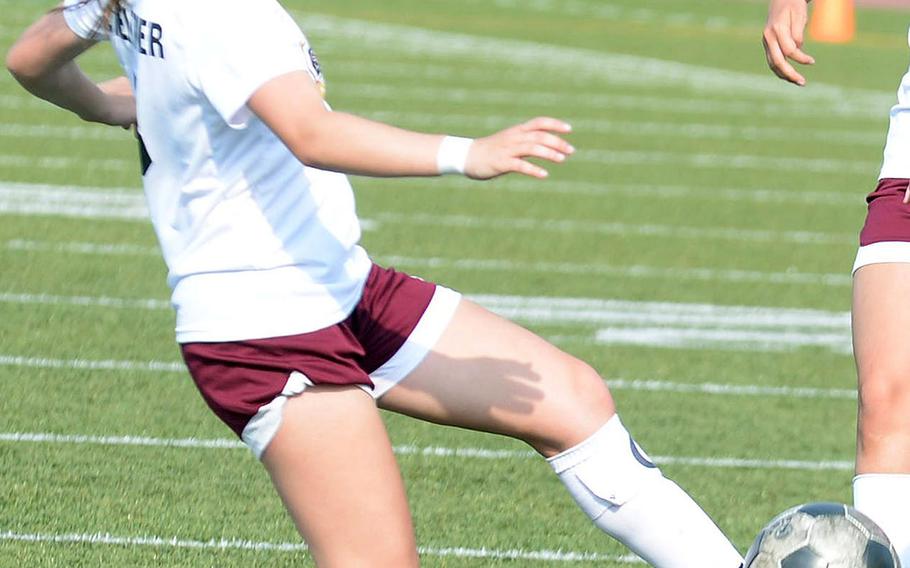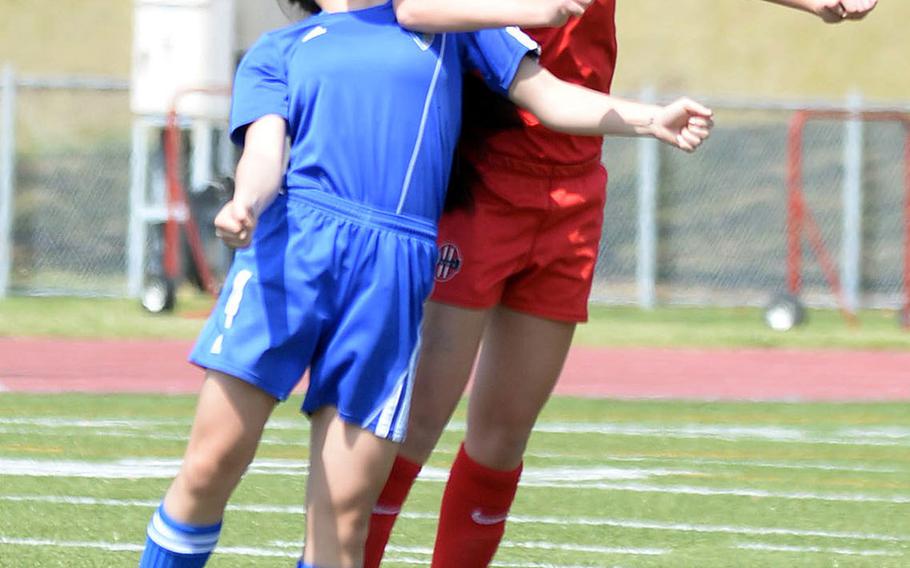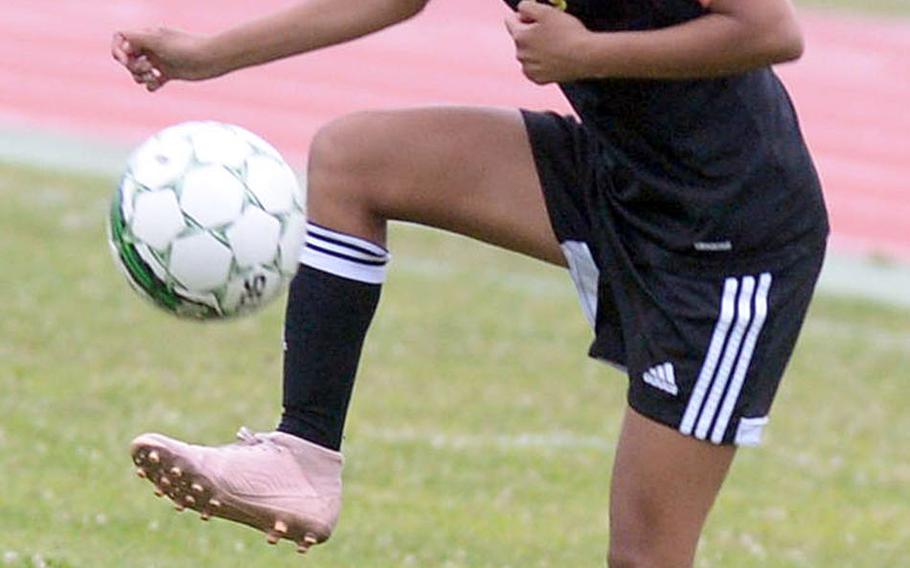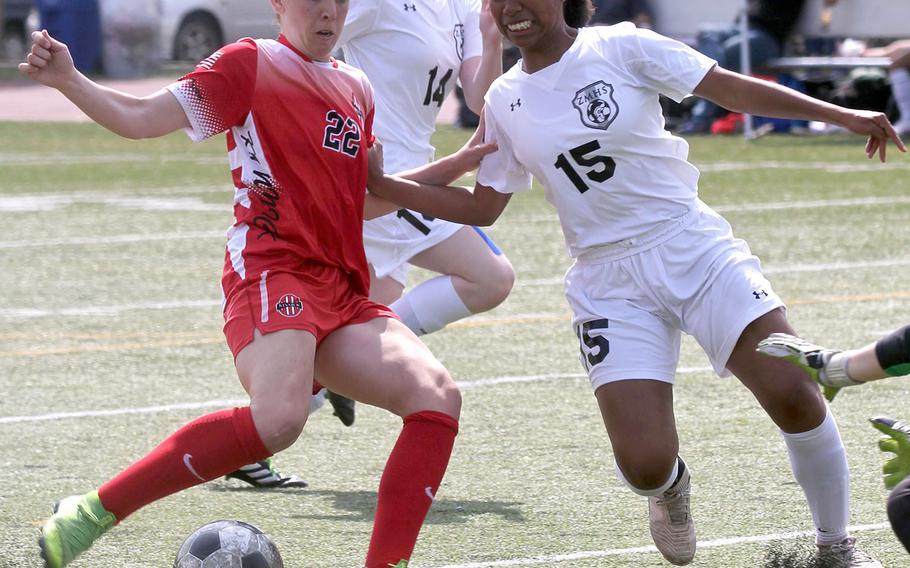 Capturing the DODEA-Japan tournament and Kanto Plain regular-season titles and going unbeaten were just the start of Nile C. Kinnick's girls soccer team's labors, coach Nico Hindie said.
There's still the Far East Division I Tournament to come this week.
The genesis of the 2019 season actually began, he said, with the second half of the D-I final last May 23 at Camp Humphreys, South Korea, where the Red Devils lost 5-3 to American School In Japan but outscored the Mustangs 3-2 in the second half.
"The finish of last year's season was pretty disappointing. We felt we could have done better," Hindie said. "But in the second half of the final, the girls got a taste of what we could do. They got hungry."
Hindie and his coaching staff worked the Red Devils harder during early practices and over the course of the season. The result: Both of those titles, plus a 16-0-2 record, including an 8-3 rout of the Mustangs at ASIJ on May 3.
"The girls came out really motivated this year," Hindie said. "The girls were up to the task, and it's really shown. They've come together as a team."
Now, it's a question of whether Kinnick can regain the D-I the title, which they last won in 2017 on their home turf at Yokosuka Naval Base. The D-I tournament takes place there again this week, with the usual five teams in a combined round-robin and single-elimination format.
The Red Devils were also to host the Division II tournament, but a lack of available billeting and fields at Yokosuka forced a move in late April to Misawa Air Base, where the small-schools event will be hosted by Robert D. Edgren.
The nine Division II teams will engage in pool play, followed by a single-elimination tournament.
There's every chance the Mustangs and Red Devils could square off again for the D-I title, as they have the last two years. But senior Ella Eisenhardt says Kinnick possesses some confidence, knowing they have one D-I crown to their credit.
"This year, there's not as much pressure," Eisenhardt said. "We have that one championship and this year we won Kanto and DODEA-Japan, and we're really focused on playing and winning the championship."
Still, they'll likely face ASIJ at least once more, along with Kadena, which finished third a year ago and has four players with 12 or more goals, including senior Megan Kirby with a Pacific-best 30, and junior midfielder Reina Callahan.
"We're aware of the talent that the other teams bring," said Kinnick sophomore striker Maggie Donnelly, who has 28 goals.
One team new to the D-I field is Humphreys, which replaces Seoul American. Coach Jonathan Brooks used to coach the Falcons, now helms the Blackhawks, and says it may take a season or so for Humphreys to get used to the jump in competitive level.
"I don't think we've seen anything at that level yet," Brooks said. "We'll benefit from this in future seasons."
The Falcons, with sophomore transfer Mya Rolison (17 goals), move to Division II, and the championship there could be up for grabs, with quite a few of the 10 teams in the running for the title, coaches said.
Zama could have a nose in front of the rest of the field, with its sophomore striker Kayesha McNeill (27 goals) and senior playmaker Siobhan Grabski (13 goals, 12 assists) in the lineup.
But they may have their hands full with defending champion Yokota and senior striker Caleigh Garcia (26 goals), and Matthew C. Perry and senior forward Micayla Feltner (29 goals).
"Those two teams are always difficult, Yokota has its dynasty going," said coach Manny Duarte of the Trojans, who have not won a Far East title since capturing D-I in 2009.
While the teams in Japan and Korea have yet to face one another, "Osan is always a difficult team, they have a storied history," Duarte said of the Cougars, who hold the Pacific record with eight D-II titles, but none since 2013.
To stop those teams takes "concentration and focus," Grabski said. "Coming out fast and getting the job done in the first 20 minutes or so. We just need to focus and play the game that we've prepared this whole season."