Unbeaten girls teams share common philosophies
by
Gregory Broome
February 6, 2020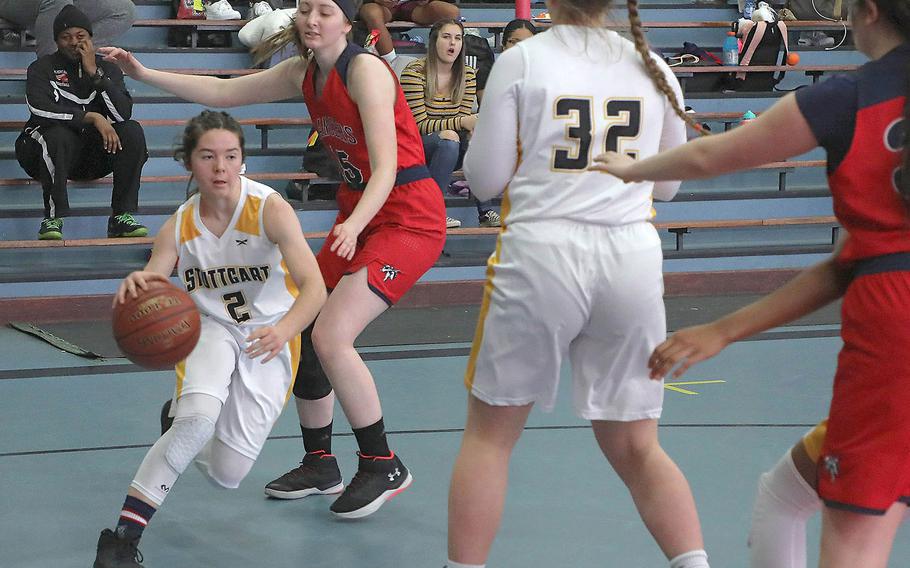 Planning to be an undefeated team is a great way to not become one.
Expecting to win each time your team steps on the court, however? Now that's a plan.
The Division I Stuttgart Panthers, the Division II Aviano Saints and the Division III Spangdahlem Sentinels have all arrived at this late juncture of the 2019-20 DODEA-Europe girls basketball without a loss, divisional or otherwise. And the coach of each team agrees on the best way to achieve that kind of success.
"An undefeated season can never be planned," Spangdahlem coach Chris Howard said. "We just take what we learn each week from playing and try to get better at doing it against the competition."
Aviano, having just knocked off one of its biggest divisional challengers in a weekend sweep of Naples, is thrilled to be alone atop the Division II standings.
"Having an undefeated record was never in the forefront of our focus this season. Ultimately making improvements from the previous season was our top priority," Monique Jones said. "Being the team to beat is definitely an accomplishment."
Even the Panthers, the three-time defending champions and the heavy favorite to prolong their reign this season, have avoided the topic throughout the winter.
"Having an undefeated season has never been a goal," Hess said. "Being undefeated has never entered any conversation that we have had together because the team knows that anything can happen on any given day against any given team."
But those unavoidable bouts of adversity can be overcome with the right attitude.
Jones and the Saints staff direct their athletes to "play as winners, command respect on the court, and play our game," she said.
Howard's Sentinels, meanwhile, have been faced with a string of injuries over the last few weeks that threatened to end their undefeated start. But Spangdahlem turned those problems into opportunities as players seized the chance to expand their games.
"The players have had to work together to fill in or do more and work with different skill sets or just take over a different role in the offense or defense," Howard said.
The Panthers have leaned on their championship pedigree to power through a dominant regular season in which they've won every game by double-digit margins.
"They set extremely high standards for themselves, so when they go out on the floor, they expect to win," Hess said. "They are not cocky or conceited. They just expect nothing less from themselves."
As successful as their seasons have been to date, a looming challenge faces each of DODEA-Europe's divisional frontrunners: transferring their momentum into the grueling European tournament.
Jones cited the challenge of preparing her team "mentally and physically" for the tournament's packed schedule, which includes a grueling preliminary round followed by, if all goes well, season-defining semifinal and championship games.
Hess said the Panthers' goal is to "stay focused" as they encounter more seasoned versions of the teams they'd already beaten in the regular season.
"They realize that everyone will have played everyone," Hess said. "So teams will make adjustments when they play us, and we will make adjustments, as well."
Above all, none of DODEA-Europe's current unbeaten teams expect their record to count for anything when the tournament gives every team in the brackets a fresh shot at a championship. In short, even a team that has had its fill of regular-season success has to enter the playoffs hungry for more.
"As we look to the tournament, can we continue to learn from each other," Howard said, "and maintain a flexibility to play the game at a winning level?"
broome.gregory@stripes.com Twitter: @broomestripes