Unbeaten Falcons want tourney title too
---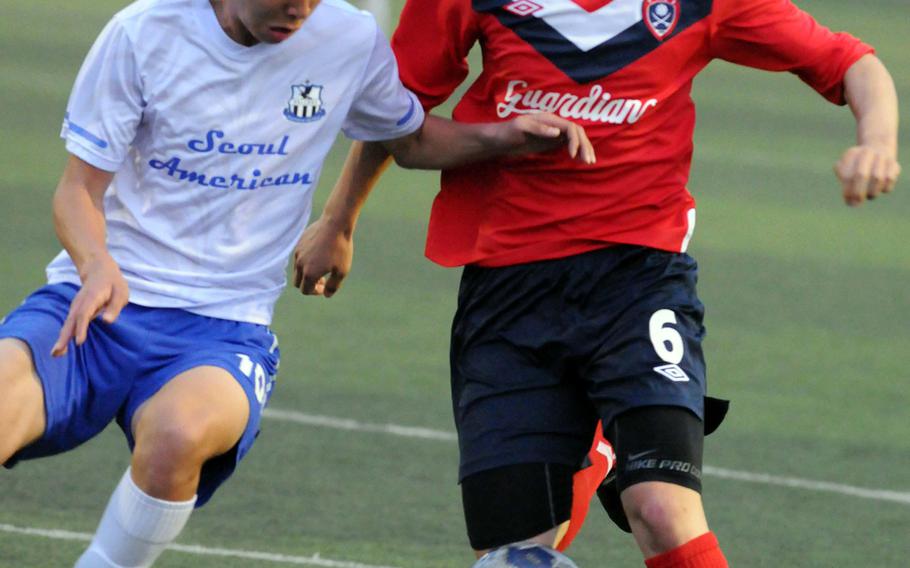 April 28 of last year burns like a volcano in the memories of coach Steve Boyd and his Seoul American Falcons boys soccer team.
That was the day their dream of a first Korean-American Interscholastic Activities Conference tournament title went up in smoke at the hands of Yongsan International School-Seoul, which edged the Falcons 2-1 in the Division I final at Gyeonggi Suwon International School.
"We have things to take care of with them," Boyd said of possibly facing the Guardians again Friday and Saturday in the Five-Cities Division Tournament, this time on the Falcons' home Sims Field turf.
His Falcons captured the regular-season title, the team's first since Boyd's first season at Seoul American, 2001. Their 8-0-4 record was the first unbeaten campaign on Boyd's watch, and is believed to be the boys' first unbeaten season in school history.
He says the team's 5-0 triumph Wednesday at Taejon Christian School International was emblematic of the way the season has progressed.
"It wasn't just winning at TCIS, but it was the way we won," Boyd said of controlling every phase of the game and scoring four times in the second half on just seven shots.
It also means the Falcons will be sporting bull's-eyes on front and back of their jerseys entering the tournament. "We're the team to beat," he said. "We won the regular season title and we're unbeaten. That's an incentive for other teams going into the tournament."
The same holds for Seoul Foreign, which hosts the girls tournament, also on Friday and Saturday. The Crusaders won the regular-season title for the fifth straight year and eighth time in nine years.
Osan American (8-3-1), thought to be rebuilding with many a freshman dotting the lineup, surprised the league this season by finishing second and grabbing the No. 2 seed.
Elsewhere, track and field enters the home stretch, with the Kanto Plain finals and last DODDS Korea regular-season meet Saturday at Yokota and Daegu, and the final Okinawa regular-season meet finishing up Friday at Kadena.
Ronald Dogan of Seoul American will try to snap the Pacific 100-meter record he almost broke last week in Pyongtaek. At Kadena, the Pacific girls 1,600-meter, boys 800 and girls 200 will be challenged by Kubasaki's Jessica Ircink and Ryan Bugler and Kadena's Janika Caines.
Long-haul spring sports bus and plane trips see their final weekend in Japan, as Yokota travels to E.J. King, Zama American to Matthew C. Perry and Nile C. Kinnick to Robert D. Edgren for their final DODDS Japan regular-season softball, baseball and soccer games.
Osan American baseball will try to run its season-opening winning streak to six games and Daegu softball seeks its sixth victory in seven games in the weekend DODDS Korea tri-dual at Camps Henry and Walker in Daegu.
---
---
---
---