U.S. thumps United Kingdom in SHAPE tourney
by
Michael Adubato
December 2, 2010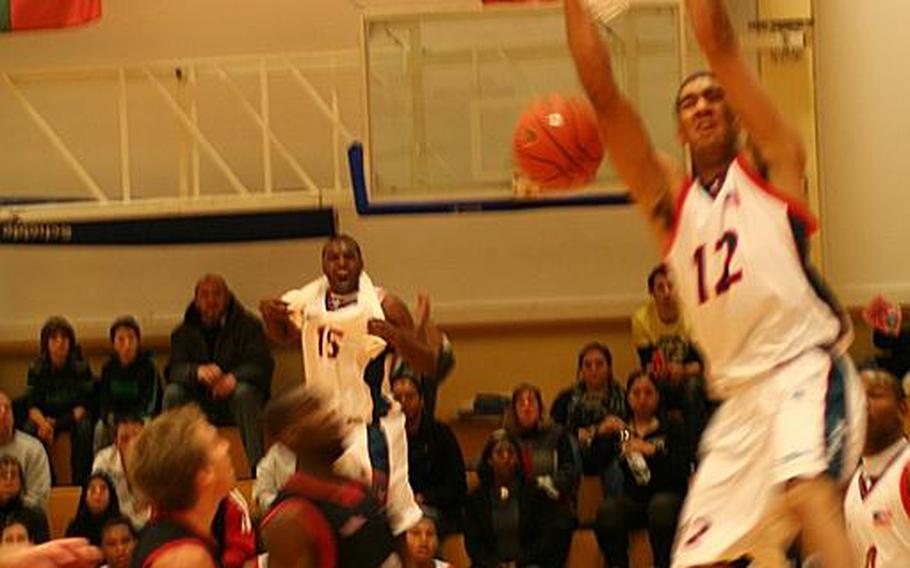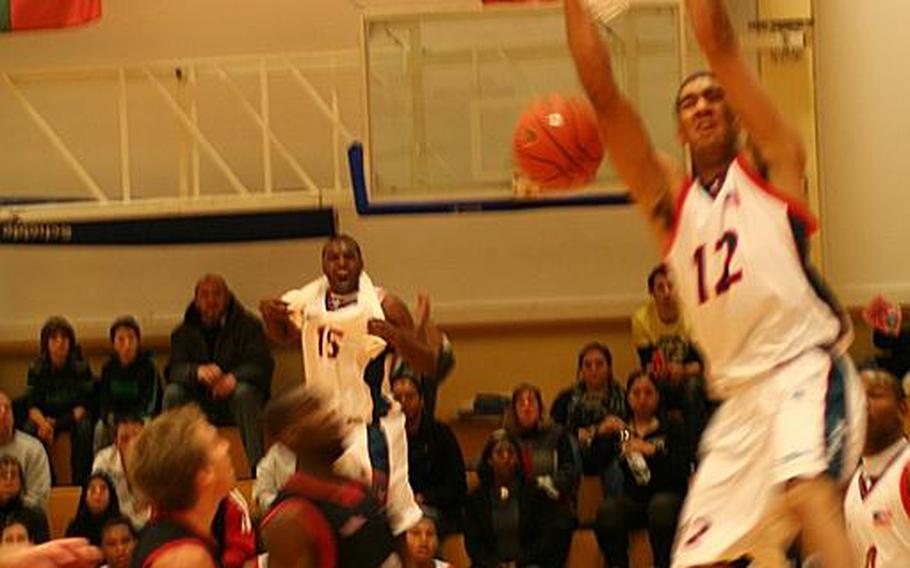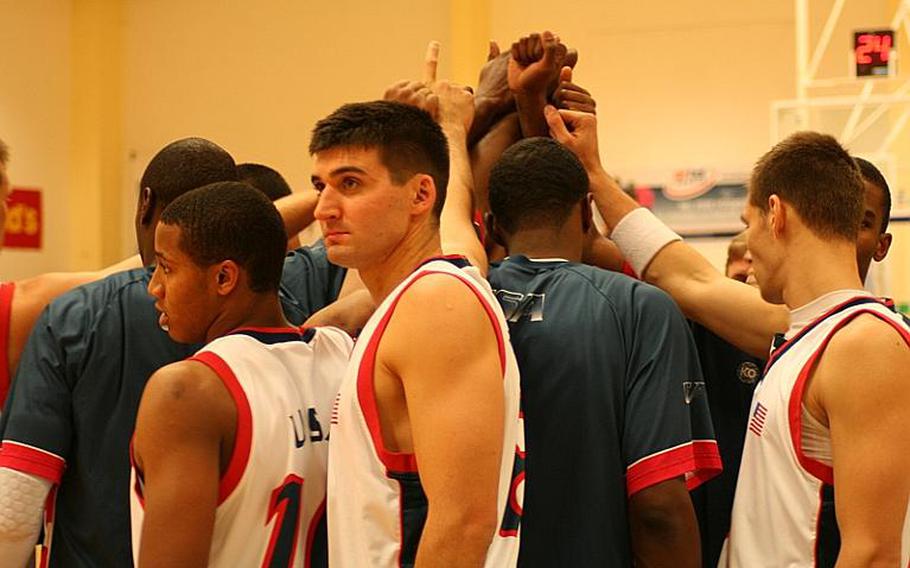 MONS, Belgium — The U.S. Armed Forces team continued its winning ways in the SHAPE International Basketball Tournament with a 103-62 victory over the United Kingdom on Wednesday night.
The Americans, one win away from going to the final on Saturday night, were led once again by Air Force 2nd Lt. Matt Holland, who registered a double-double with 20 points and 10 rebounds.
Navy Petty Officer 3rd class Antonio Robinson topped the scoring sheet with 23 points, while pulling down five rebounds. Also in double figures for the Americans were Army 2nd Lt. Cleveland Richard with 14 and Air Force 2nd Lt. Andrew Henke, who added 13.
The U.S. outscored the Brits in each quarater, leading 24-17 after the first quarter and 47-34 at half before running away in the second half.
The Americans have a rest day Thursday before playing Latvia, which is also undefeated in Pool B action. The game tips off at 8 p.m. on Friday in the SHAPE Main Gym.
The winner of that game will play the winner of Pool A for the title Saturday.
In other action Wednesday, Belgium, coached by American Sam Staggers, came away with a 68-67 win over the Netherlands when Olivier Honore hit a three-point shot at the buzzer. Belgium is 1-1 and Netherlands 0-2 in pool play. Also in that pool are France and Lithuania, the defending champs.
US Armed Forces (2-0) TOT-FG 3-PT REBOUNDS## Player FG FGA FG FGA FT FTA OF DE TOT PF TP A TO BLK S MIN-------------------------------------------------------------------------------9 HOLLAND, Matt....... f 8 10 2 4 2 2 1 9 10 1 20 2 2 2 2 318 JOHNSON, Craig...... c 2 7 0 0 4 8 3 4 7 2 8 1 1 0 0 1511 HENKE, Andrew....... g 5 11 1 4 2 2 2 3 5 3 13 1 1 1 1 265 BARTLEY, Ron........ g 0 0 0 0 0 0 0 2 2 2 0 10 6 0 1 187 RICHARD, Clevland... g 6 9 1 3 1 2 2 1 3 2 14 1 5 0 3 2110 NELSON, Marcus...... 4 5 0 0 0 0 0 3 3 2 8 5 4 1 4 2112 BREWER, Kenny....... 2 5 0 0 2 4 1 3 4 1 6 0 0 1 1 1014 SHEPPARD, Kirk...... 3 5 0 0 0 0 1 2 3 1 6 0 2 1 2 915 JEFFERSON, Jason.... 1 3 0 0 1 2 1 8 9 4 3 3 1 0 0 184 NEWMAN, Brandon..... 7 11 3 5 6 10 0 0 0 1 23 0 2 0 3 166 ROBINSON, Antonio... 1 5 0 0 0 0 0 5 5 1 2 3 1 0 1 15 Totals.............. 39 71 7 16 18 30 11 40 51 20 103 26 25 6 18 200
TOTAL FG%: .549 DEADBALL3-Pt. FG%: .438 REBOUNDSF Throw %: .600 0
Site: SHAPE Belgium Attendance: 212Officials: Claude (FRA); Yves Toussaint (BEL); Ciano (ITY);Technical fouls: United Kingdom-None. US Armed Forces-None.Score by Periods 1 2 3 4 TotalUnited Kingdom...... 17 17 12 16 - 62US Armed Forces..... 24 23 21 35 -103