U.S. team shows much improvement
by
Rusty Bryan
April 5, 2010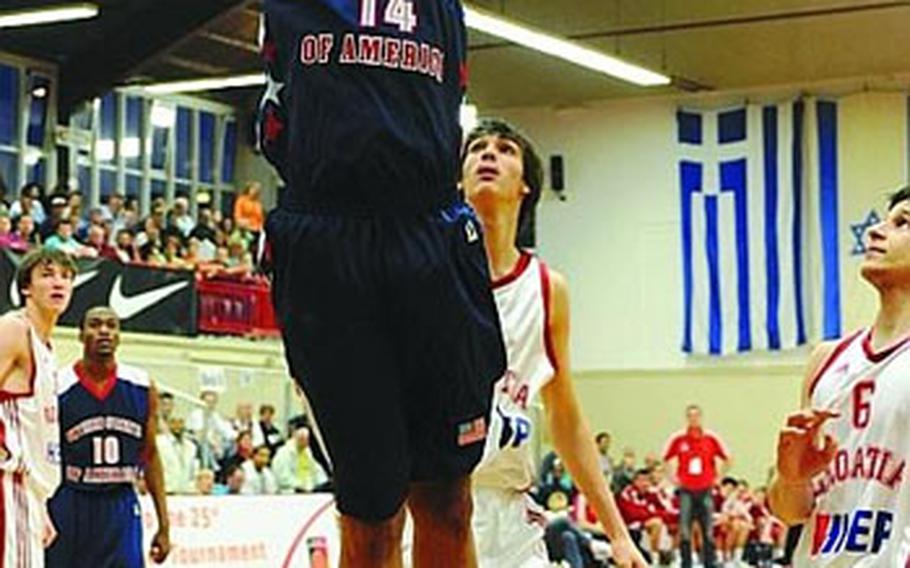 To see an earlier version of this story, click here
MANNHEIM, Germany — Going into Sunday night's second pool play game in the 25th biennial Albert Schweitzer International Youth Basketball Tournament, U.S. coach Larry Krystkowiak knew there was plenty of work to do before taking on the national junior team of France.
"Being together just five days," Krystkowiak said after his team's 71-69 victory over Croatia in Saturday's opener, "there's no phase of the game we can't improve."
Improvement was the story against Croatia. Outrebounded by more than 2-to-1 in a 76-66 overtime loss Thursday to Germany's under-18 national team in a tune-up, the Americans crashed the boards against the Croats well enough to cut their deficit on the glass to 46-42. Chris Manhertz of Cardinal Spellman High School in New York City led all rebounders with 14.
The U.S. continued to play effective defense, even though Krystkowiak wasn't sold on his team's defensive efficiency.
"I was pleased with our defense in the first half," Krystkowiak said about the first 20 minutes, during which the U.S. forged a 40-32 lead, "but sometimes you can get fooled on defense. A lot of the time they were just missing open shots."
Whatever the cause, Croatia shot 13 percent from behind the three-point arc, including all four attempts with the game on the line in the final 10 minutes.
Offensively, the Americans stepped up their outside shooting. Damian Leonard of J.L. Mann Academy in Greenville, S.C., made five of 11 three-point attempts and finished with a team-high 18 points.
"He was making them in practice yesterday," Krystkowiak said, but cautioned, "They're young. We emphasized that you have to pass the ball to get an open shot. We went eight straight possessions in the second half without making a pass and paid for it."
The solution, Krystkowiak said, is his players' becoming accustomed to operating with teammates of equal ability.
"Everyone knows he's the best player on his own team," said Kyrstkowiak, who played 11 seasons in the NBA and coached the Milwaukee Bucks. "When they learn to pass the ball off and play as a unit, that's when they get to the next level."
Helping in that regard might be the arrival of 6-foot-11 center Marshall Plumlee of Christ School in Asheville, N.C. Plumlee wasn't expected to arrive until Sunday, but his team's exit in the ESPN RISE high school basketball invitational on Thursday freed him up sooner. He arrived Friday, his school's loss behind him.
"I'm just glad to be here," said the senior who holds 11 NCAA Division I offers, including one from Duke, where his two older brothers play. "I'm going to get to go up against great competition here."
Plumlee played just 7:27 and scored three points, but impressed Kryskowiak with his candor as well as his skills.
"Players take pride in playing that hard," Krystkowiak said. "When they get tired, they try to hide it. Marshall said 'Take me out.' "
France, champion of this event in 2006, beat Argentina 85-66 on Saturday. The Americans, winners here a record 10 times with the last gold coming in 1996, are to close out pool play Monday against Argentina. Tip-off is 8 p.m.
U.S. 71, Croatia 69
(Pool play Saturday at Mannheim)
Croatia 19 13 14 23—69U.S.A. 16 24 16 15—71Scoring—Croatia: Roko Rogic 19, Boris Barac 14, Dario Saric 13, Marko Ramljac 13, Josip Matic 4, Alex Percan 2, Franko Sango 2, Stefan Zadrevec 2; U.S.: Damian Leonard 18, Ryan Boatright 12, Mike Chandler 10, Kevin Ware 9, Chris Manhertz 7, Royce Woolridge 6, Farooq Muhammad 5, Marshall Plumlee 3, Joshua Henderson 1
Rebounding—Croatia (13 offensive, 29 defensive) 42, Saric 12; U.S.: (13 offensive, 33 defensive) 42, Manhertz 14.
Three-point goals—Croatia 3-of-24 (13 percent); U.S. 6-of-21, 29 percent. Leonard 5-of-11, 45 percent.
Free-throw percentage—Croatia 10-of-29, 34 percent; U.S. 17-of-28, 61 percent.