U.S. soccer team at Ramstein as match with Italy draws near
by
Steve Mraz
June 16, 2006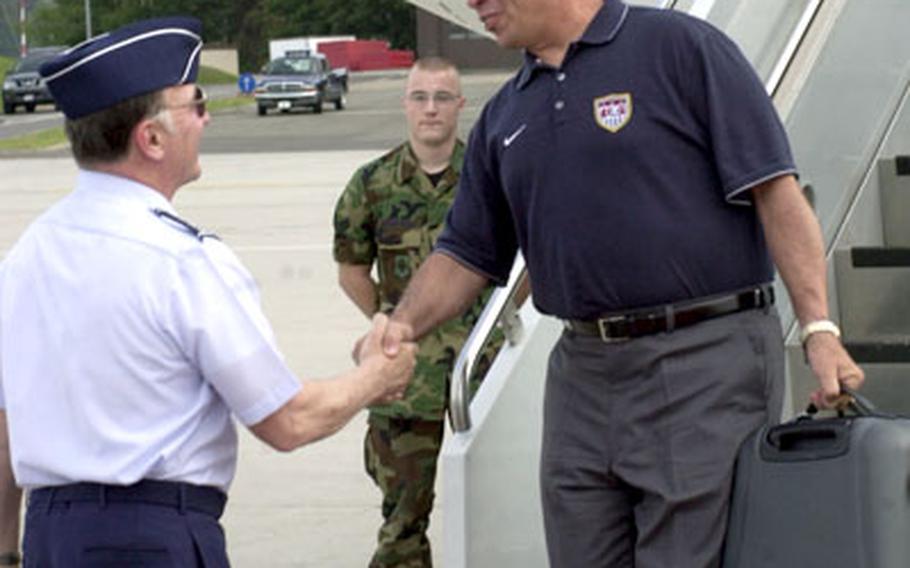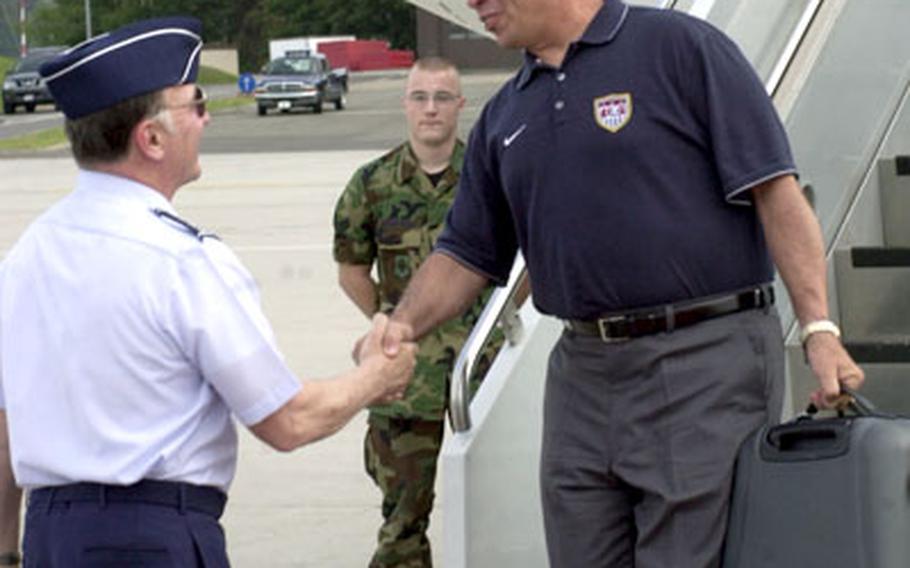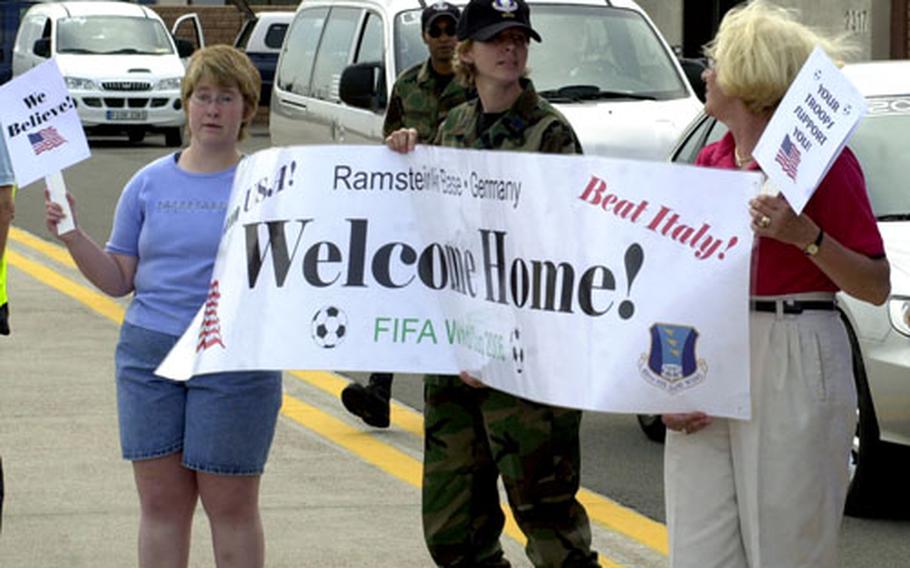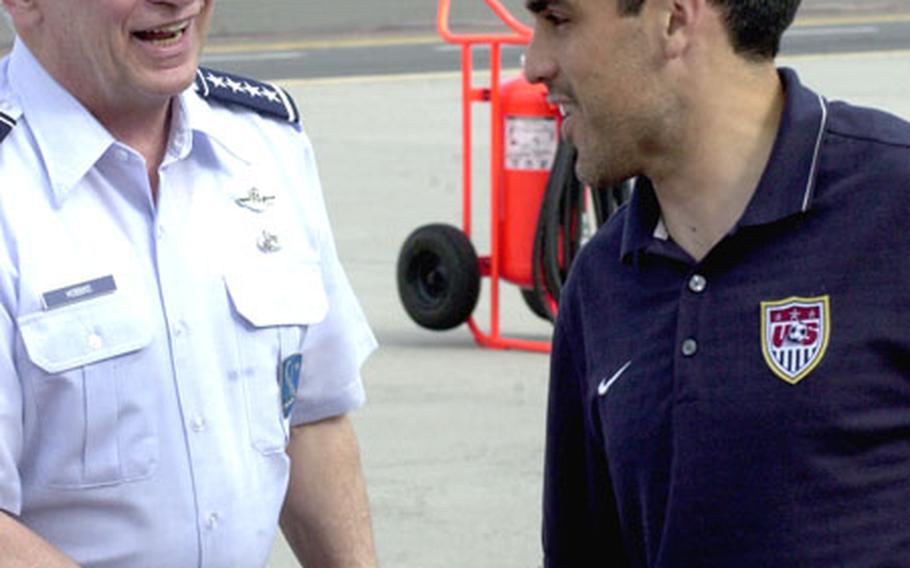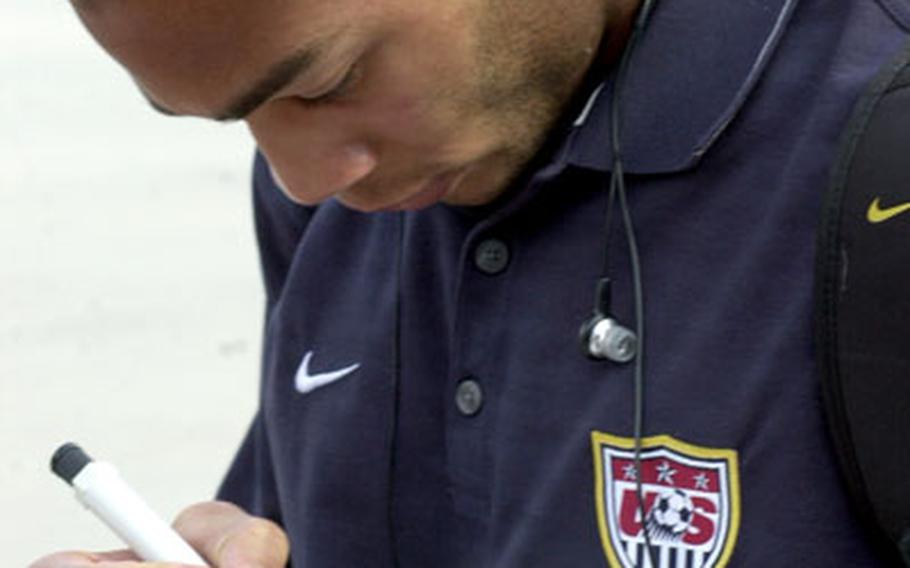 RAMSTEIN AIR BASE, Germany — The U.S. soccer team arrived at Ramstein Air Base on Thursday as it looks to get its first victory of the 2006 World Cup on Saturday against Italy in Kaiserslautern.
The squad landed at Ramstein around 6 p.m. and then was driven past Donnelly Park and greeted by cheering and flag-waving Americans .
The team will be housed on base in preparation for Saturday's 9 p.m. game against Italy at Fritz-Walter Stadiumin Kaiserslautern, the smallest World Cup venue with few hotels.
The U.S. stayed four days at Ramstein before a friendly against Poland in March.
It was a matter of convenience and security that prompted the U.S. team to request an exemption from staying at a FIFA-recommended hotel just a few blocks from the stadium.
"We feel like we're at home, having a bunch of Americans there behind us, rooting us," forward Eddie Johnson told Reuters. "We couldn't ask for a better environment to be playing this game."
Staying on the air base will be a good experience for the team, said Jeff Burt, whose wife is a senior airman at Ramstein Air Base.
"They can see U.S. personnel, where we live and the things we do every day," he said. "Maybe it will make more people appreciate what they do."
Having lost 3-0 on Monday to Czech Republic, the U.S. needs to win if it has a realistic chance to advance beyond group play. In the past two World Cups, only one team has progressed in the tournament after losing its first game — the 2002 Turkey squad. Also, no U.S. team has ever advanced in the World Cup after losing its first group-play game.
To make matters worse, the U.S. has a formidable foe Saturday in Italy. The Italians bested Ghana 2-0 on Monday in a fast-paced match.
On Saturday, Kaiserslautern officials are expecting an additional 100,000 people in the city. With about 50,000 Americans living in the Kaiserslautern area and Italy's proximity to Germany, officials figure about 200,000 people will be in the city Saturday.
Of the five World Cup games to take place in Kaiserslautern, Saturday's game will have the largest police presence, said Bernd Riffel, a press officer with the Kaiserslautern police headquarters. When asked how many police officers would be downtown, Riffel said he was not allowed to release that information.
So far, the World Cup in Kaiserslautern has been very peaceful, and fans have behaved well, Riffel said. Some pickpocketing occurred along the World Cup Mile, a section of downtown reserved for pedestrians with World Cup festivities.
"Just take with you what you really need," Riffel advised tourists and match-goers. "If you choose to bring a camera or cell phone, keep them as close to you as possible. Do not carry more money than you need."
For those without tickets, public viewing areas with huge screens have been set up downtown. Bongiovio, a Bon Jovi cover band, will perform Saturday in Kaiserslautern's Stiftsplatz after the game, from 11 p.m. to 1 a.m.
If you want to go downtown Saturday, officials advise taking a train or using one of the several park-and-ride facilities set up around Kaiserslautern. A free shuttle from Ramstein's base exchange parking lot will be available for transportation to and from downtown Saturday evening beginning at 5:30 p.m. and stopping at 1 a.m.
"Please do not drive into the city with your [privately owned vehicle]," Riffel said.
Also, Pulaski Park on Kaiserslautern's Pulaski Barracks will have a World Cup Fest on Saturday, starting at 1 p.m., for ID cardholders. A shuttle to the family-friendly event will be available from Sembach, Ramstein, Kleber and Landstuhl. Five bands are slated to play, and the U.S./Italy game will be shown live on a 400-square-foot JumboTron screen.
Burt plans to watch the game at Pulaski Park. With a 7-month-old, Burt figures that the Pulaski event will be less hectic and safer for children than heading downtown.
Asked for his prediction on who would win Saturday's game, Burt replied matter-of-factly.
"The U.S. played so bad the first time," he said. "They didn't have any confidence in what they were doing. They didn't play aggressive enough, so maybe it'll give them a kick in the butt to play harder.
"If they beat Italy, it'll be a surprise."