U.S. advances to Schweitzer semifinals despite loss
by
Rusty Bryan
April 10, 2010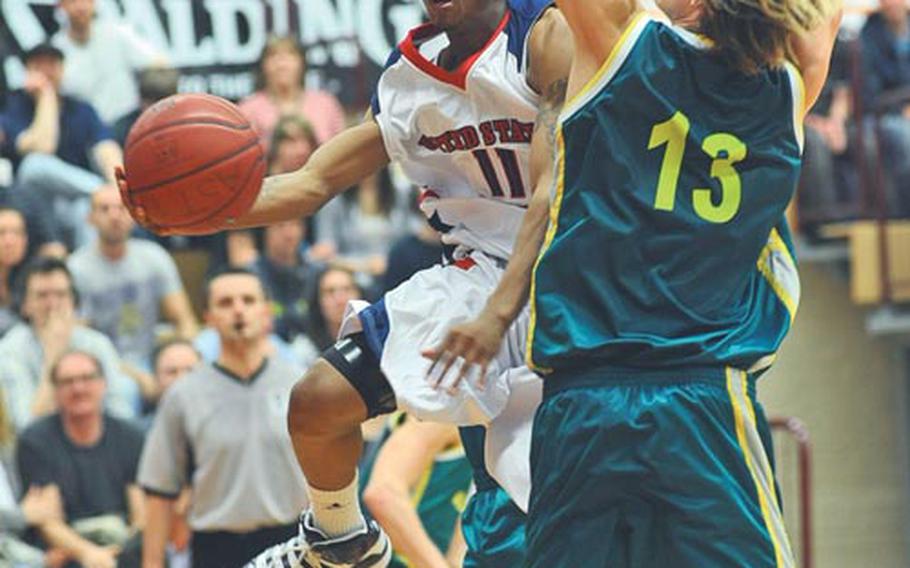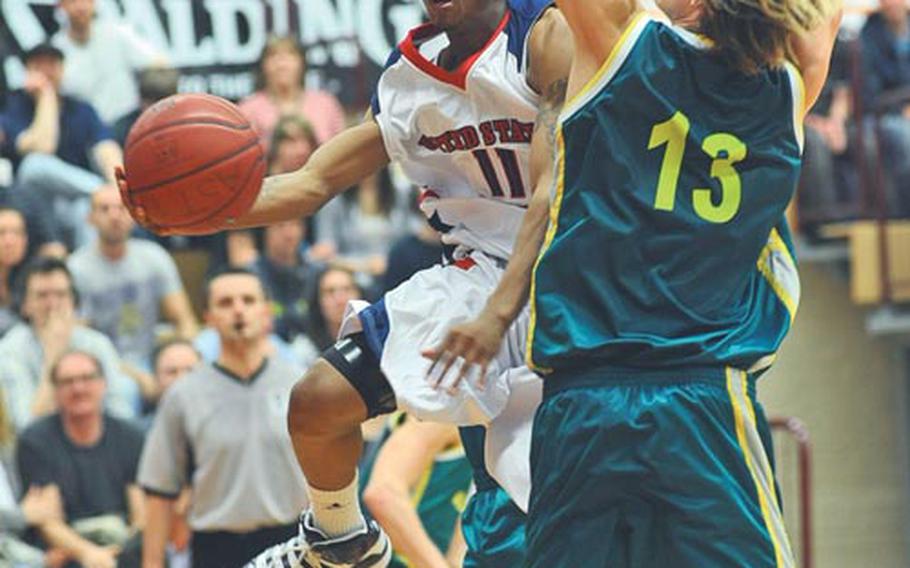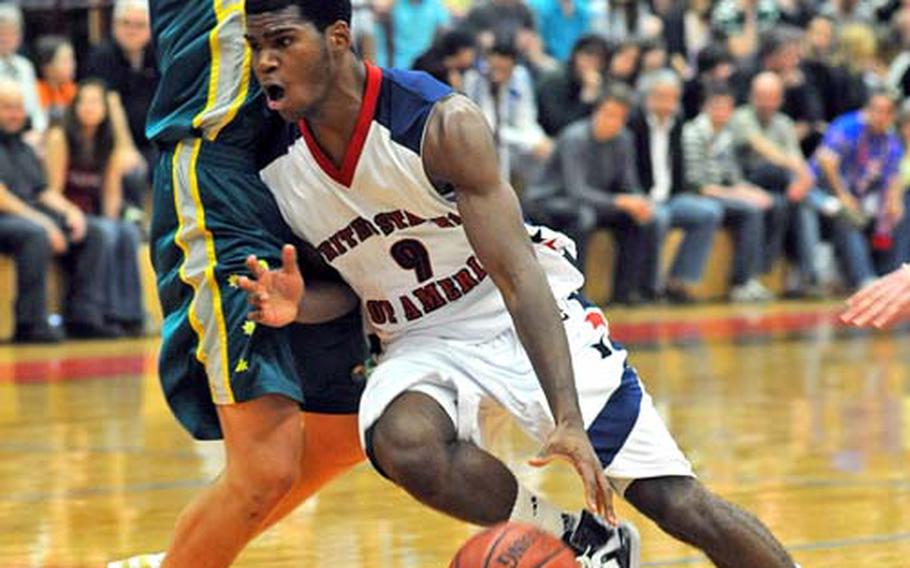 See an earlier version of this story here.
MANNHEIM, Germany — Anyone looking for a bit of an edge when filling out NCAA basketball tournament brackets a couple of years from now could do some early scouting at the Benjamin Franklin Village Sports Arena Saturday afternoon.
Future Kansas Jayhawk Royce Wooldrige of Phoenix, future Tennessee Volunteer Kevin Ware of Greenville, S.C., and their U.S. Albert Schweitzer squad teammates, most of whom also are bound for NCAA Division I ball, will be putting their skills on display one more time, either in the third-place game at 2 p.m. or the title game at 4 p.m.
Either game is going to be a challenge.
Two German national teams, the country's Under-17 and Under-18 squads, were playing in Friday's semifinals, where the 17s were to face Australia and the 18-year-olds, undefeated in the tournament, were to take on the U.S. in a game that was to tip off after this edition of Stars and Stripes went to press Friday evening.
The Americans, who reached the game despite a 79-66 loss to Australia on Thursday night, went into their semifinal against the team that defeated them 76-66 in overtime in an April 1 exhibition game with a chance to see how far they've progressed in the eight days since.
"We've come full circle," U.S. coach Larry Krystkowiak said after his team was outworked at the end of each half by the Australians. "We played them in our first game and now we face them again."
Whatever the outcome for the U.S. in the semifinals, by making the final four the Americans ensured themselves of at least matching their fourth-place finish here in 2008. The Americans have won this event a record 10 of the 25 times it's been played, but the last title came in 1996. The improved play of the junior national teams from other countries the pick-up squad of Americans must face has kept them out of the title game since.
Australia scrambled at top speed to outscore the Americans by 13 points, outrebound them by 14 — by seven on the offensive glass — and hand out 18 assists to just five for the U.S. squad,.
"They're really physical," Kkrystkowiak said of the Australians. "They're the poster child for what's possible if you play hard. They might not be the most talented team here, but they're the most aggressive."
The attitude and effort paid off against the Americans, whom Krystkowiak said suffered from their newness to one another and his system.
"Look what happened when we got a stop, in transition," he said. "When they're looking to me for the play, the other team ends up taking the ball out of the net."
U.S. point guard Ryan Boatright, a 6-0 junior at East Aurora (Ill.) High School who scored a game-high 27 points, was impressed with the Australians' speed.
"They're a lot faster than the other teams we've played," he said. "When we lost (defensive) position they really made us pay."
Particularly at the end of the half and the game. Australia went on an 11-2 run two minutes before intermission to go up 44-36. They closed out the game's final 4:07 with a 16-3 burst.
The last streak fell just short of knocking the U.S. out of the final four. Had the Aussies won by 14 points or more, Spain would have taken the Americans' place in the semis under the event's complicated tiebreaker rules.
However his team fared Friday night, Krystkowiak indicated he's gratified by the U.S.'s advancement.
"If you'd asked me before the tournament whether we'd make the final four," he said, "if I were playing 'Deal or No Deal,' I'd have pushed the button (and accepted the) deal."
Australia 79, U.S. 66(Medal-round gameThursday at Mannheim)Australia 17 27 11 24—79U.S.A. 17 19 18 12—66Scoring—Australia: Mitchell Creek 23, Corban Wroe 12, Lewis Thomas 11, Hugh Greenwood 10, Anthony Drmic 8, Igor Hadziomerovic 5, Jackson Aldridge 4, John Fenton 4, William Sinclair 2; U.S.: Ryan Boatright 27, Damian Leonard 14, Kevin Ware 8, Chris Manhertz 6, Andrew White 4, Royce Woolridge 4, Mike Chandler 2, Marshall Plumlee 1 Rebounding—Australia 51 (20 offensive, 31 defensive); U.S. 37 (13 offensive, 24 defensive) Manhertz 12, Plumlee 5. Field goals—Australia 28-of-71, 39 percent, 8-of-23. Three-pointers—U.S.: 25-of-66, 38 percent, 7-of-24 3-pointers. Free-throw shooting—Australia 15-of-18; U.S.A. 9-of-17.