U.K. squads tee it up in 4-team scrimmage
by
David Hodge
September 9, 2009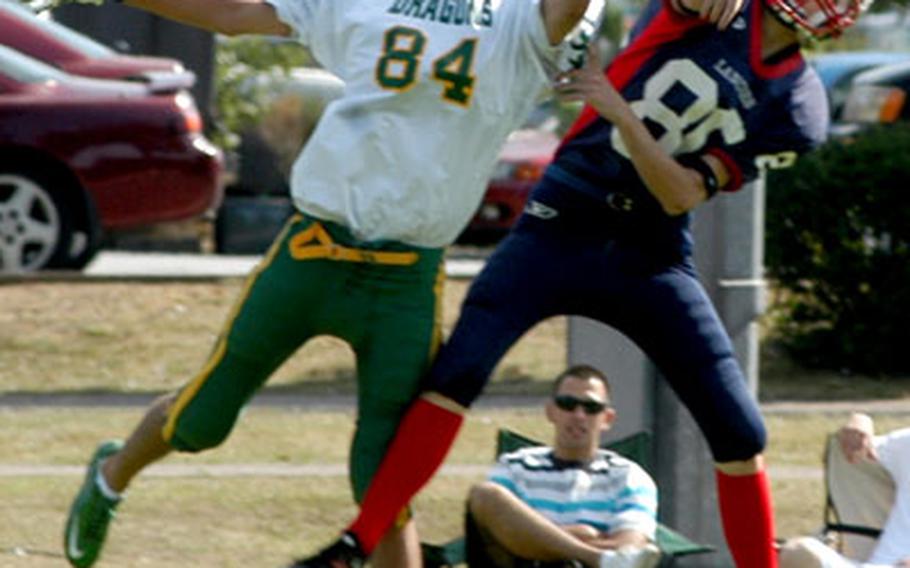 RAF LAKENHEATH, England — DODDS-Europe's football season doesn't officially open until next weekend, but four teams from the U.K. got together for some hard-hitting, head-to-head action during a football jamboree Saturday.
Players and coaches from the Alconbury Dragons, Menwith Hill Mustangs, Lakenheath Lancers and the Filton Academy Pride, a British-national team, gathered on the Lakenheath gridiron for a controlled scrimmage.
"The jamboree is a good way to tune up and get ready for the season," said Alex Federinko, a senior and starting quarterback for Division I Lakenheath. "After a couple of weeks of hitting our own guys, it's fun to hit someone else."
Both varsity and junior varsity squads played four rounds of football, said Matt Martinez, the Lancers' head coach. Each round consisted of about 12 plays for each team on both offense and defense.
All teams scrimmaged with nine-man squads. While Lakenheath plays in the division for DODDS-Europe's largest schools, Menwith Hill, with a 20-man squad, and Alconbury are in Division III and will play nine-man football during the regular season with the rest of Europe's smallest schools.
Coaches blanketed the field, making on-the-spot corrections when they detected players' shortcomings and barking approval for each successful catch or stiff-arm.
Spectators and family members also got into the action, standing along the sidelines and shouting out encouragement.
Chief Master Sgt. Fredrick Thomas of the 48th Force Support Squadron at RAF Lakenheath made sure he had a good spot to watch his son, Fredrick Jr., play safety against Alconbury. He said football means everything to his son.
"He loves football," he said.
Thomas said he is looking forward to seeing Lakenheath take on its D-I rivals.
"I think Lakenheath is going to have a great year," he said. "Coach Martinez is a stern disciplinarian and he values attitude and effort as much as talent."
---
---
---
---