Two weekends left to improve track bests
---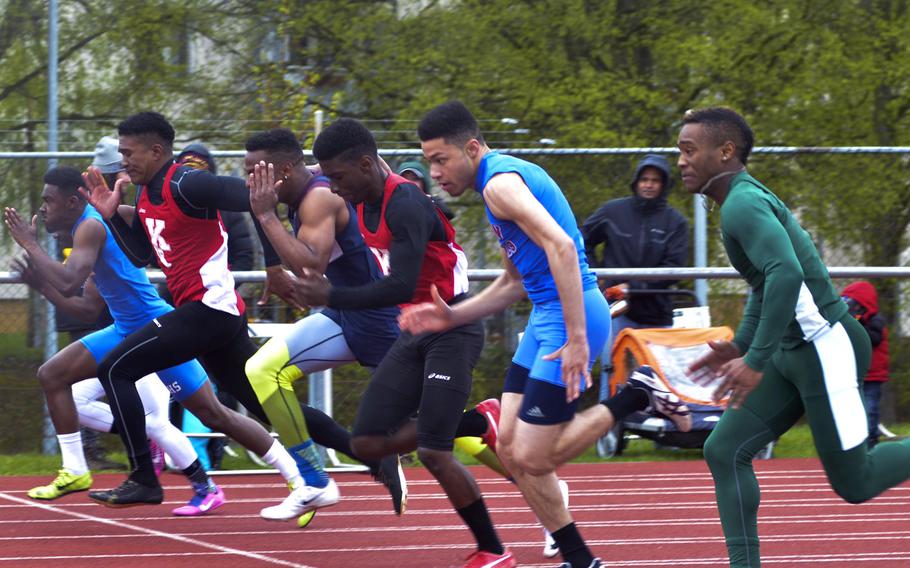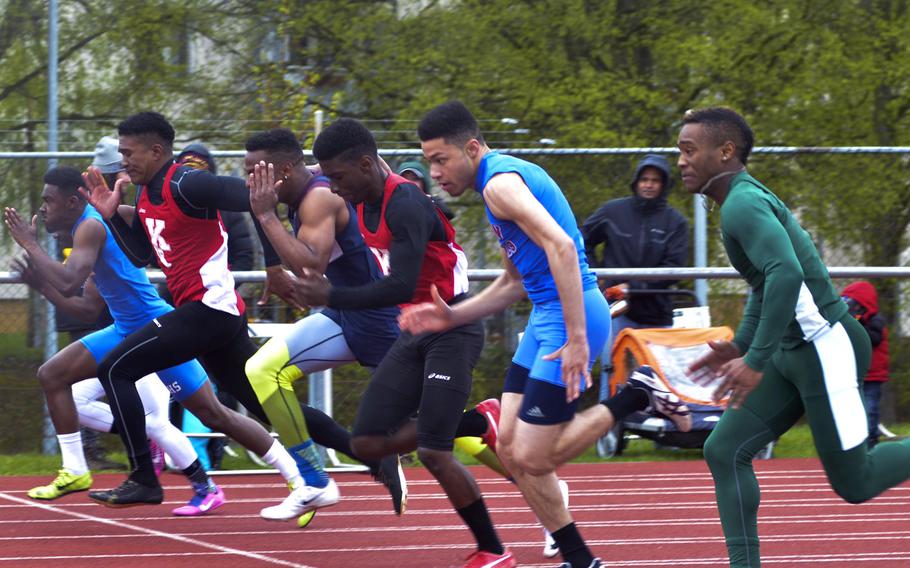 At this point in the DODEA-Europe track and field season, most of the top contenders for gold medals in individual events have officially qualified for the European championship meet and are working methodically to shave seconds from or add inches to their personal bests.
That task is particularly difficult in the all-out sprint that is the 100-meter dash, an event that starts and ends so abruptly there seems little opportunity to make up time. But even at this scale, DODEA-Europe's fastest athletes are working to improve their numbers.
That effort continues Saturday with a trio of meets of that comprise the second-to-last weekend of the regular season. The championship meet, set for May 27-28 at Kaiserslautern High School, is drawing nearer on the horizon, and time is running short.
For some, it's running in the tenths of seconds.
That's the margin that separated DODEA-Europe's top contenders last weekend.
At Kaiserslautern, homestanding David Zaryczny and Ramstein's Yson Hogan turned in matching 100-meter times of 11.34 seconds. But even that impressive time was trumped by Vilseck's JaColby Hulltown, sprinting some 400 kilometers to the east in Munich. Hulltown turned in a time of 11.11 seconds to record the day's best sprint anywhere in DODEA-Europe.
Zaryczny and Hogan won't see each other this weekend as they travel to separate meets, with Ramstein joining Stuttgart, Baumholder and Bitburg at Black Forest Academy and Kaiserslautern piling into an eight-team meet at Wiesbaden. Hulltown and the Falcons, meanwhile, cross the Alps to take on DODEA-Europe's Italian contingent in Vicenza.
The girls' 100-meter race, meanwhile, is largely confined to one team - Ramstein. Defending champion Denee Lawrence posted a 12.47 on Saturday to edge teammate Yhari Dupree, last spring's third-place finisher, and her time of 12.88. Naples' Kayla Music, coming off a 12.92 effort last Saturday at Munich, is one of the few with a chance to keep up.
Twitter: @broomestripes
---
---
---
---