Two generations team up in U.S.-Britain Marine rugby game
by
Joe Gromelski
April 29, 2012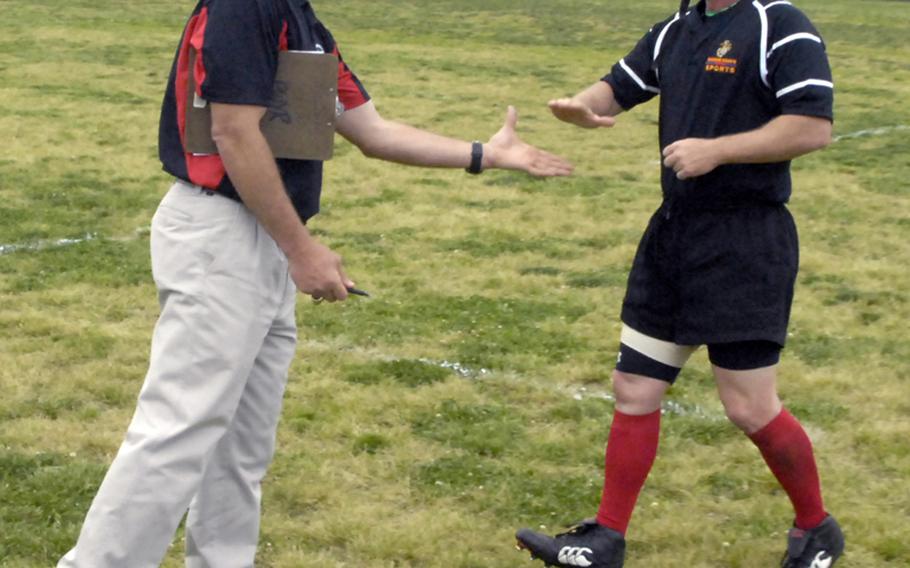 QUANTICO, Va. — At age 47, Col. Philippe Rogers would have been right at home watching Saturday's Virginia Gauntlet rugby game from the VIP section, cheering the All-Marine team on as it hosted the British Royal Marines.
But Rogers said he "really, really wanted to have one more time playing with the young lads, because it really, really energizes me." So there he was, running and hitting with the next generation.
The Brits won the game, 46-10, as the Gauntlet competition between the two countries neared the end of its weeklong run at Marine Corps Base Quantico. Other sports contested include basketball, golf, soccer and skeet shooting — a couple of which might have seemed better choices for someone closing in on the half-century mark.
"I've been playing rugby for 30 years, on and off," Rogers said. "I'm at the Pentagon right now, so it's kind of tough to break away and to actually get out and play rugby. But when they put the All-Marine message out, I put my application in and they accepted me.
"The coach and I have played before, many years ago, so he knew that I could bring something to the game. It took me about eight weeks of working out solid just to walk out onto this pitch with the guys today. But it was a great pleasure."
Sergeant Major of the Marine Corps Micheal P. Barrett, a former standout rugby player, told Rogers he was "making me feel bad here ... I'm like 10 years younger than you."
In spite of the score, the British visitors were impressed with the Americans' effort.
"It was outstanding. It was one of the better games we've played," said Royal Marines head coach Taff Williams. "Their fitness is spot on, they hit hard, they hit very hard."
Team captain Joshua Theophanides agreed. "They pushed us all the way ... They hit very hard, and they're committed. One hundred percent committed all the time."
On the U.S. side, coach John Jacobs said his team "did exactly what I expected from them, so our time was well spent during our practices. We applied pressure, we disrupted the attack of the Royal Marines."
Marine Corps Commandant Gen. James Amos was among the spectators, and he explained the idea behind the week's competition.
"The goal was, we fight hard on the battlefield together, we deploy hard, we sacrifice hard, and then we come back together and we play sports," Amos said. "This Virginia Gauntlet was conceived to bring out the best in all of us."
---
---
---
---