DODDS-Europe boys basketball
Turnover leaves contenders at all levels
by
Gregory Broome
December 4, 2013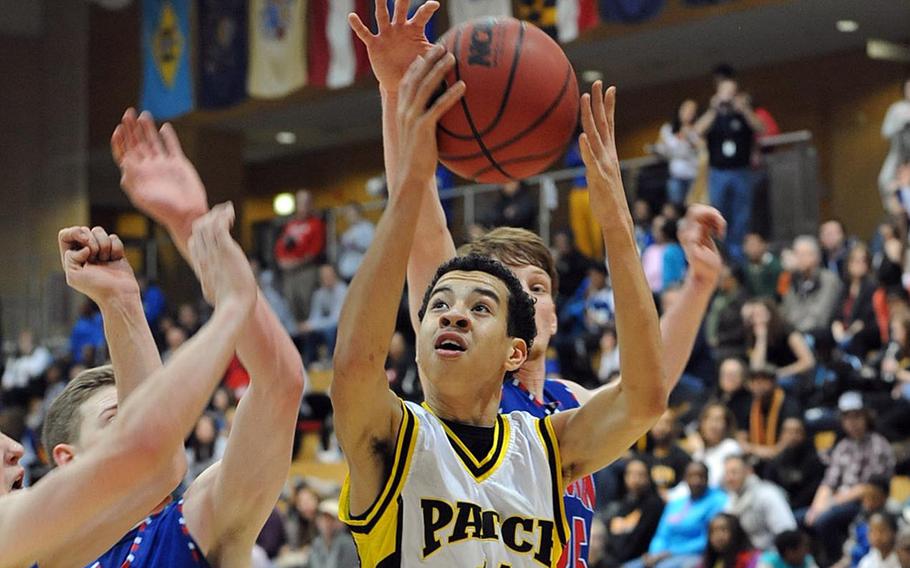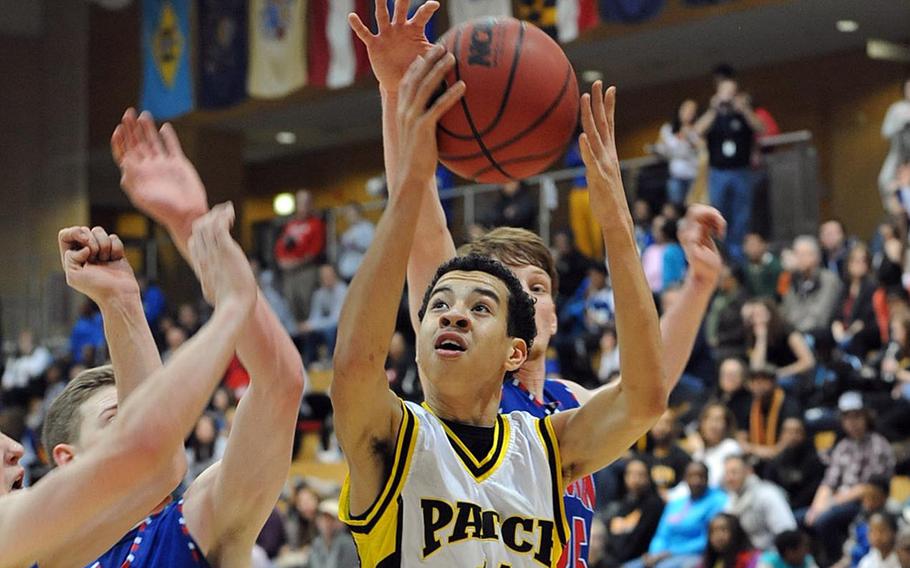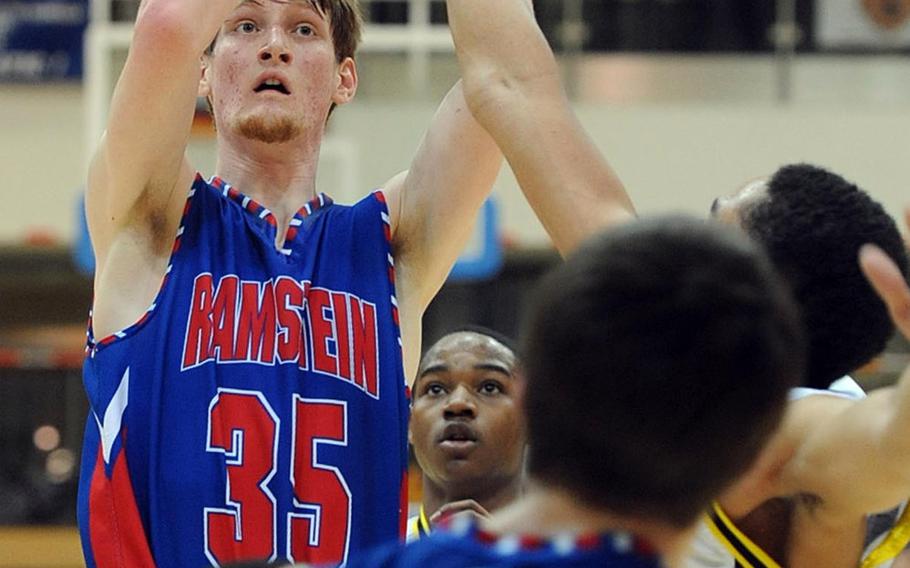 The 2013-14 DODDS-Europe boys basketball season opens in earnest this weekend with a combined 16 games over Friday and Saturday. Here's a look at the preseason landscape:
Division I Though the offseason churn has cost each team a few of its key players, the major pieces are back in place for a redux of last season's stirring Patch-Ramstein European final.
The Panthers will vie for a repeat behind DODDS-Europe's most dynamic pair of perimeter players. The complementary talents of athletic slasher John Robinson and deadly outside shooter Brendan Jones were good enough to fuel a surprise championship run a year ago, and the duo's return gives Patch the inside track as the new season opens.
But while the perimeter is safe in the hands of Robinson and Jones, the lane could present some problems for the Panthers. Patch leans heavily on its wing firepower, and head coach Brad Rehwaldt will have to discover and/or develop some heavy lifters in the post to field a well-rounded team capable of a repeat.
"Hopefully we can be as quick as last year," Rehwaldt said. "We will need to be stronger inside to compete this year."
That effort becomes more urgent after perusing the roster of the rival Royals.
Among Ramstein's eight returning varsity players are forwards Drew Tevebaugh and Jesse Gray, two of DODDS-Europe's most polished and effective frontcourt operators. And Ramstein also returns a handful of proven guards, including Johnny Pack, Lee DeBose and Santee Jackson. While Rehwaldt looks for an even keel with the defending Panthers, Royals coach Len Tarnowski calls his Royals squad "pretty balanced."
Wiesbaden, meanwhile, might have the talent to demote the Ramstein-Patch struggle to a race for second place. The Warriors lose only one player from last year's European semifinalist team, and their returning talent includes star swingman Kelsey Thomas, versatile forward Andrew Murray and shot-blocking wizard Tyler Cordoni. With elite players in the backcourt, on the wing and in the post, former Mannheim coach David Brown inherits a championship-caliber team in his first year as Wiesbaden head coach.
"We expect to get better each game we play," Brown said. "If that gets us to the championship, so be it."
Lakenheath, Kaiserlautern, International School of Brussels and Vilseck will seek to assert themselves in the title picture. The Lancers are a particularly potent threat, returning eight players, including first-team All-Europe guard AJ Ransom, from last year's 11-3 squad.
Division II In a parallel universe, the newly-minted merger of Schweinfurt and Bamberg boys basketball would signal the rise of a new juggernaut. Schweinfurt finished 10-4 at the Division II level a year ago, while Bamberg cruised to the Division III European crown.
In this universe, however, that potential superteam will never come to be.
Both schools are slated to close at year's end, and all of the proven basketball talent has gotten a head start on the exodus. Neither school will contribute any returning varsity players to the combined squad: stars like Schweinfurt guard Khayree Files, now transferred to Vilseck, graduated Stars and Stripes player of the year Terry Williams and PCSed Bamberg dunking specialist Andrew Reed are nowhere to be found.
Just as he did with the schools' combined football team, head coach Jesse Woods will be left to assemble the most competitive team possible from the tiny student populations that remain.
"I like to say that we will put up a good fight, and I would like for the kids to have fun and enjoy our last season," Woods said.
While not all cases are as extreme as Woods' predicament, a number of Division II schools are piecing together new lineups after attrition ravaged their rotations. Reigning European champion AFNORTH returns just two varsity lettermen, forward Daniel Cordova and guard Eren Yabici, from the squad that staged a dramatic title-game win over Naples last February. The Wildcats, along with Italian rivals Vicenza and Aviano, will soldier on without key members of last year's winning squads.
Vicenza coach Eric Wakefield's program is perhaps the most equipped for another run, returning an explosive group of guards in LaScott Richardson, Derrick Schaefer and Jerome Farmer.
"We have a deep bench, with good shooters and quick guards," Wakefield said. "I believe with this group of players we could be very successful this year."
Division III With champion Bamberg and runner-up Baumholder bumped up to the Division II level, small schools like Sigonella, Menwith Hill and Brussels are eying a title shot.
Brussels in particular appears ready to step into the void. Returning seniors Javaughn Harrison and Matt Proulx have what longtime Brigands coach Chris Vahrenhorst called "unfinished business" at the European tournament, and the talented forwards will look to tie up that loose end in their final prep season.
Twitter: @broomestripes