Troops enjoy Super Monday with ex-players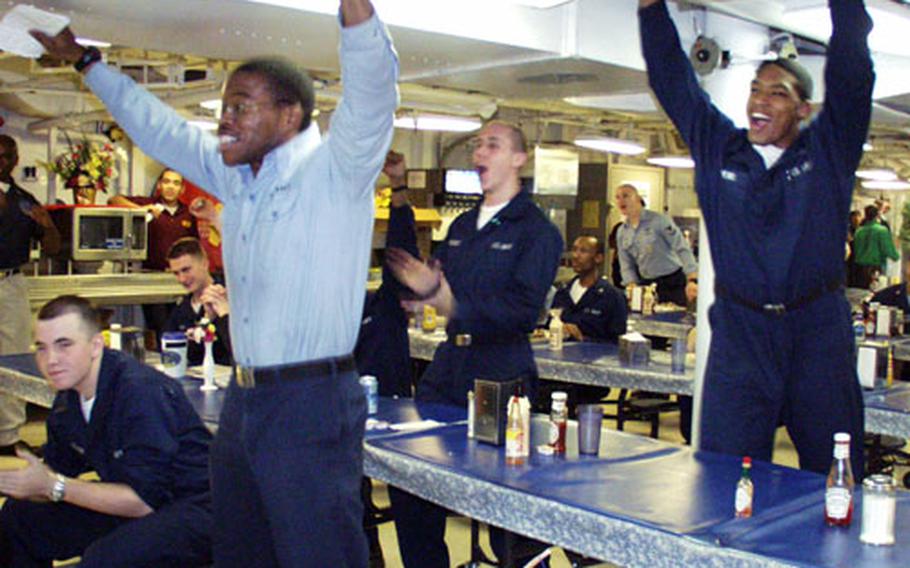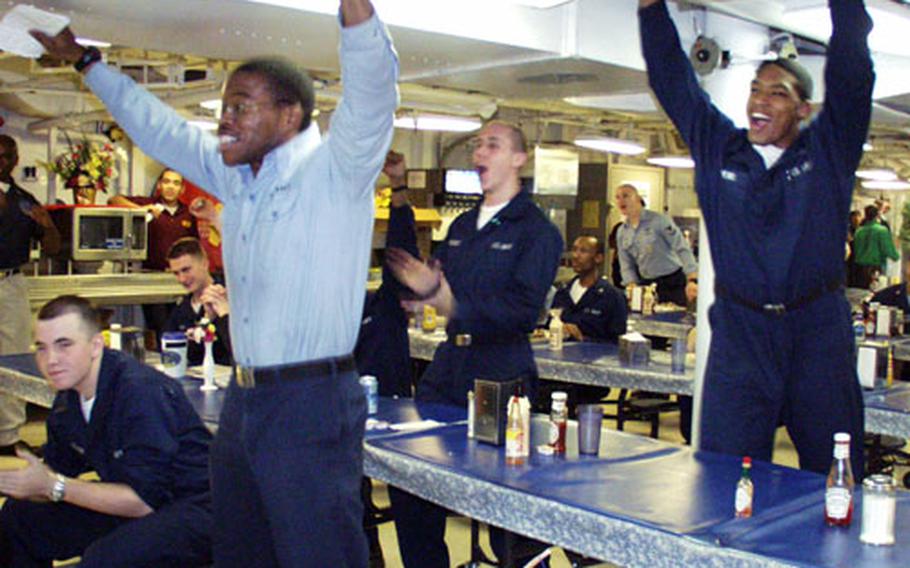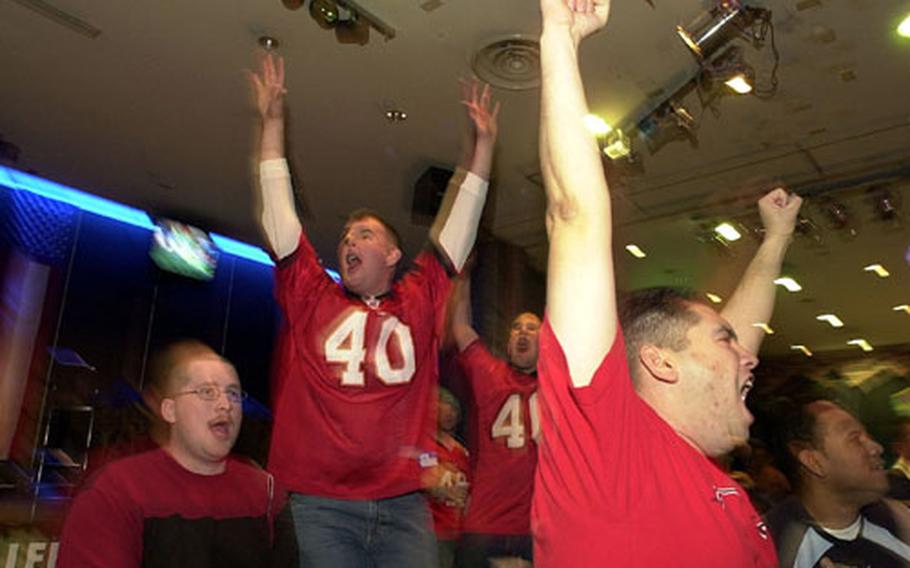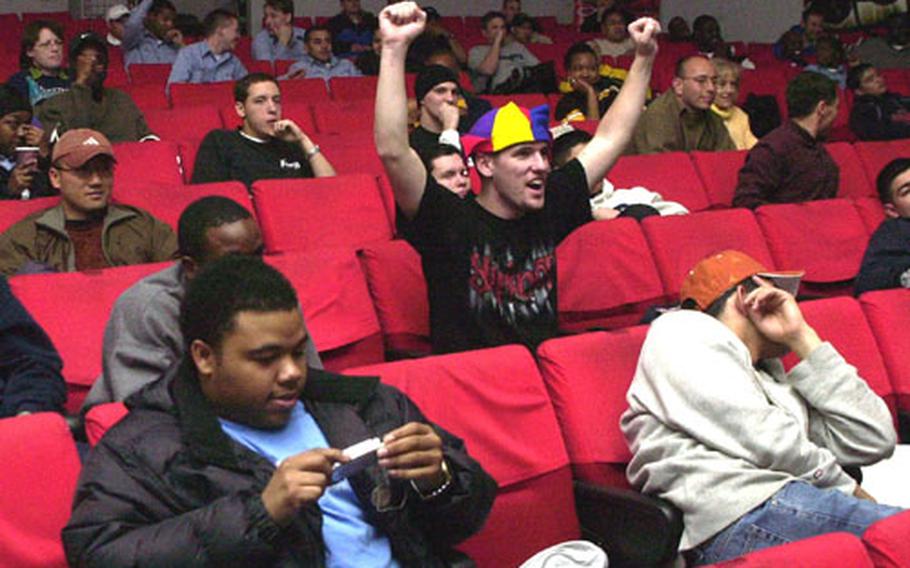 The Super Bowl on a Monday? Just doesn't quite sound right.
But it sat pretty well with U.S. servicemembers, many of whom filled various military installations throughout the Pacific to catch the big game and grab a bite of breakfast at the same time.
"Whoo, it's gonna be a LONG day, baby!"
Dwight Hicks and a handful of sailors at the Spectrum Lounge in Yokosuka Naval Base's Fleet Recreation Center looked on as Oakland Raiders quarterback Rich Gannon went down in the arms of Tampa Bay Buccaneers defensive end Greg Spires late in the first quarter of the Super Bowl.
"Man, he just abused [Raiders tackle Lincoln] Kennedy on that play. And Kennedy's a pretty good offensive lineman," said Hicks, himself a two-time Super Bowl champion defensive end in the 1980s with the San Francisco 49ers.
Hicks, a four-time All-Pro from Michigan, returned to Yokosuka for the second straight year to watch the Super Bowl, sign autographs and rub elbows with the troops.
Though the game began at 8:30 a.m. Japan time Monday, Hicks said it didn't seem strange to not watch the NFL's championship game on a day other than Sunday.
"It's a little different, but since it's live, it's all right," Hicks said. "Now, if I was playing on a Monday, and these days, if I was playing period, it would seem strange."
On a rainy Monday, the crowd of sailors at Yokosuka's Spectrum, which serves as a single sailors lounge, was sparse compared to last year's Super Bowl, when the fleet was in. The weather and the fact that the aircraft carrier USS Kitty Hawk was out at sea combined to hold down the crowd.
"How many Raiders fans in the house?" Hicks asked, and was met with a few shouts and some applause. "How many Buccaneers fans?" Much the same.
"Dallas Cowboys here!" offered Jeffrey Davis, a petty officer third class assigned to Fleet Activities Yokosuka's port operations.
As a handful of sailors began to line up for autographs, Hicks grinned at Jun Alarcon, a petty officer first class at Yokosuka's CFAY brig, who offered a football for signature.
"Hey, does somebody have another pen?" Hicks asked the workers behind the Spectrum Lounge's front counter. "This one doesn't seem to be working."
"Somebody ought to put in a call to Terrell Owens," somebody suggested, mindful of the 49ers wide receiver's signing a football with a Sharpie after scoring a touchdown against Seattle this season.
Next in line was Brian Brovold, a petty officer third class with CFAY security, sporting a Minnesota Vikings jersey with Randy Moss' name and No. 84 on the back.
"You know what the greatest thing about this game is?" Hicks said to Brovold. "There's always next year. A lot of great players never get a shot [at a Super Bowl]. I was lucky to get there twice."
Hicks was one of a handful of former NFL stars to spend time with troops in the Pacific on Monday.
Former 49er defensive back Eric Wright joined sailors at Atsugi Naval Air Facility. Duane Thomas, the MVP of Super Bowl VI while playing for the Cowboys in 1972, traveled to Sasebo Naval Base in southwestern Japan.
At Osan Air Base in South Korea, ex-Pittsburgh Steeler linebacker Mike Merriweather palled with the troops. The elder statesman of former NFL-ers this year was Ben Davidson, who played for Oakland in Super Bowl II and joined airmen at Kunsan Air Base in southwestern Korea.
As the Osan crowd roared over a Tampa interception in the opening half, Merriweather leaped to the air with them.
"Oh yeah, I wish I was back out there again," he said, glancing at the TV. "The competitive juices start flowing again."
Merriweather, on his first visit to a military base, said when he was playing, he didn't really know that U.S. troops were packed into clubs around the world watching him. But now, he's glad he can give something back to the military.
"I want to let everyone know how much America appreciates everything they're doing to protect us," he said.
Just before the coin toss, Osan event organizers drew a ticket to determine who got "the chair" for the first quarter. The chair is a large blue recliner surrounded by red velvet ropes that sits directly in front of the big screen TV. It's considered the seat of honor during football games.
"Yes, bingo," shouted Staff Sgt. Jeff Jackson, when his ticket was drawn. And to make it even better, Merriweather escorted Jackson to the seat.
In light of world developments in the wake of Sept. 11, Hicks said what U.S. troops do is vital to freedom worldwide.
"To say that it's important to our country is an understatement," he said. "I look at these kids and say these are the true heroes. It takes a lot of courage to make a commitment to put their lives on the line to guard our freedom."
— Dave Ornauer and T.D. Flack contributed to this report.