Home Team
Transformation not all that unusual for Hyde
---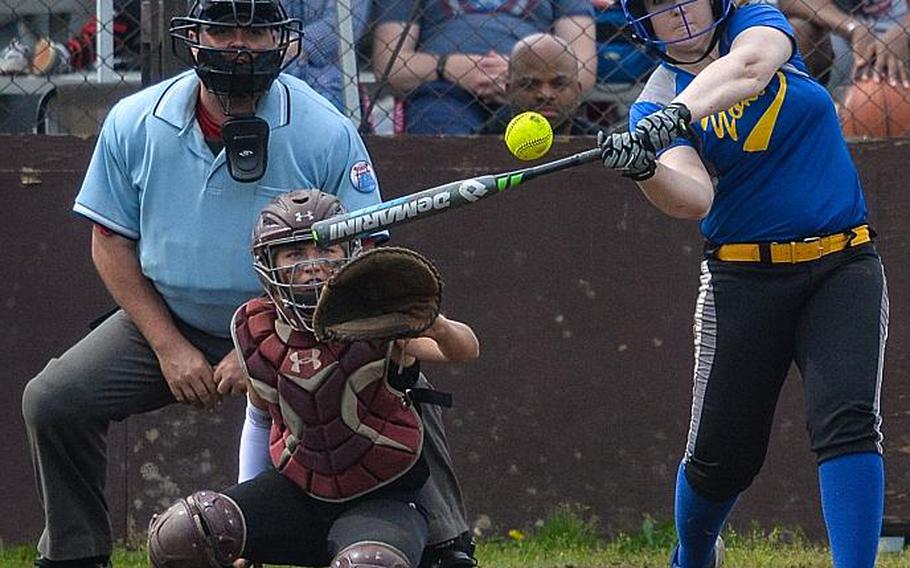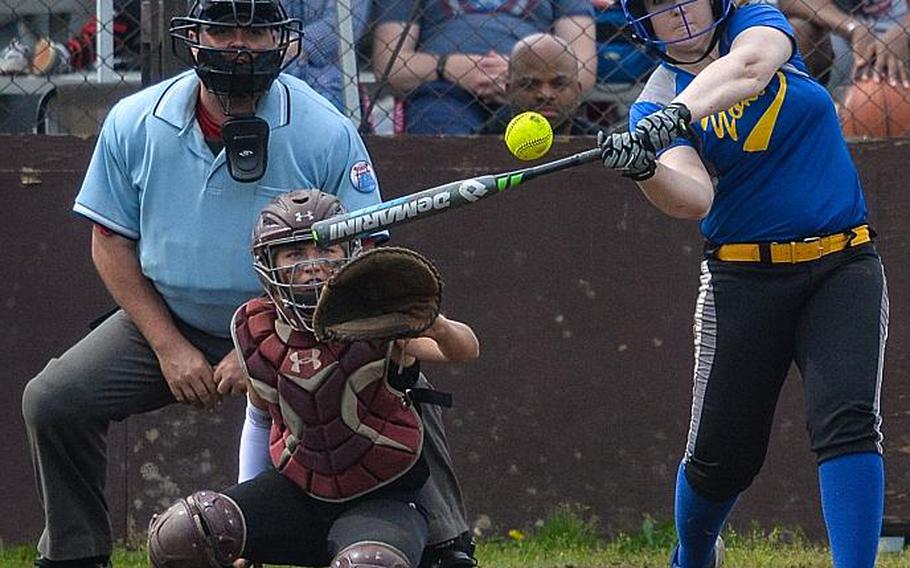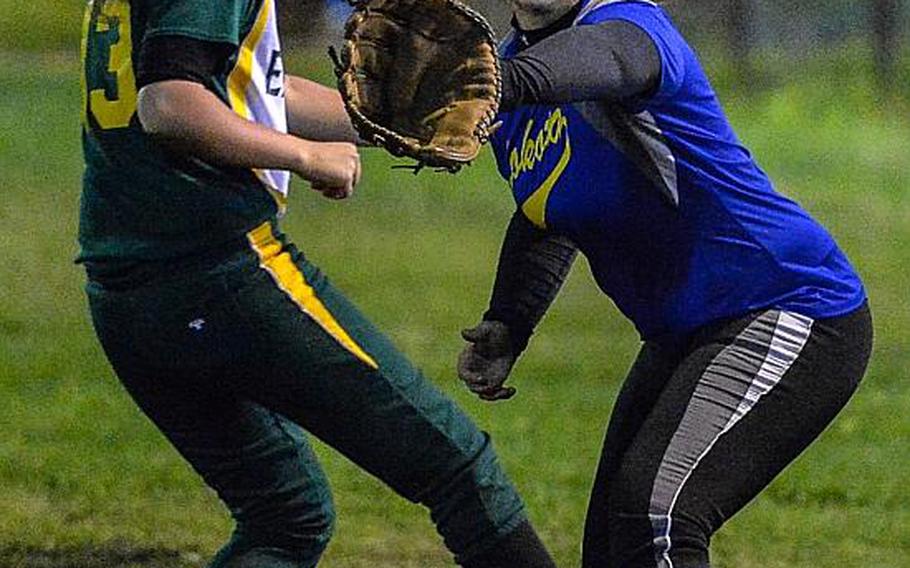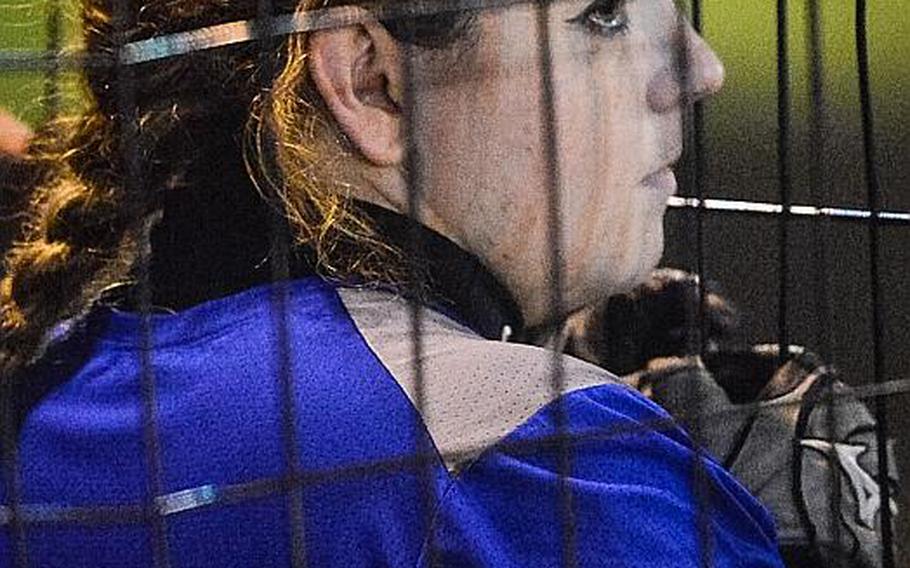 YOKOTA AIR BASE, Japan – Moving to new schools is a part of life for most DODEA students. The sponsor gets a change of assignment and dependents must get used to a new environment and new friends all over again.
Few, however, have moved quite as often recently as Madison Hyde, who enrolled in early January at Yokota, her third school in less than 18 months following one semester at Osan and her first three high school years at Seoul American.
"Luckily, I'm pretty adaptable and up for a new environment," said Hyde, a senior first baseman for the defending Far East Division II champion Panthers softball team.
"I heard really good things about this school, the community and Japan, so I was very excited about coming here."
Hyde did more than just change schools. She changed sports.
Switching from soccer to softball – having not played the sport for 10 years – Hyde is batting .368 with 16 RBIs and a .936 fielding percentage.
"She's a really good player, having not played softball for all those years," senior right fielder Cami Monsalve said.
Hyde's two-run single in the fifth inning capped a streak of 13 unanswered runs for the Panthers during last Saturday's 13-3 win over Zama, giving the Panthers DODEA-Japan softball tournament title. Yokota has won four straight and is 10-6 on the season.
Hyde is the dependent daughter of Anneliese Hyde, who's entering her fifth month as assistant principal at the high school. Prior to becoming an administrator, she taught physical education and health and also served as a librarian during 7½ years at Seoul American.
Changes in jobs also meant changes in location for Mom, daughter and son Grayson, a freshman who plays baseball for Yokota.
"It's a little crazy, but that's life for DODEA kids," Anneliese Hyde said. "Military kids are the same way."
It's not that Madison wan't been used to change while at Seoul American – she played midfield for three soccer coaches and setter for two volleyball coaches, serving as captain for each.
At Osan, she played setter for her third volleyball coach in four seasons and helped the Cougars to a third-place Korea Blue tournament finish.
While Madison knew quite a few students and athletes at Osan, just 45 miles south of Seoul, she only knew a handful at Yokota, and then only from other sports.
It would have been possible for Madison to finish her senior year there, but she chose family over familiarity and arrived at Yokota on Jan. 1.
"The move was right for me and my family," Madison said. "I think this is where my family will be for a long time."
With Panthers softball in need of an infusion of talent – four starters graduated or transferred, including last year's first baseman Tabitha Trigler – coach Ty Gaume and Panthers players did their best to recruit Madison and she "stepped right in" at first base, Gaume said.
Why did she decide to move from soccer?
Some of the students she befriended after her arrival played softball previously for Yokota. "I said I needed to do something different my senior year," Madison said. "I think I made a good choice."
The change didn't come without a bit of difficulty. "It took me a second to get back into the mindset," Madison said. "Softball is a different mental game than soccer."
"She's athletic enough" to make the transition, Gaume said, adding that with the Panthers already having a team captain in Kaia Austin, Madison is sort of an "unofficial" senior leader. "She's manning up and doing well. Her leadership is evident on the field."
She's also proven her worth in the classroom. A National Honor Society inductee, Madison took Advanced Placement language and biology while a junior, and as a senior is taking two college-level courses plus Advanced Placement literature.
More than her stats and the team's record, it's what Madison does to help educate younger players, Gaume said.
"It may have been awhile since she played softball, but she models the behaviors of an athlete for her younger teammates," he said.
While the Panthers are happy to have her, the teams she left behind have put virtual candles in the window.
"She's very tenacious, never quits, very smart, very dedicated. And she wants to win," said Randall Sangalli, her Seoul American volleyball coach as a junior. "I was hoping she would stay."
"We hate to have lost her," Osan principal Morgan Nugent said. "She's a good kid."
Having made the transition to Yokota, now Madison's eyes turn to next month when Yokota hosts the Far East D-II tournament a second straight year. Winning that would "definitely be a bonus," she said.
Twitter: @ornauer_stripes
---
---
---
---