Transfer students find Zama soccer offers more than imagined
by
Dave Ornauer
March 4, 2010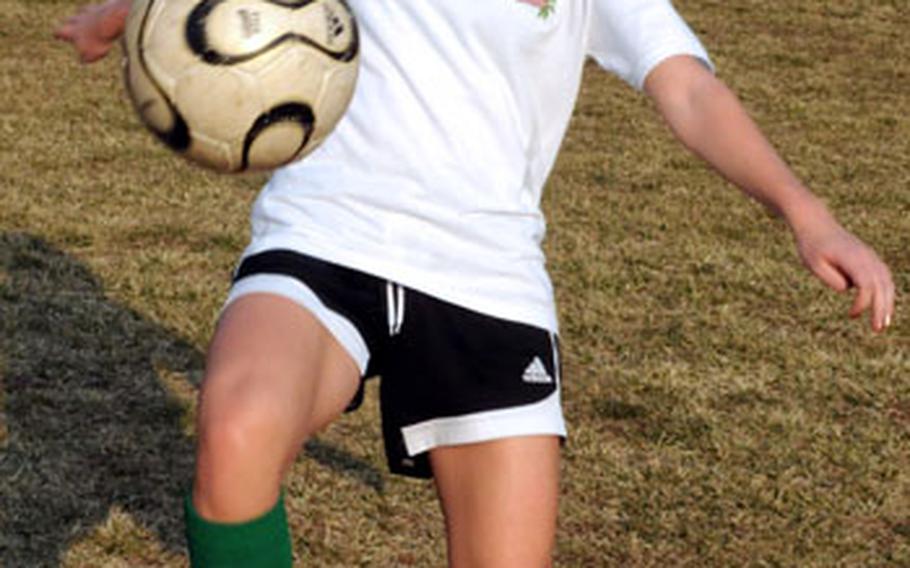 CAMP ZAMA, Japan — Taylor Cave had it all, it seemed, back in Virginia Beach: a passel of friends, a boyfriend and positions on her Kellam High School soccer team and Beach FC, one of the state's noted traveling clubs.
So, when her father, Capt. Daniel Cave, was reassigned to Naval Air Facility Atsugi, Japan, as deputy commander of Carrier Air Wing 5, Cave was at once dismayed and reluctant to leave her Virginia trappings behind.
"I was really upset," Cave said last week as Zama American started practices. "It took a lot for my parents to get me to come over here. I wanted to stay. [But] I wasn't given a choice. It's not home. I have to suck it up."
But once on board at Zama, and learning of the team's recent history that includes a 24-4-4 record and the Far East Class AA Tournament title last year, Cave said she was "excited" about trading Knights blue and white for Trojans black and white.
"I've heard good things about the soccer over here. I've heard it's really fun, and it's a good group of girls," Cave said. "So, I'm really excited."
Reluctant newcomers are old hat for Trojans girls soccer. Three of the past four years, players have transferred to Zama against their wishes but joined the Trojans anyway and have turned the program into a consistent winner:
n Aubrey and Mallarie Ashliman moved from Virginia — and the same Beach FC team — to Atsugi in 2007. After initially resisting the move, the two combined for 187 goals in three seasons, leading Zama to two sixth-place Class AA finishes and, finally, the school's first title last May — and when it came time to transfer back to Virginia, the two said they didn't want to leave.
n Helping toward that end a season ago was Taylor Russell, who left perennial powerhouse Kadena of Okinawa in summer 2009 and entertained thoughts of giving up soccer altogether. But she joined the Trojans and contributed five goals and 14 assists.
"What each of them brought to the table was a positive, winning attitude, even though they were reluctant to be here, didn't want to be here," Zama coach Rogers Pitts said.
Aside from leaving a Kadena team that won Class AA titles in 2004-06, Russell faced "coming in here and not being sure of what we had to offer at Zama," Pitts said. "Then Taylor Cave coming from the systems and programs she had in the States, and you come into DODDS and you may not think it's that competitive compared to the States. But we are."
It helped, Cave said, that she had an idea of what her teammates were like from talking with the Ashlimans.
"When I came over here, it was kind of easy," Cave said. "I was lucky to know their friends, and now I'm friends with their friends."
And it also helps that the Trojans are pedigreed now and wear the defending champion's bull's-eye.
"I'm excited because I like competition like that," Cave said.
Russell and those friends chatted up Trojans soccer with Cave in the same way Russell had to be chatted up a year earlier, she said.
"That's kind of what I went through. I told her to just give the team a shot, try your best and stay with it, don't give up," Russell said, adding that her love for the game kept her going last year. "I realized I can't give it up."
Pitts credits his predecessor, Vanessa Little, for turning around a team that went 6-11-5 in 2006 and went 33-17-3 the next two seasons.
"I was fortunate to come in and have the Ashliman sisters and have Taylor Russell come in, and you can't forget [sweeper] Katie Scully and [keeper] Deanne Polaski. … I'm hoping the girls have fun, defend Far East champions. I think we still have something to prove," Pitts said.
Neither Cave nor Pitts harbor any illusions about their roles.
"A team doesn't rely on two players," Cave said of the departed Ashlimans. "Aubrey and Mallarie are good, but it took the whole team for them to be recognized. They didn't do it all by themselves."
While most times it's harder for a defending champion to stay on top than reach the top, Pitts feels it's the other way around in his case.
"Everybody looked at me as a freshman coach, a rookie coach" a season ago, Pitts said. "You're expected to win because you have the Ashliman sisters, and all they brought to the table and all of that. I don't feel as much of a target as I did last year."
So, does that mean you simply plug in Cave in place of the Ashlimans and have an instant repeat title?
"I'm looking forward to the challenge. I know my girls are looking forward to the challenge," Pitts said, adding that he always tells his wife, Eris: "It's great to be king, no matter what the pay."
---
---
---