Home Team
Track athletes can jump and throw more in Guam
by
Dave Ornauer
April 13, 2017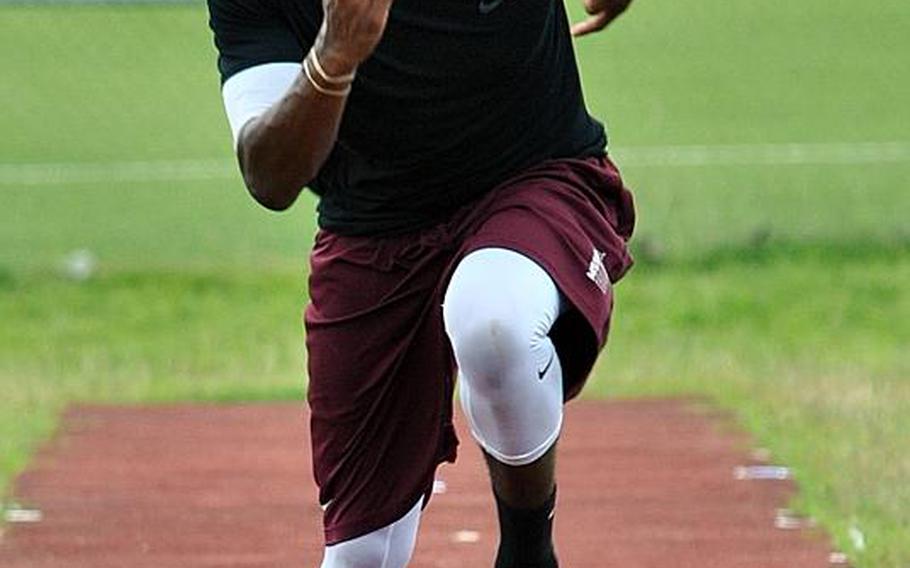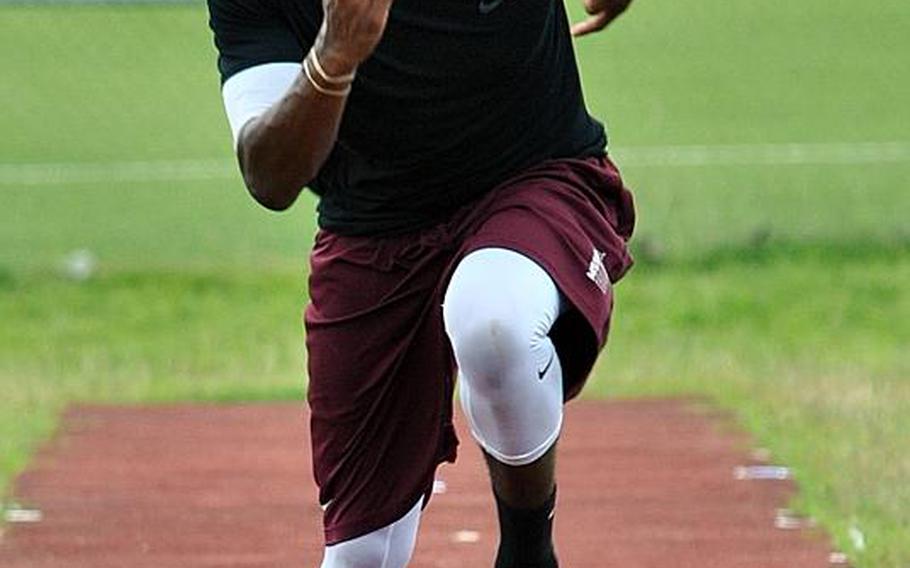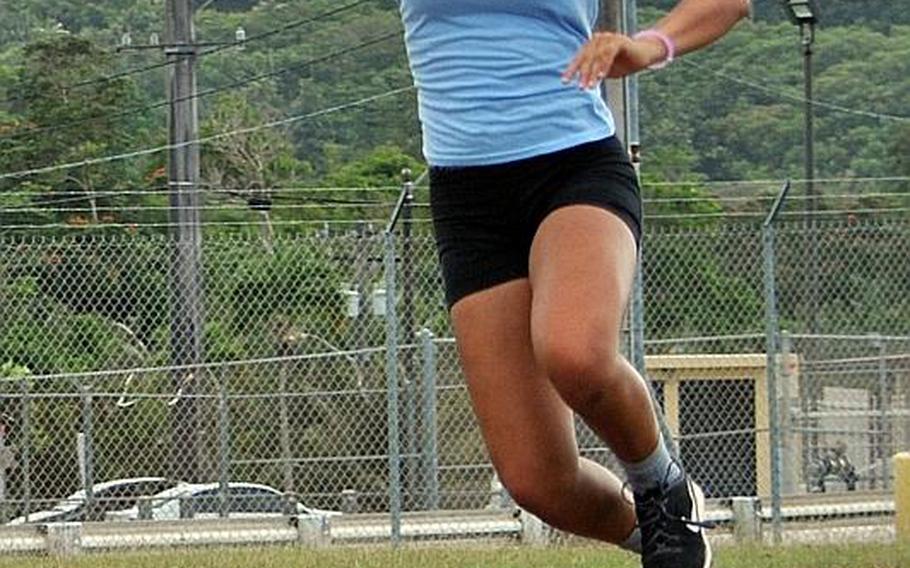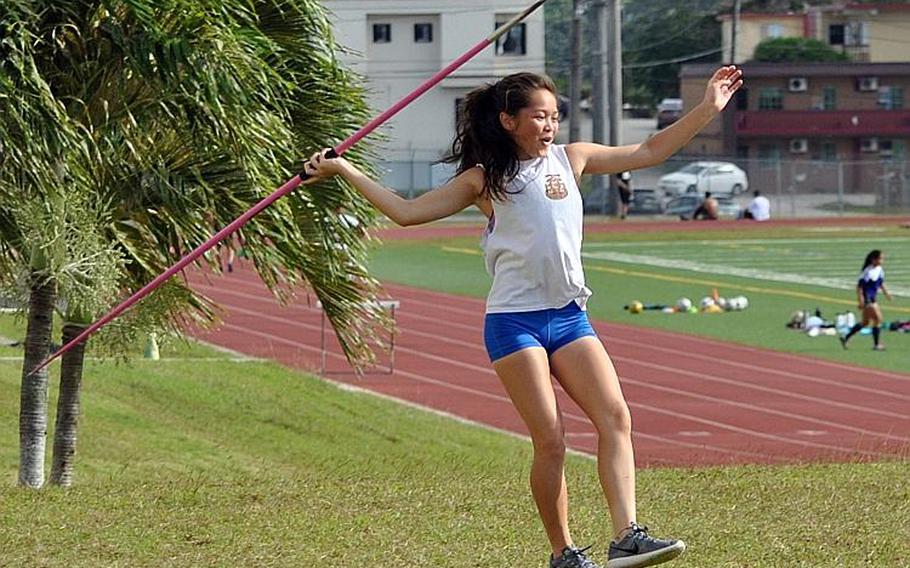 A year ago, Ashlyn Yelvchak was an up-and-coming sophomore triple jumper, finishing second in the Idaho junior varsity 5A District III finals with a personal-best 30 feet, 8½ inches – less than 3 inches short of the champion.
A couple of months later, Yelvchak transferred to Yokota, where she found that long jump, high jump, shot put and discus are the only field events in DODEA-Japan, Korea and Okinawa.
Yelvchak, who will transfer this summer to Joint Base McGuire-Dix-Lakehurt in New Jersey, decided not to go out for track.
"It was odd, not having it (triple jump). It's my favorite event," Yelvchak said.
Triple jump is one of two field events, the other being javelin, that are not offered to DODEA or international-school students in the northwest Pacific, but are in Guam and Southeast Asian international schools.
Coaches, athletics directors and overseers of meets in Japan, Korea and Okinawa say they've discussed adding those events, and while many seem partial to adding triple jump, safety concerns may keep javelin off the docket for the foreseeable future.
"In some respects, we let our athletes down by limiting their choices," Kadena assistant coach Doyle Robertson said. "We're trying to give our athletes the best chance to compete in the most events, and right now, we're not doing that."
Guam High athletes have enjoyed success in each event the first two meets of the season. Sophomore Alexia Brown has won the triple jump twice and senior Soloman White once; freshman Amber Guerrero won javelin twice and senior Makoa Bamba took first in the opener and second in the second week.
"If we don't allow it and afford it to our kids, they'll be at a disadvantage," said Benjamin Leon Guerrero, for five years Guam High's athletics director. "Get more people out and give them more events to compete in."
But adding those events – or others such as pole vault or hammer throw – could be something of an undertaking.
Most DODEA fields in Japan, Korea and Okinawa aren't set up for either (although some off-base facilities are), and instructors well-versed in those disciplines aren't readily available in many cases, either.
"I'd love for us to do both," Yokota coach Dan Galvin said. "It would be fun, but you have to have the coaches and the facilities for it."
Currently, he said, Yokota's Bonk Field's pit is almost too short for long jump.
The only place to throw the javelin at Yokota would be on the football field, but "imagine a kid walking out onto that field and getting hit," former Yokota coach and longtime teacher John Thek said.
Kadena athletics director Tom Bell, a 1982 graduate of Germany's Wurzburg High School, remembers the 1981 DODEA-Europe track finals when a spotter got impaled in the shoulder by a javelin. "From that point, I've not known DODDS to have javelin," he said.
Others argue that people get injured by stray discus and shots, and it would simply be a matter of keeping throwing areas clear.
"Throw it up instead of straight, catch the wind and try for more distance, make sure the area is clear and nobody else is out there," Guerrero said. "There's a lot of emphasis on the safety aspect. As long as you know that, you'll be fine."
"If you have your people in place, as you should, that should never happen," said Guam's league president Martin Boudreau.
Javelin, an Olympic event, is offered as a high school event in only 20 states.
Triple jump is offered in 35 states. While Yokota's pit is too short, most other facilities are either equipped with the necessary extra boards or could be configured with something as simple as tape.
"I don't know why we don't do it here," said DODEA-Okinawa district superintendent Mike Thompson, a track enthusiast who sometimes brings his own automated timing system to fields to manage meets himself.
It might seem as if the triple is similar to the long jump, but there are differences, Brown said. "With the long jump, you need more quickness about you; the triple requires more strength and power," she said. "But it's fun, and it can help you in other events."
Robertson pointed to former Kadena long jumpers Jeremiah Steed and Damian Seals, who went back to the States and converted to triple. "He loves it," Robertson said of Steed, who has jumped 43-6 at Centennial High School in Las Vegas.
"We're obviously behind the power curve out here," Robertson said. "We preach that we want to have the same competition as we do in the States, but we keep short changing them."
Twitter: @ornauer_stripes
---
---
---