Track and field club at Edgren sets its sights on varsity status
---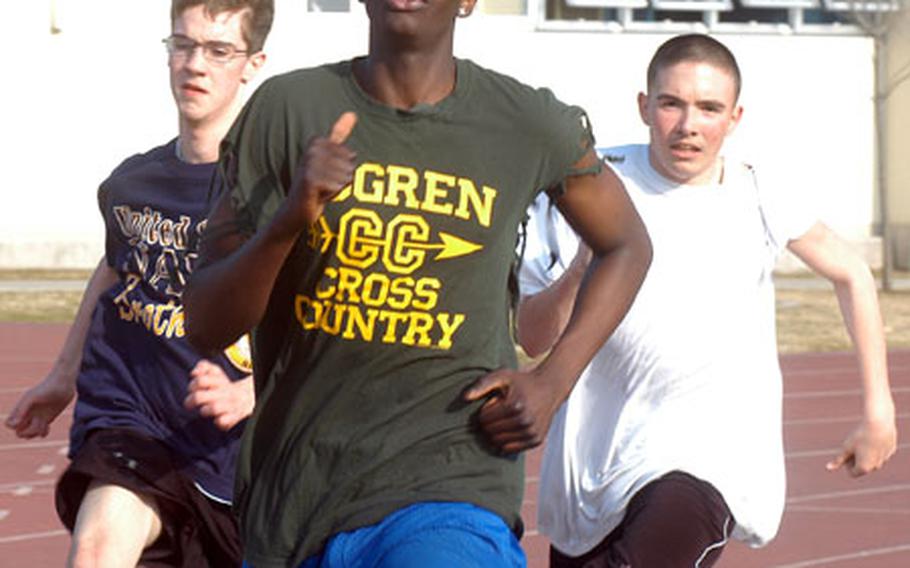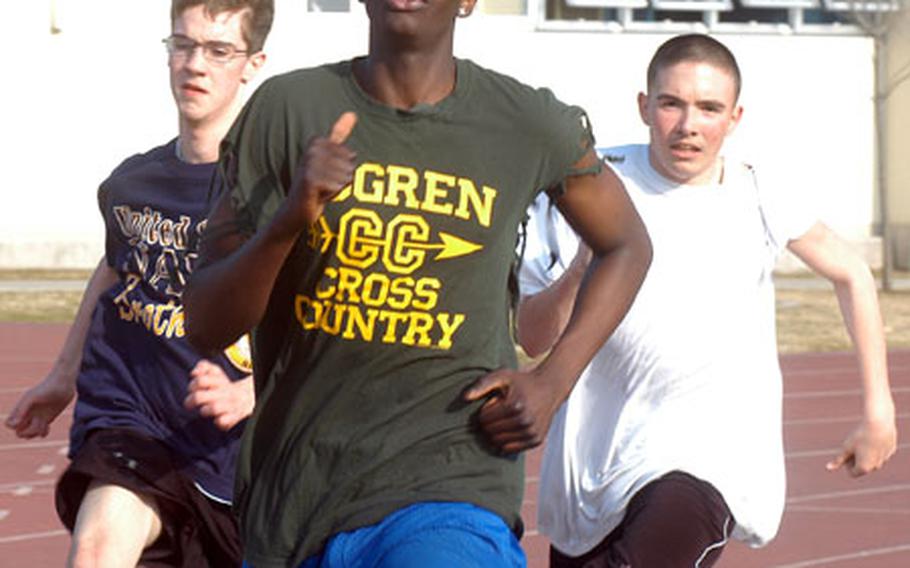 Having watched baseball and softball get full-fledged Department of Defense Dependents Schools sponsorship, track and field backers at Robert D. Edgren High School in northern Japan say they're hoping the same will happen soon in their favorite sport.
"We have a lot of talent here," said Tony Ruffin. In his third year coaching at Edgren, he's taken the lead in getting track off the ground. "Some of these young ladies and men weren't doing a spring sport. We wanted to keep them active."
So he spent part of the early spring gathering information about who's interested in sprints, long-distance runs, throws and jumps. Now, 26 high-schoolers and 20 middle-schoolers are practicing on Edgren's rubberized track.
Track and field has principal Michael Johnson's blessing to operate as a club, the same way the Misawa Cougars began as a baseball club in 2002. DODDS-Japan policy regarding startup sports programs requires observation by the district and the school to see whether interest and continuity can be maintained for three years. If so, full DODDS funding is considered.
Edgren track will operate on a provisional basis, DODDS-Japan spokesman Peter Grenier said.
"There must be at least the stability of 15 students participating" this year and the next two, he said. "Once that has happened, the team will become a permanent DODDS sports program."
As a club, the Flyers must raise their own funds, schedule their own transportation and beg their way into meets.
Edgren's baseball and girls softball teams, which put in their three years, get such perks.
"It hurts when we see those teams make all those trips and we can't," said distance runner Peter Kamau, noting that the Flyers were unable to raise the money needed to travel to an April 2 meet at Zama American. "That really hurt."
But Ruffin and his band of athletes already have received $2,500 in donations from a church group, the officer's club and others. And team members conducted one fund-raiser in which they carried bags from the PX to customers' cars.
The Flyers already have taken part in a March 26 Kanto Plain Association of Secondary Schools meet at Yokota Air Base, where they took home six gold medals.
The Flyers continue to prepare for future meets, including the May 14 Kanto Plain championship in Tokyo.
---
---
---
---