Tournaments serve as tests for wrestling, basketball teams
by
Dave Ornauer
January 23, 2020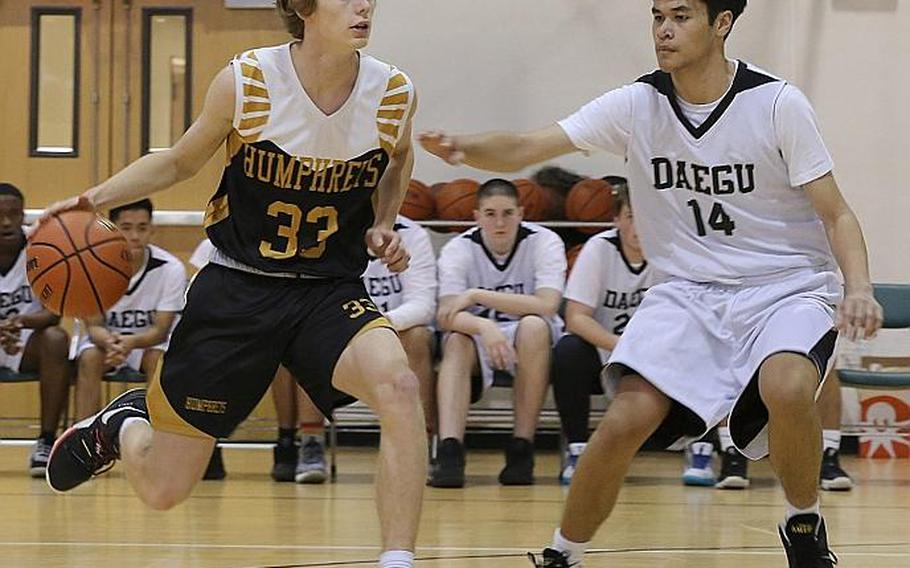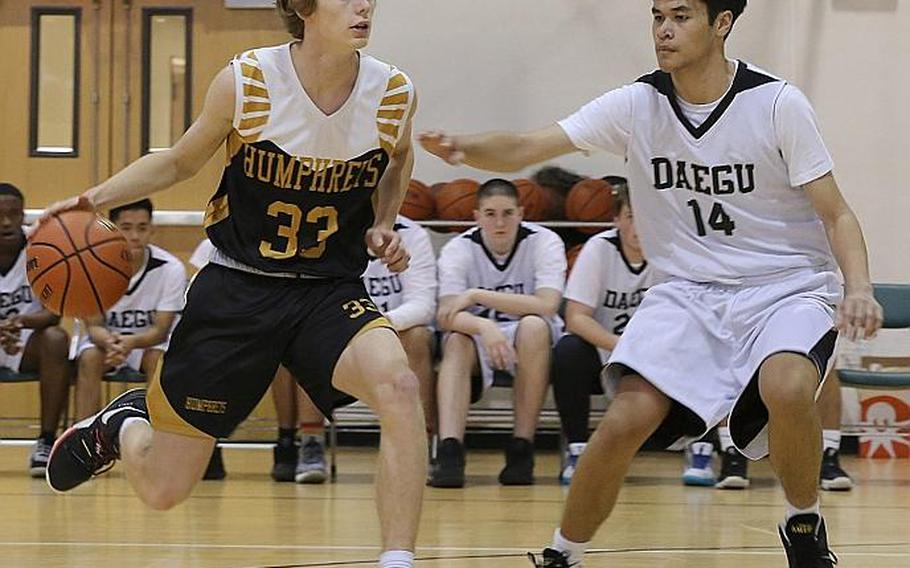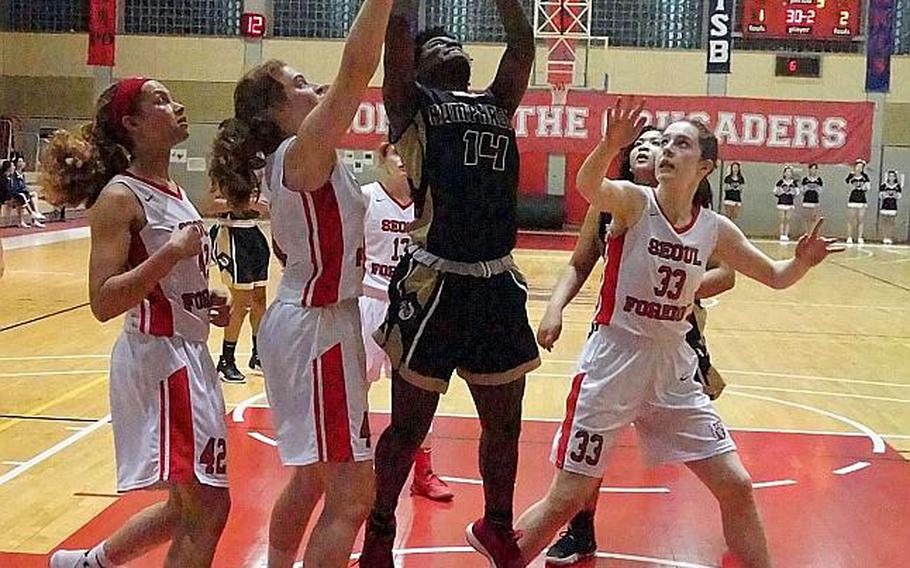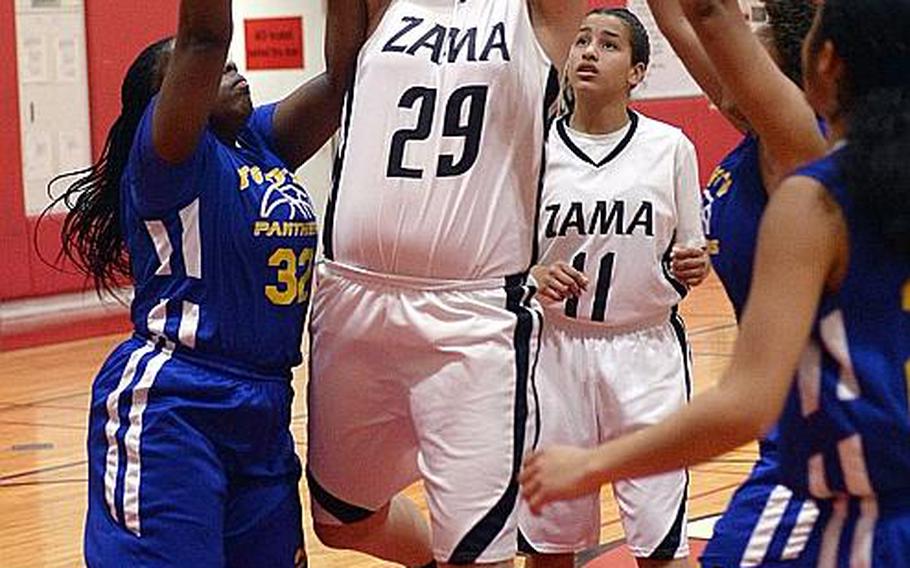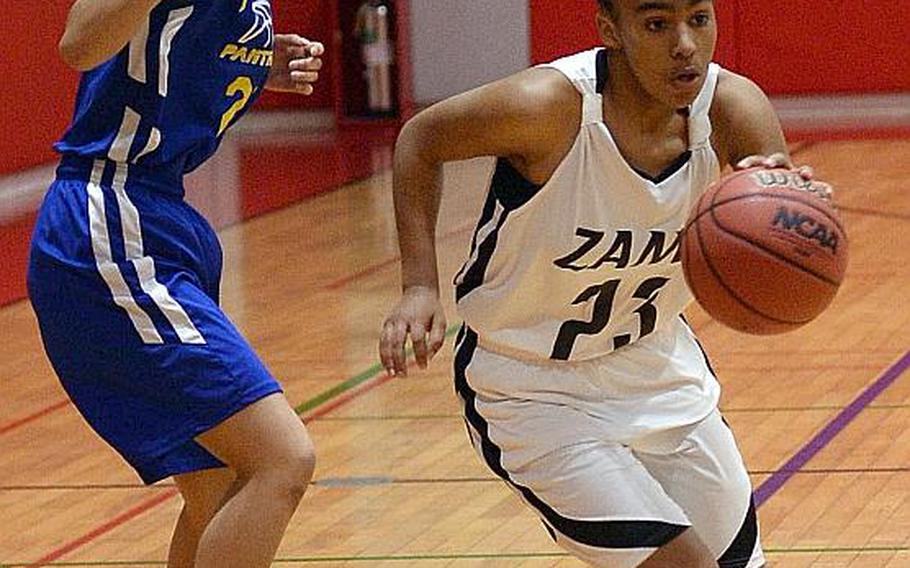 They finished fourth, losing four times in the Kanto Classic last January. But coach Daisy Whitaker-Hayes called the three-day tournament at American School In Japan a "pivotal point" in Zama's bid for its first DODEA-Japan and Far East Division II Tournament titles.
"The girls realized what it meant to compete, give your all and leave it all on the court," said Whitaker-Hayes on Wednesday, a day before the start of the 4th Kanto Classic at ASIJ's Chofu campus in Tokyo's western suburbs.
She cited Zama's two games against St. Paul Christian of Guam. In pool play, the Trojans took one on the chin 53-35, but came back strong two days later in elimination play, falling 43-41 after leading 14-1 at one point in the first quarter.
"They were extremely disappointed" with their first game against St. Paul, Whitaker-Hayes said. "The second time … it was a completely different game. They learned what it meant to play good defense and what it means to be confident in themselves and their abilities."
Now, with seven wins this season, Zama enters the Classic as one of the favorites among girls teams, strong in the backcourt with sophomore Chloe Sterling and senior Kirari Smith and in the paint with senior Jessica Atkinson. And they're hoping to better their 2019 finish.
"We are simply hoping to redeem ourselves and display the hard work that has gone into the season," Whitaker-Hayes said. "This is the primary reason for entering into the tournament this year, redemption."
They get their chance starting Thursday, when a tournament-record 27-team field gets down to business on ASIJ's high school, middle school and elementary school courts. Humphreys is the defending boys champion, while Academy of Our Lady of Guam will defend its girls title.
Thirteen girls and 14 boys teams are entered in the combined partial round-robin the first two days and single-elimination bracket play on Saturday.
"All teams enter Saturday with a chance to win the title," tournament director and outgoing ASIJ athletics director Brian Kelley said.
"We get to see new teams and the opportunity to play several games in three days will prepare us for Far East," coach Robert Stovall of Nile C. Kinnick's boys said, adding that the Kanto Classic is "very similar to what Far East used to be" back in the days they had 16 teams.
Whether one's foes are familiar or goes comes in ice cold, one thing's certain, one coach said: Play well and you'll do well.
"I haven't seen anybody outside of Korea," Humphreys girls coach Steve Boyd said. "I just want to play well and see what we can do. If we play like we're capable, we'll be OK. But my girls have to be fundamentally sound. We can't make mistakes. We have to see improvement."
While the basketball action heats up at ASIJ, the wrestling mats at Nile C. Kinnick on Saturday see the 26th iteration of the "Beast of the Far East" invitational tournament, featuring 12 teams, 10 from around Japan and two from Okinawa.
Shonan Military Academy, near Yokosuka, will defend its team championship at "Beast."
In addition to returning "Beast" champions Rin Zoot of ASIJ, Haydn Peterson of Kubasaki and Marshall China of Matthew C. Perry, the tournament also features returning Far East champions Eiji Kasahara of St. Mary's and Alexei Mutoh of Kinnick.
Kubasaki, which finished third last year, will have in tow Colin Nation, a state champion from Florida last year who is unbeaten so far this season.
Like the other teams and wrestlers, "we're hoping to gain insight on the competition there," Dragons coach Brent Cook said. "We're trying to see where we fit and what adjustments we need to make before Far East."
Update: Humphreys boys take two on the chin TOKYO – The Humphreys boys basketball team took two losses on the chin at the hands of two Guam teams as the 4th Kanto Classic opened with a pair of upsets. St. Paul Christian stunned the Blackhawks 36-35 to open the tournament and Father Duenas followed with a 44-40 win.
The Blackhawks lost back-to-back games for the first time since 2016-17 and lost for only the fourth and fifth time in the last five years. The Warriors and Friars each won via comebacks, with each team scoring the last five points of its respective game.
"We need adversity, we need to be gut-checked and it will make us better in the end," said coach Ron Merriwether, whose Blackhawks arrived at 1:30 a.m. from Korea before the start of Thursday's games.
Humphreys went unbeaten in the Korea Blue Division and had won 36 straight regular-season games. "It's hard for a young team to get better when all we do is win" in Korea, Merriwether said.
ornauer.dave@stripes.com Twitter: @daveornauer