Top seeds remain on course at DODDS-Europe tennis tourney
by
Rusty Bryan
October 29, 2004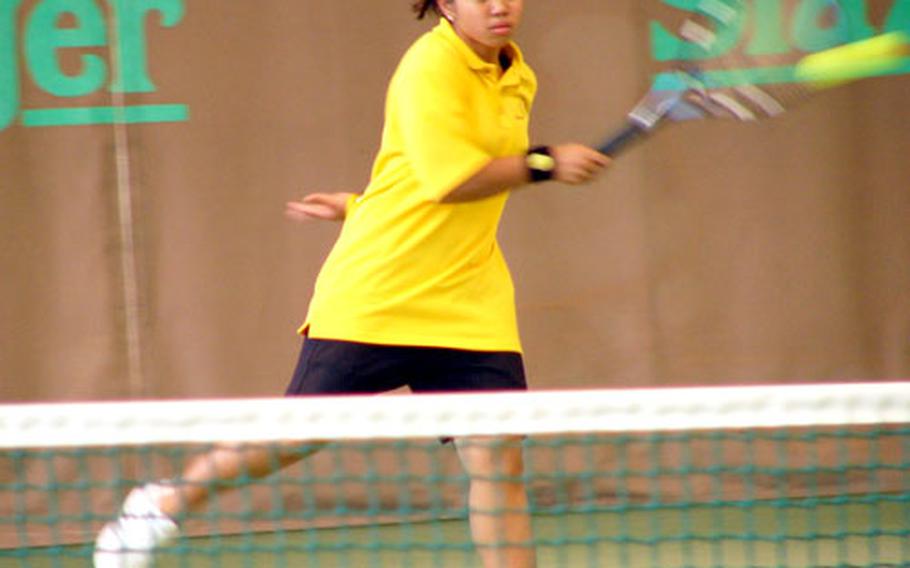 WIESBADEN-NORDENSTADT, Germany — The top seeds came through as expected in Thursday's opening matches of the 2004 DODDS-Europe tennis championships at the Tennis Center Vitis.
That was bad news for Kaiserslautern's Greg Thompson, whose unseeded status paired him against top-seeded and defending champion Jun Koide of International School of Brussels in his second match of the day.
Just as the seeding committee predicted earlier in the week, Thompson, who defeated Adrian Nieto of AFNORTH 6-1, 6-2 in his opening match in the morning, fell to Koide 6-3, 6-1 after lunch.
"It was a little tough," Thompson said, "but we had a great game."
Thompson said he got a good look at why Koide has been so successful here over the past couple of years.
"His consistency is amazing," Thompson said. "I could hit it hard or hit it soft, and it always came back. With most players, you can just serve and hit it, but with him you have to change it up every time."
Thompson rebounded from his match with Koide to defeat Nathan Stebbins of Iceland 8-2 in a consolation match, and there's plenty of consolation to be had, he said.
"I could still finish third or fourth," he said. "There's a lot left in me."
The top-seeded girl, Lakenheath freshman Jackie Esguerra, also had an easy time on Thursday morning.
Esguerra downed Christina Compton of Hohenfels, 6-0, 6-0, in her only match of the day.
Esguerra will meet Stephanie Best of Heidelberg, who lost just one game in her two Thursday victories.
If the brackets hold Friday morning, Koide will meet fourth-seeded Adam Beveridge of Ankara in the afternoon semis, while No. 2 Devin Hayes of Hanau will face No. 3 Michael Sanchez of Heidelberg.
All seeded male players drew first-round byes, and in the second round, only Koide and Beveridge failed to win at love. Beveridge downed Rob McClure of London Central 6-1, 6-0.
If the girls' seeds hold, Esguerra will be playing fourth-seeded Molly King of Heidelberg in Friday afternoon's semis; while No. 2 Priscilia Roney of International School of Brussels would be facing Italy champion and No. 3 seed Flavia Cirrincione of Marymount.
The tournament concludes Saturday, with championship matches scheduled to begin at noon.
---
---
---