D-I football semifinals
Three teams want shot at ending Stuttgart's perfect season
by
Gregory Broome
October 26, 2017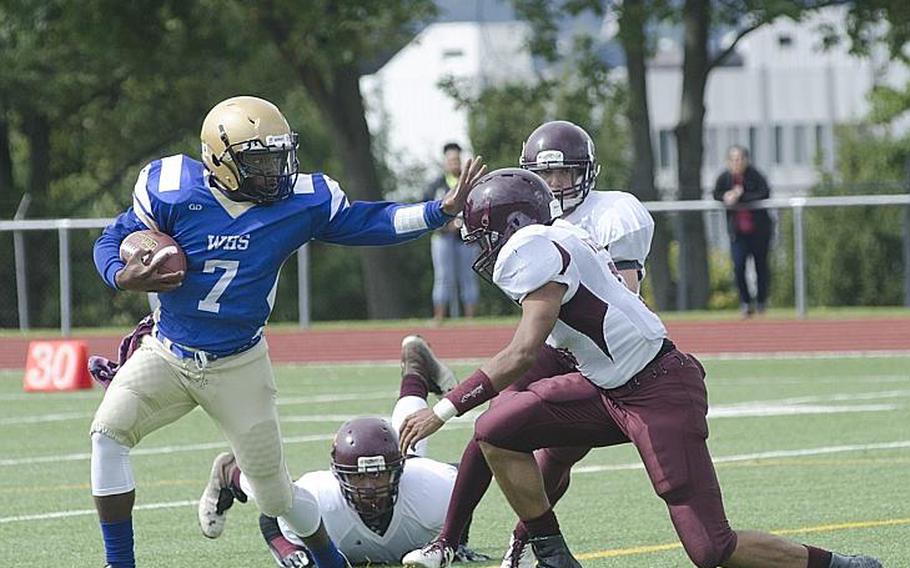 The defending champion Ramstein Royals and the archrival Wiesbaden Warriors will wage the latest battle in their ongoing feud Saturday at Ramstein, one of two Division I football semifinals scheduled for that day.
But this season's championship favorite can be found in the other game.
The undefeated Stuttgart Panthers host the fourth-seeded Lakenheath Lancers in Saturday's other semifinal. Their path to the title is clear; they've already beaten the Lancers this fall, and if they do so again, they'll face a team they've also already beaten in the Nov. 4 Division I championship game at Kaiserslautern.
But as recent Division I football history has proven, nothing is ever as straightforward as it first appears.
Wiesbaden at Ramstein A regular-season win or loss doesn't necessarily translate to success in a postseason rematch.
Last year, Wiesbaden beat Ramstein 21-10 in the regular season, but the Royals triumphed 13-8 when the teams met in the championship game three weeks later.
The Warriors would like for that pattern to repeat itself this fall. Ramstein beat Wiesbaden 25-14 in the teams' regular-season finale last week.
But those kind of historical anecdotes are of little interest to the coaches involved as they prepare for the latest installment of DODEA-Europe's signature gridiron rivalry. The Warriors and Royals have seen enough of each other over the years to know that any given meeting between the two powerhouses could fall in either team's favor.
With an opportunity to write fresh history in front of them, both teams are looking ahead to the particulars of Saturday's matchup rather than back over the rivalry's storied history.
"They possess amazing speed," Ramstein coach Carter Hollenbeck said of the Warriors. "Our major challenge is to find a way to slow their speedsters down a bit and hope for pursuit by our defensive players."
The Warriors offered a similar assessment of the challenge they face.
"Ramstein is a very large program with great size and speed," Wiesbaden coach Steve Jewell said. "We will have to maximize our strengths and hopefully contain theirs."
Ultimately, when all the backstory and context give way to live, real-time football, Saturday's winner will have simply executed its game plan better.
"Most likely the team making fewer errors will prevail," Hollenbeck said.
Lakenheath at Stuttgart The Panthers have looked like Division I title favorites since they sent a contingent of big, impressive athletes to this August's preseason football camp in Kaiserslautern. Now they're a win away from a return trip to Kaiserslautern to make good on that promise.
Stuttgart is a clear favorite Saturday for a variety of reasons, but the most clear one is this: the Panthers defeated the Lancers 36-12 in their regular-season meeting Sept. 23. That win was part of a perfect 6-0 season for Stuttgart. Lakenheath's record is far more humble. The Lancers finished 2-3 in Division I conference play. Their wins came against the two teams that finished below them - winless Vilseck and 1-4 Kaiserslautern. They've been a tier below the Division I upper class this fall, taking double-digit losses to Ramstein, Stuttgart and Wiesbaden.
If there is a factor in Lakenheath's favor, it might be momentum. After spending the early portion of the season losing to the above-mentioned powerhouses, the Lancers are on a two-game winning streak, including the must-win defeat of Kaiserslautern that secured their playoff berth.
"Our players feel more confident now that we know we can hang with our opponents for four quarters," Lancers coach Gabe Feletar said.
The Panthers, of course, are on a six-game winning streak, as Feletar readily pointed out. But Stuttgart narrowly avoided defeat in its regular-season finale against last-place Vilseck last week, escaping with a comeback 27-21 victory and perhaps offering a glimmer of hope for the similarly upset-minded Lancers. And the Panthers are well aware that upsets do happen - they sprung a particularly dramatic one on Ramstein in 2015, a last-second 10-8 semifinal win that sent that .500 Stuttgart squad on to win a championship the following weekend.
Stuttgart head coach Billy Ratcliff prefers to focus on the more tangible aspects of the game, however, citing his team's rare capacity to pass the ball "when we want to and not when we need to" and Lakenheath's productive run game; Ratcliff said the Panthers "will have to be able to shut it down to have a chance to win."
In short, the Panthers are prepping for game number seven as they have the first six, with what they hope will be a matching result.
"Making sure we have the right system set up for the opponent we are facing," Ratcliff said. "And have the right personnel in the right positions."
That approach has worked out for the Panthers so far.
Twitter: @broomestripes