The top 100: Who will be No. 1?
by
Dave Ornauer
March 29, 2007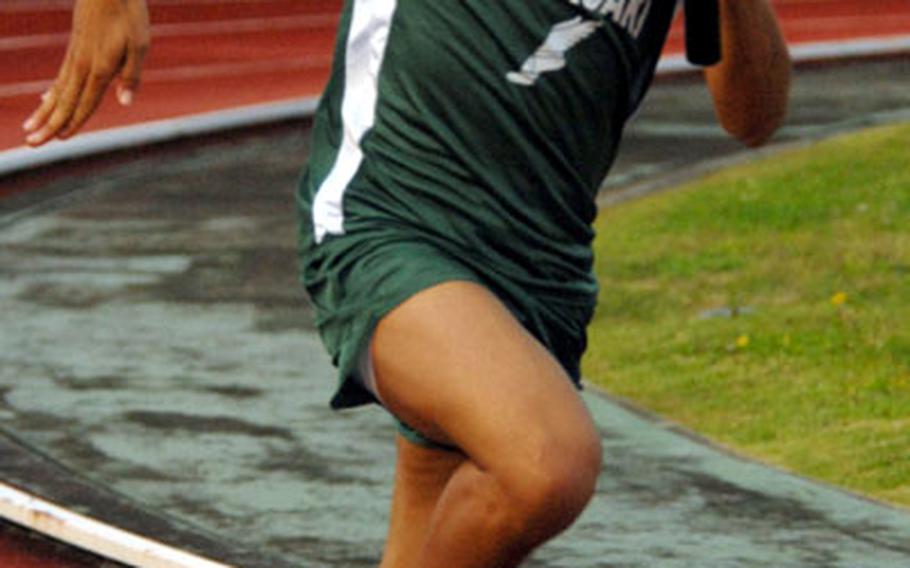 CAMP FOSTER, Okinawa — Track and field's shortest race, run in the quickest time, always seems to garner the lion's share of attention. This year on Okinawa, there's good reason: the rivalry between Charles Vinson Jr. of Kubasaki and Jeff Morton of Kadena.
The senior speedsters have spent the early part of the season scorching the 100-meter lanes in a game of "Can you top this?"
Morton, who didn't lose a single event last spring, edged Vinson 11.5-11.6 in the All-Comers' Meet on March 10, but Vinson has won the last two Okinawa Activities Council go-rounds, 11.18-11.25 on March 15 and 11.02-11.12 last Thursday at Kubasaki's Mike Petty Stadium. Those were Morton's first two defeats since transferring to Okinawa in summer 2005.
"He's the hottest thing on the island right now," Kubasaki coach Charles Burns said of Vinson.
Burns expects the pair to battle all season for "Okinawa's Fastest Human" honors.
"Nice job," Morton said of Vinson after the March 15 meet. "First time I've been beaten over here. He's got quick feet, he moves well and he's got a quick start. I like the idea of competition, but the competitor doesn't like the idea of a rivalry."
Vinson had similar admiration for his competition: "That's just one race. I have to put that behind me. I can't afford to get big-headed over it. He [Morton] gives it everything he has. He trains really hard and takes it seriously. It's going to be an intense rivalry, perhaps an intense season."
It's an unlikely pairing, for a variety of reasons, starting with their experience levels.
Morton, a top 10 runner in Colorado before moving to Okinawa before his junior year, went unbeaten, and practically unchallenged, in more than 40 events, individual and relay, last season. Vinson did not run at all last year; his parents, Charles Sr. and Charlena, sidelined the former top 10 middle-school star in northern California's Seal Beach District when his algebra grade fell to a C.
"That's my one regret, that he wasn't with us last season," Burns said. "He could really be spectacular for us right now. But he has to live with mama, not me. Whatever mama says, goes."
Not being able to run left Vinson "highly devastated," he said.
Vinson's father, a Marine master gunnery sergeant from Montgomery, Ala., who ran on scholarship in the 1970s at Alabama State, is his main training partner — and motivator to ensure the grades would go up and stay up.
"We wanted to see him improve in certain areas," Vinson Sr. said.
The younger Vinson said he kept working on his grades, but he also kept coming to meets to see who would become his chief rival.
"I kept hearing [Morton] was the fastest. I wanted to find out for myself," he said.
Not being able to run left Vinson's confidence somewhat lacking, he said. So he worked in the offseason, twice or more a week, with his father, mainly on technique, the elder Vinson said.
Speed is another area where Vinson and Morton differ, coaches and runners say. Vinson tends to explode out of the blocks, while Morton makes up for slower starts with "blazing foot speed," Burns said.
Vinson "worked hard on starts, not just the usual practice," Burns said. "He was out working late on starts. He figured it out on his own. Morton's weak point is his starts — Vinson got him from the start [on March 15]. It's that plain, ordinary foot speed. He can scorch them."
Morton "already has a strong competitor's edge," Kadena coach Sergio Mendoza said. "He'll have the hardest workouts of his life coming up. He's not a quitter. Charles is a wise, exceptional, seasoned runner."
What about the grades?
"They aren't an issue," Vinson's father said. "More B's than A's, but we're satisfied with his progress."
With the grades back up and the rivalry established, the question becomes, how low can they go?
"That's the scary part," Burns mused. "What are they going to do" in the OAC district championship April 28 and the Kanto Plain invitational meet May 19? "Medals will be on the line. That will be something to remember."
"In the end, it's going to be better for both of them," Mendoza said. "I know both schools want to represent Okinawa well, and that's how they're going to do it, pushing each other."
---
---
---