Teams no longer running around resurgent Perry soccer team
---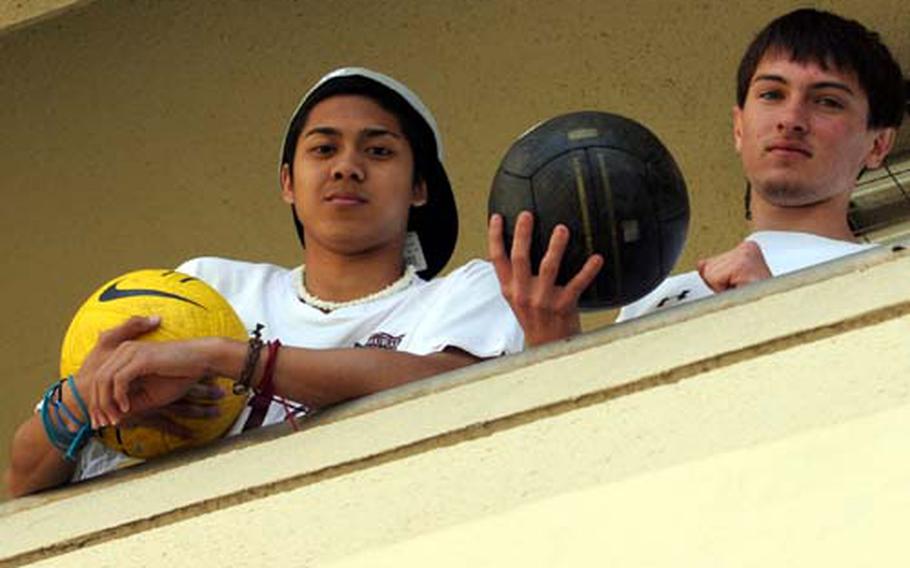 MARINE CORPS AIR STATION IWAKUNI, Japan — For years, Matthew C. Perry's boys soccer team was what seventh-year coach Mark Lange called "the practice cones for everybody else to run around."
The Samurai were the virtual 98-pound weakling with the "Kick me" sign on their backs. They were everybody else's "automatic W," to the tune of a 29-90-8 record starting from 2004 until last season.
At long last, the futbol gods have smiled aplenty on the Samurai.
Lange's squad features 14 veterans, his most ever. Add senior striker Andre Bugawan's 27 goals, second-best in the region, and Carolina transfer Tyelor Apple (20 goals), and you have a 21-6-2 team threatening to eclipse its entire victory total of the previous six years — and chase a Far East Class A title on its home pitch.
"We weren't expecting it," Bugawan said last Thursday, before sweeping a weekend series over E.J. King at Sasebo Naval Base. "It's a great feeling, though. It's the best. Hopefully, we can get it all the way to the championship."
"We're not the cones anymore," Lange said. "But it didn't happen overnight. It took a long time."
Occasionally, Perry might get in a talent or two for a couple of seasons, a stellar keeper in Grace Pascual and striker Scooter Lewis in 2000 on the girls side, or an Adam Krievs and Chris Allison in 2004 on the boys side. But the stars never seemed to align for either team.
But in 2007, girls coach Chris Anderson finally got the ingredients to gel, and twice in three years, the Samurai girls reached the Class A Tournament title match.
"The girls got it started. They had some success, and people were like, wow, Perry can play some soccer," Lange said.
"They made a difference," Bugawan said. "A lot of people see us differently now. We're not the school that's going to get walked over."
For the boys, everything began clicking last season, Lange said, during a Futsal tournament at Osaka International School, when the Samurai beat powerhouse Nagoya International.
"The lights went on," Lange said. "It was small-sided games, but they were like, hey, we can play a little bit. After that, we started winning games and becoming competitive."
Then at Far East, hosted by Perry, "we were in three overtime games, three penalty-kick shootout games," Lange said. "Unbelievable. The kids were going: 'These are some pretty good teams, and we're right there with them.' "
This season, in matches played 11 per side on full fields, Lange said, his Samurai have played 38 halves and won 33.
"That's very impressive for a small school," he said.
"You have all these kids coming back, they've been coached by me, most in their second year, some in their third year. They're part of a system. The system hadn't worked very often, but I never lost faith, the kids bought into it, and guess what? We're playing well."
Having a move-in such as Apple very much helped solidify an attack that had been feeble, at best, in years past.
"I don't make many substitutions at forward. Why fix something that isn't broken?" Lange said of Bugawan and Apple, who have a combined 47 goals and 20 assists. "Those things are hard to find. I have two of those guys. That's a wonderful feeling as a coach."
Apple, for his part, had not wanted to leave Jacksonville, N.C., but the sophomore got in contact with Lange and after arriving at Iwakuni, said he was sold on soccer when he ran into his soon-to-be teammates.
"Just having everybody around me, they love the game as much as I do and enjoy playing it and take it seriously," Apple said.
Then there's Apple's and Bugawan's supporting cast, featuring Yuta Fleming (11 goals, 7 assists) at sweeper and center-midfielders Sean Barker (12, 8) and his brother Alex (3, 8).
"We have speed," Lange said. "Yuta is incredible in the back; all the kids call him Beast. The Barkers [are not] that fast, but those two have this chemistry, they're experienced, solid midfielders … the heart of the team."
Perry's improvement hasn't been lost on foes.
"They're strong up the middle," E.J. King coach Steve Casner said. "Andre has really matured, gives them good leadership. Yuta shuts everything down. They've taken their beatings, but they're getting stronger. And they really lucked out getting Apple."
Whether all of that is good enough for Perry to hoist the banner on its home turf in two weeks is open to question, Lange said.
"Far East is possible, but all the stars will have to align," he said. "It comes down to a little luck, how well I prepare my kids and how much they believe they can do it."
---
---
---
---