Teams look at ASIJ tourney as a place to build momentum
---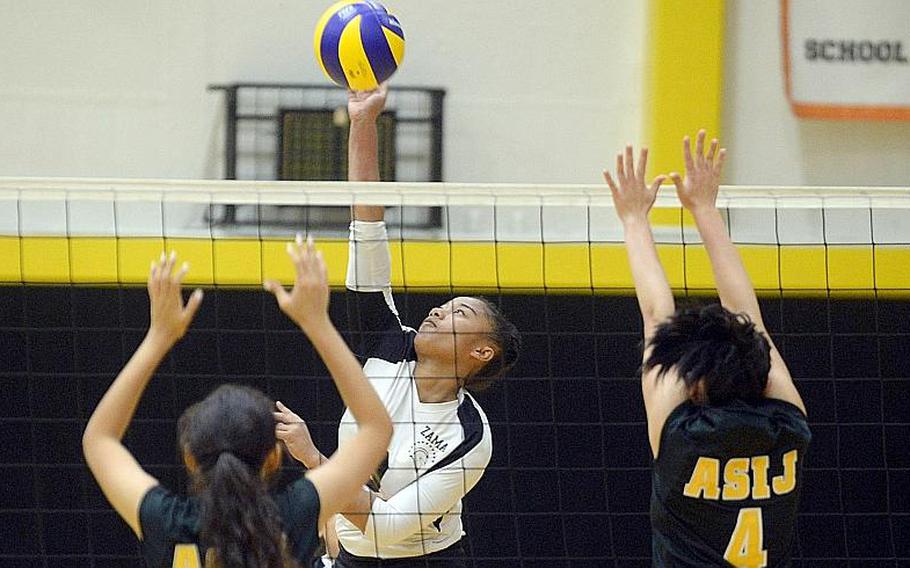 CAMP ZAMA, Japan – A year ago, Zama entered the American School In Japan YUJO volleyball tournament simply to gain experience.
It became a launch pad for the Trojans, who went on to win the DODEA-Japan tournament later that October and came in second in the Far East Division II Tournament.
This weekend, the Trojans are back in the 5th edition of the YUJO tournament. And junior spiker Grace Bryant says Zama is in it to win it this time.
"This year, we would like to win it and do our best," said Bryant, the reigning Most Valuable Player in last year's D-II Tournament at Humphreys. "We have good individual talent for every position. I think we're pretty strong this year."
The Trojans added a handful of contributors to go with their already solid returning core.
Gabrielle Griffiths joined the team at season's beginning and has proved her worth as a middle blocker. Freshman Nina Sakamoto-Flack is chipping in as an outside hitter. Setters Iris Hirata and Jazlyn Rioux are filling the shoes of Kate Holtquist, who transferred after last school year.
The Trojans have beaten every DODEA team they've played and only lost two matches to Division I international schools this season.
This year's YUJO fields a tournament-record 16 teams, including one from China (Shanghai American Puxi), Hong Kong (Harrow International School) and Singapore (United World College of Southeast Asia). A record seven DODEA teams are entered, including Humphreys for the first time.
Defending YUJO and Far East Division I champion Kubasaki might be in a similar situation as Zama was a season ago. Though the Dragons possess a core of three established veterans, they're otherwise young, with five freshmen populating the roster.
Senior middle blocker Abby Robinson says for most teams, YUJO is a chance to bond as a team and get a chance to look at teams they'll be facing during their respective Far East tournaments Nov. 7-9, again at Humphreys.
"I can't wait to show what we have," Robinson said, adding that the growth that the Dragons have made as a team this season is "amazing. We're here to do it again."
The coming weekend is also the first of three district or league championship weekends in preparation for next month's Far East.
¬¬¬¬¬Yokota will host the DODEA-Japan cross country finals, with most of the meet run on the base's Par-3 golf course.
That precedes the 16th Asia-Pacific Invitational meet scheduled for Monday and Tuesday at Urayasu City's sports park next to the Tokyo Disney Resort. A handful of Nile C. Kinnick runners and one Yokota runner are entered, but as unattached entities since DODEA schools aren't running as official entrants.
Yokota also will host a weekend of inter-district tennis play, with Kadena traveling north to engage in a Panthers vs. Panthers showdown. It will be the first time Kadena faces a team other than Kubasaki this season.
And on the football fields, teams continue to jockey for places in the chase for Far East D-I and D-II title-game space.
Kadena hosts Nile C. Kinnick and American School In Japan visits Humphreys, with the Panthers having already clinched a berth in the Nov. 9 D-I final and the other three still alive for a shot at the other. Kickoff for both games is 6 p.m. Friday.
Meanwhile, in Division II, Matthew C. Perry visits Osan, with the Samurai hoping to stay unbeaten and the host Cougars trying to tighten the race for both playoff berths, which each remain wide open. Kickoff is at 6 p.m. Saturday.
ornauer.dave@stripes.com Twitter: @daveornauer
---
---
---
---