Teams get a chance to see new foes, styles at ASIJ tourney
by
Dave Ornauer
January 18, 2018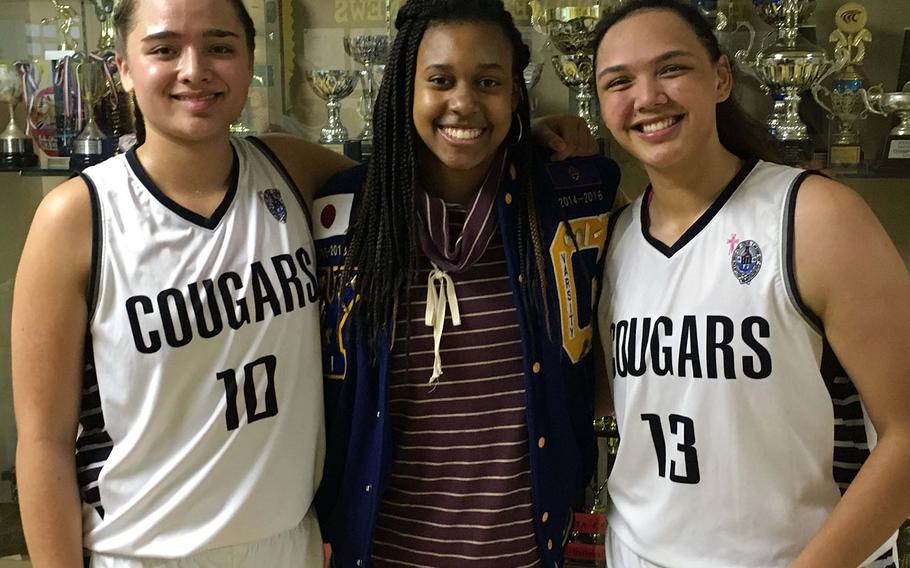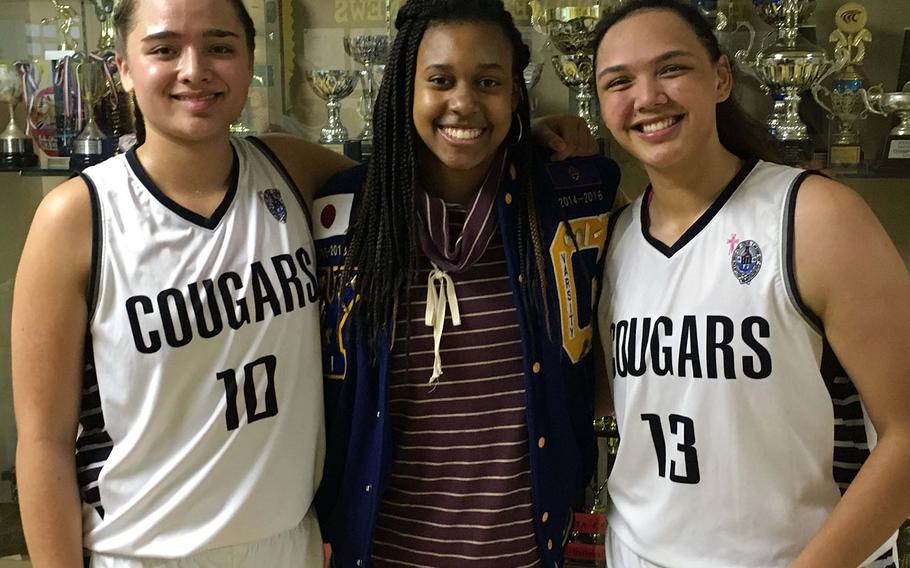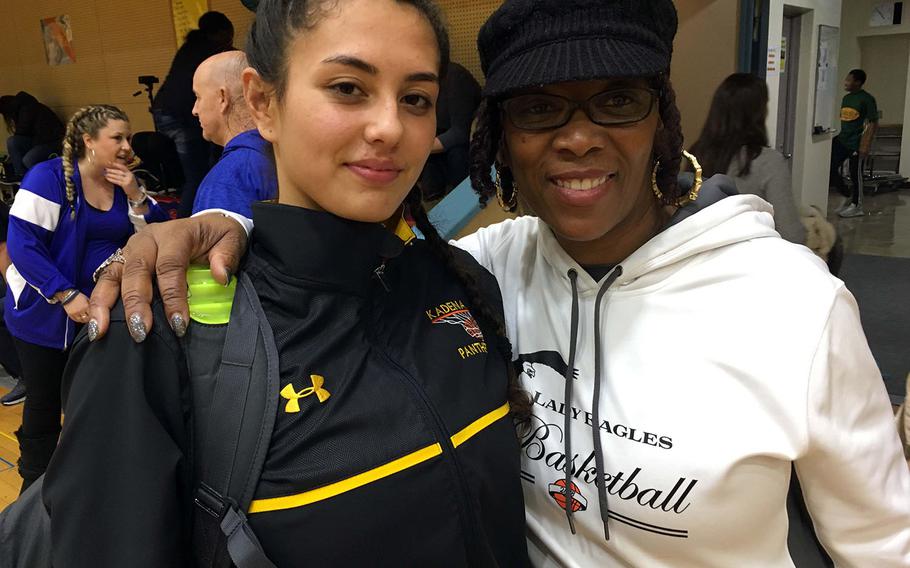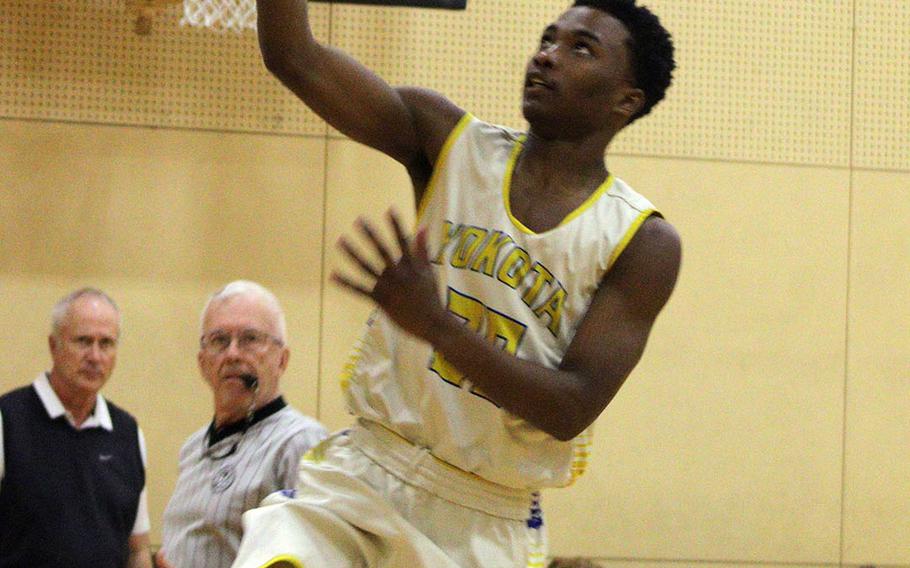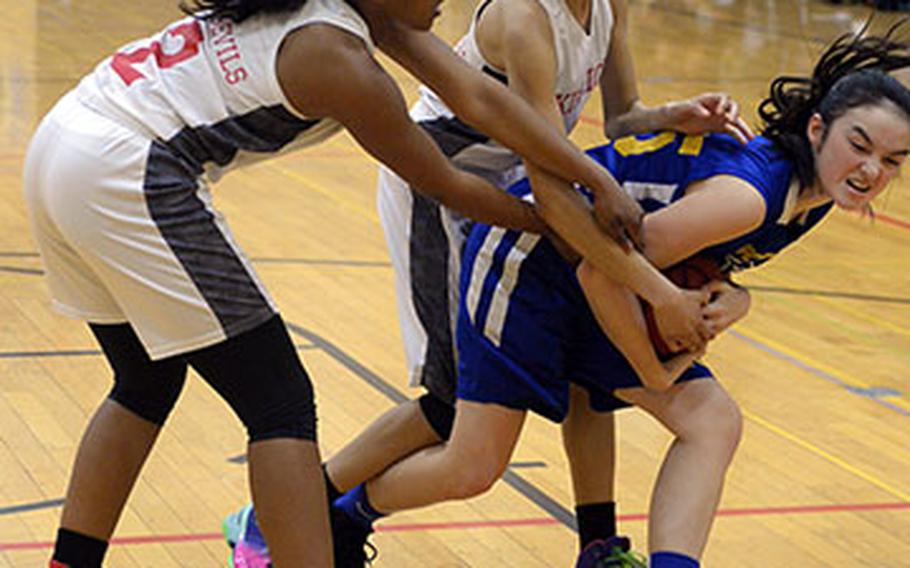 TOKYO – Dan Galvin looked visibly relieved as the final buzzer sounded on Yokota's 41-39 inter-division win over Kadena. His Panthers trailed Kadena by 12 points entering the final period and needed nothing short of a miracle – which they got – to win.
Jimmy Dewberry sank a shot from the lane with four seconds left, capping a rally in which Yokota outscored Kadena 16-2 in the final period. Montez Young Jr.'s 12 points helped give Kadena a 37-25 lead after three quarters.
It's tight games such as these, in this weekend's 2nd American School In Japan Kanto Classic, that will help Yokota during the season's home stretch, Galvin said, in the hope of regaining the Far East Division II Tournament title it lost last year after winning in 2015 and 2016.
"We have been winning by 20 or losing by 20 most games," Galvin said. "This helps us down the road, playing under pressure. We could have faded. Instead of giving up, they dug down a little deeper."
The three-day ASIJ Kanto Classic began Thursday with the first of two pool play days of play. And in the 20 games played on the first day, the tournament saw several close shaves:
-- American School of Doha, Qatar, in its first appearance in a Pacific Rim tournament, outlasted St. Mary's 26-24 in a defensive boys battle, then got a basket by Rayan Al-Amine with seven seconds left to edge Zama 41-39.
-- Trinity Fier sank a layup as the buzzer sounded, giving Robert D. Edgren's girls the first of their two victories, 30-29 over the host Mustangs.
-- Another first-time tournament entrant, Academy of Our Lady of Guam, escaped with two four-point victories thanks to unanimous all-island MVP Mia San Nicolas. She had a combined 44 points in the Cougars' 41-37 win over Kadena and 32-28 over Christian Academy Japan.
-- And in the biggest upset on the first day, CAJ's girls held three-time defending Far East Division II champion Yokota to four fourth-quarter points and edged the Panthers 26-24.
Besides close finishes, the tournament has also seen its share of reunions, among them Kadena senior forward Isabel Tayag sharing a hug and some memories with her Edgren coach Sarah Richardson. Tayag transferred to Kadena after her sophomore year, 2015-16.
"I've been watching them play; they look good," said Tayag of her old team, the Eagles, who finished the first day 2-0.
"It's hard to see her in that uniform color (black and yellow)," Richardson said of Tayag's Kadena basketball togs compared to Edgren's green and gold. "But it's good to see her playing well."
Yokota's Britney Bailey got a chance to see a pair of old rivals from Academy of Our Lady, juniors San Nicolas and Meaghan "Mink" Cruz, who battled against Bailey when she was with Guam High. Bailey transferred to Yokota in October 2016.
"It's pretty cool," said Cruz, whose Cougars finished second in the island playoffs last month behind St. Paul Christian. "I didn't think I'd ever see her again."
"It's great," said Bailey, the reigning Far East D-II MVP. "I'm ready to see how they play."
She'll get that chance on Friday at 4:40 p.m., when Yokota meets the Cougars with first place in Pool B on the line.
And American School of Doha featured two faces who weren't entirely new to ASIJ.
Steve LoBianco used to coach the Mustangs and led them to the Far East Division I title in 2014 before transferring to Qatar. His assistant coach, Craig Karnitz, also coached at ASIJ and followed LoBianco to Qatar a year later.
"It's a blast," LoBianco said of returning to Mustang Valley. "I don't know any of the kids any more, but some of the coaches, the refs and the staff. My children were born here; Japan is in many respects my home."
Pool play continues through Friday, with the single-elimination round with consolation slated for Saturday. The girls championship game is at 6:30 p.m. and the boys at 8 p.m., each at ASIJ's high school gym.
Among other events around the Pacific, the final tune-ups for Japan teams for Far East wrestling scheduled for Feb. 1-3 at Kinnick take place on Saturday, while Korea's teams hold their next-to-last event.
The Kanto Plain finals are at St. Mary's, while Edgren and E.J. King visit Matthew C. Perry for its annual three-way freestyle tournament. Korea's four DODEA schools head to Bakseok University in Cheonan, 20 miles south of Camp Humphreys, for a meet including Korean wrestlers.
Twitter: @ornauer_stripes