Teams enjoy their accommodations at Little League's Europe headquarters
---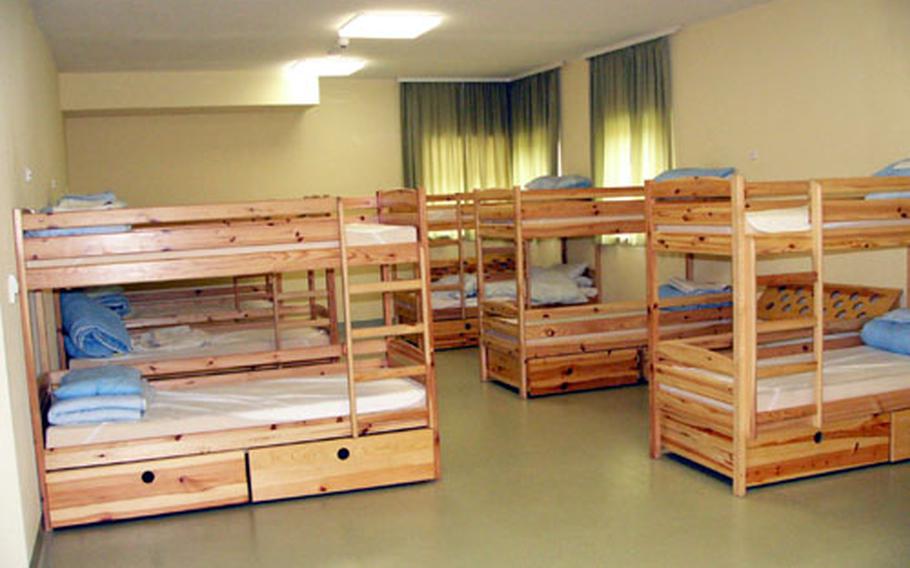 KUTNO, Poland — For tournament players and coaches, the living is surprisingly easy at Little League Baseball's European headquarters.
"I expected a lot less," said Josh Truini, 12, of the Brunssum-Schinnen team, which is representing the Netherlands in the eight-day Transatlantic Regional tournament. "I thought we'd be in hotels."
Instead, Truini and his teammates find themselves sleeping in bunk beds in spacious 14-player rooms that open to a lobby area, shower room and toilet facilities.
The arrangement gives a team the chance to be a team, day and night.
"It's cool," Truini said, referring to more than the dorms' air-conditioning. "It's like a summer camp."
In addition to the players' quarters, each team's living area includes a separate coaches' room with private bath and a lobby area with storage space for equipment. Also on each floor of the complex's four dormitory building is a conference room for team meetings and nightly movies for the players.
"We can accommodate four teams per building," said Assistant European Regional Director Shawn Sombati, a former umpire and graduate of Naples High School. "Last year, though, we ran the European and Transatlantic Regionals at the same time. We had 20 teams, so some of them had to stay at a high school dorm nearby."
The off-site facilities weren't as good, Sombati said, so officials received a lot of complaints.
"We won't do that again," he said.
This week, there have been no complaints.
"I sleep better here than I do at home," Naples assistant coach Dwight Smalls said. "There are no phone calls waking me up."
Little League helps with the teams' nutritional needs, but there is no food service in the dorms.
"It was originally envisaged that we'd have a cafeteria," Sombati said, "but that's not cost-efficient for us. We'd have to hire a food staff. Plus, we have teams, such as Saudi Arabia, with players who have special dietary needs."
Instead, Little League gives teams money to help pay for meals in town.
"You can't eat like a king on it," Sombati said, "but it helps out."
It also helps the local economy.
"Instead of us spending it here," Sombati said, "the money goes out into the local community. There's not much tourism in Kutno, but since we've arrived (in 1996) there have been lots of new restaurants and hotels opened."
To show the teams where they can get something to eat, as well as serving as interpreters and tour guides, each squad is assigned two local students as volunteer guides.
"It's fun," said Slywia Spera, 16, a Kutno high school student who's serving as a guide for the third year. "I like meeting new people and playing with my new friends."
The guides also show off their town and country on days when their teams aren't scheduled to play.
"They take them to nearby cities such as Lodz," Sombati said, "or to the lake which is about 15 minutes from here."
The dormitory complex offers more than nightly movies to keep players entertained. Basketball hoops, volleyball and badminton courts, a soccer field and pingpong tables dot the area between the four buildings.
"It's empty now," Sombati said, gesturing toward the well-worn grass on the soccer field, "but during our EMEA (European, Middle East and Africa) Regional last month, there was always a game going."
Teams don't have to bring their own equipment either.
"Each team has a soccer ball, basketball, volleyball, badminton rackets and pingpong paddles in its room," he said.
The predominantly American players here gravitate toward the basketball hoops, including AFNORTH sixth-grader Brenda Broadwater, who shot some baskets Friday morning. But that wasn't the most fun she's had.
"I like making new friends," she said. "I'm staying in a room with a girl from Italy and her mom. They're nice."
---
---
---
---