Boys soccer preview
Teams don't have to wait long for statement games
by
Gregory Broome
March 15, 2018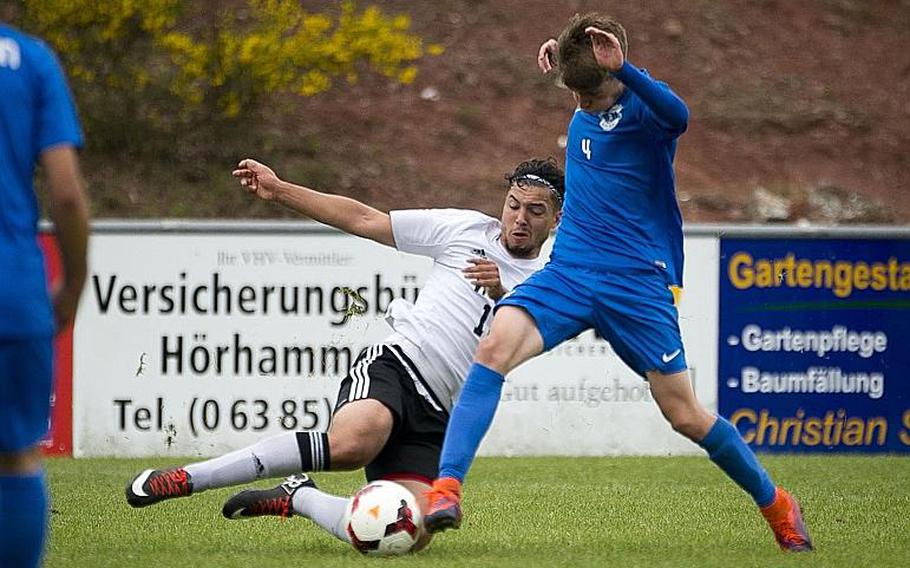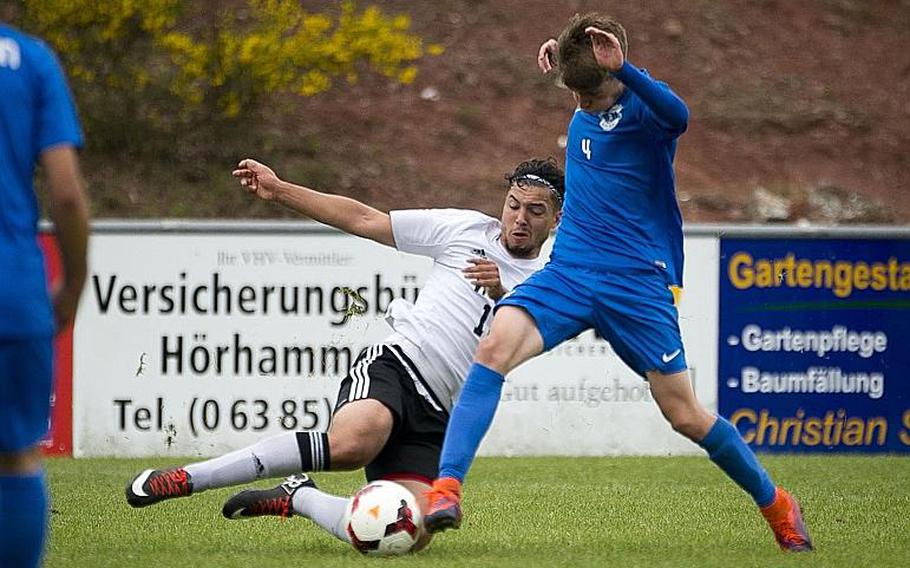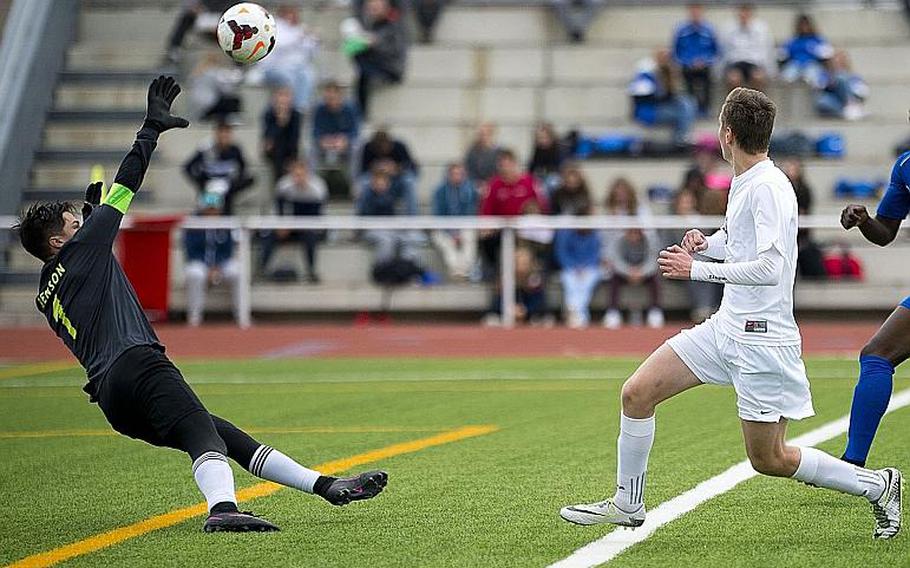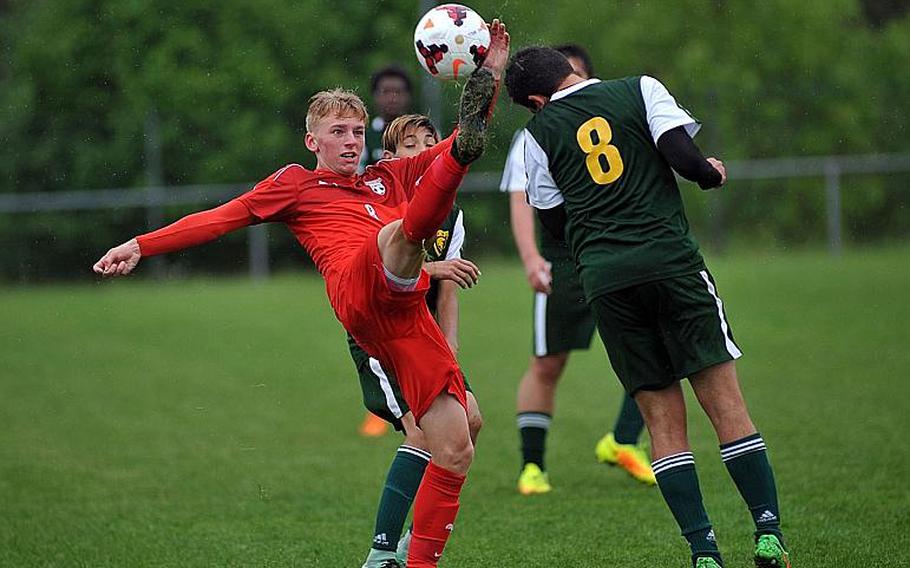 Three key matchups in Italy highlight Saturday's opening day of the 2018 DODEA-Europe boys soccer season, a light five-match slate featuring two of three European champions in action.
Defending Division I champion Kaiserslautern launches its title defense against Division II visitor Black Forest Academy, while reigning Division II champ Marymount takes an early look at top divisional rival Aviano. Division I hopefuls Vicenza and Naples open up at lower-division opponents American Overseas School of Rome and Florence, respectively, while Wiesbaden's trip to Stuttgart represents the day's only matchup of Division I squads.
Saturday's opening slate represent the first steps towards the European championship tournament, set for May 21-24 in the Kaiserslautern Military Community.
Division I The Kaiserslautern Raiders enjoyed their long-awaited championship breakthrough last spring on the strength of an idealized roster featuring dynamic attackers, a nearly impenetrable back line of defenders and consistent play in the midfield. The playoff-tested group realized its potential with a triumphant 3-1 defeat of the archrival Ramstein Royals in the Division I European final last May.
While much of that well-constructed roster has been lost, the Raiders retain enough talent to make a respectable run at a repeat. Eleven players, including four starters, are back, notably offensive standouts and senior co-captains Tyler Jankowski and Pablo Zorrilla and stalwart senior goalkeeper Enrico Ard. Still, coach Enrique John will need immediate contributions from the team's younger prospects to approach last season's heights.
This year's Ramstein team, as in recent years, lacks a singular offensive superstar and will rely heavily on ball control and tactical discipline. That model, while overwhelmed by Kaiserslautern's superior talent last year, has produced consistent success and figures to again place the Royals on the short list of legitimate large-school contenders. The play of sophomore standouts Anthony Villella and Gavin McMillan will be key to Ramstein's efforts this spring.
Division I's two Italian entries, Vicenza and 2017 semifinalist Naples, won't see divisional competition until they play each other when the season resumes after spring break on April 13. But they'll each be thoroughly tested each week by the country's reservoir of smaller but highly dangerous programs.
While those teams battle for control of the south, 2017 third-place finisher SHAPE and 2016 runner-up Lakenheath fight for northern supremacy free from the specter of departed powerhouse International School of Brussels, which withdrew from DODEA-Europe play this year. Wiesbaden, built around a solid and experienced defensive unit, could net some early divisional momentum Saturday against Stuttgart and March 30 at Vilseck.
Division II Rome takes center stage on this opening weekend, with both Marymount and AOSR playing host. If history holds, the city's teams will transplant their dominance to Kaiserslautern when the European tournament arrives in late May.
Marymount has fully resumed its dynasty after its reign was briefly interrupted in a shootout loss to Bahrain in the 2015 European title match. The Royals edged AOSR 3-2 in overtime for their second straight championship last spring, a year after routing AFNORTH 7-0 for the 2016 crown.
Both AOSR and AFNORTH will mount resistance again this spring. AOSR has nine returning starters back, including all-tournament forwards Alessandro Ianni and Tommaso Anticoli, while the Lions will field promising freshman goalie Paul Kohl alongside a proven core of midfielders and forwards.
Among other divisional squads, BFA, Florence and Aviano will see where they stand this weekend, Rota will play a more fleshed-out regular-season schedule this spring, Spangdahlem will look to bounce back from its 2017 struggles and Bahrain will again arrive at the tournament as a potentially impactful unknown quantity.
Division III The Brussels Brigands were the runaway small-school champions a year ago, chasing an undefeated Division III season with a 3-0 rout of Ansbach in the European title game.
While the offseason claimed six of that team's starters, the outline of a championship roster remains intact. Aljaz Urbanc is a dominant presence in the midfield, Alejandro Pantaleon poses a threat on the wing and Dominick DeFazio is among DODEA-Europe's best goalkeepers.
Ansbach will again field a co-ed soccer squad this season, an arrangement that not only saved both the Cougar boys and girls from obsolescence last year but produced an impressive run to the European final. First-team All-European Nick Benson headlines a set of six returning players from last year's runner-up.
Contenders Hohenfels and Sigonella will look to graduate from last year's third-place game into the main event this spring.
Twitter: @broomestripes