Talented siblings creating big aspirations for Osan's basketball teams
---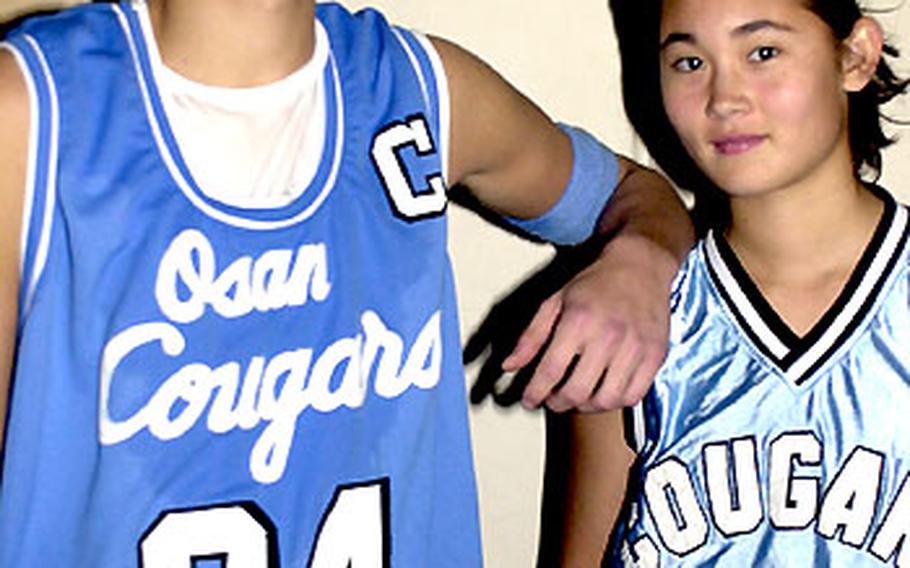 OSAN AIR BASE, South Korea — Mina Davis rolled her eyes and smiled. Her older brother, Steve, just remarked about how he's the better shooter among the Osan American Cougars basketball-playing siblings.
"Oh, I'm the better shooter, absolutely," said Steve, a junior.
"No way!" replied sophomore Mina. "I'm a way better shooter than he is."
"C'mon, Mina, I beat you every time we play PIG," Steve replied, a hint of a smile on his face.
"That's not true," Mina shot back, smiling. "I beat him in every shooting game we play."
It's this way every time the Disagreeing Davises discuss just about anything, from their basketball prowess to their tastes in music, even down to who uses the home computer more.
"They have a close personal rivalry," said their father, Air Force Chief Master Sgt. Ernie Davis.
One thing on which all parties agree is that the Davises' presence has been a blessing for the Cougars:
As a freshman, Mina played for an Osan team that took a share of last year's Korean-American Interscholastic Activities Conference title and won its second straight Far East Class A tournament. She averages 15 points and 10 rebounds this season for the Cougars (4-4).Steve helped the Cougars to a fifth-place Class A finish last season, averaging 16.7 points and 7.4 rebounds per game. He has scored less (13.6) but rebounded more (10) this year for Osan (4-5).Like the girls, all of the Osan boys' losses have come against larger schools, mostly to defending KAIAC champion Seoul American.
One of the few things the Davises' agree upon is that each of their teams can be a factor in the race for the Class A championship.
"I think we have a good chance of doing that," Mina said. "We're excited."
"My squad has a good chance of winning Far East, and I know her squad does as well," Steve said.
Steve is an alternative rock afficionado; Mina will just as quickly queue up a rhythm & blues CD on her portable player. Steve prefers books such as Lord of the Rings; Mina says she reads only for school.
"I like the Rams and the Vikings," Steve says about his NFL loyalties. "She doesn't know that much about football."
"Yeah, but his teams always lose," replies Mina, an avowed Philadelphia 76ers fan.
Then mention their use of the home computer and Steve's nose wrinkles. "She is always hogging the computer," he offers. "You can't keep her off MSN Messenger."
"That is so unfair," Mina shoots back. "He only uses the computer for five minutes, then he complains when I take up my entire two hours."
Is there anything else on which the Davises find common ground?
"They're both honor students, National Honor Society, Junior ROTC, they're both 3.8 GPA students, they take the same courses," says the elder Davis. "She kind of mirrors what he's done."
Dad doesn't hide that he wanted the two to play basketball. The two played on the same youth services teams at an early age. When Steve began growing (he's 6 feet 2, while Mina is 5-9), they played against GIs at Whiteman Air Force Base, Mo., as they have since arriving at Osan almost two years ago.
Coaches and teammates couldn't be more pleased that the two are wearing Cougars uniforms. Both wear No. 24.
"He's an outstanding young man, a leader on the court, a great player and a role model on and off the court," boys coach Greg Rosenberger said. "He has a nose for the ball, he loves the game and is a competitor. He's great to have around."
Osan senior point guard Jennifer Gates says Mina has sharpened her shooting.
"She's gotten really good this year," Gates said. "She's kept us in a lot of games."
---
---
---
---