Home Team
Taking the (sports) road less traveled
---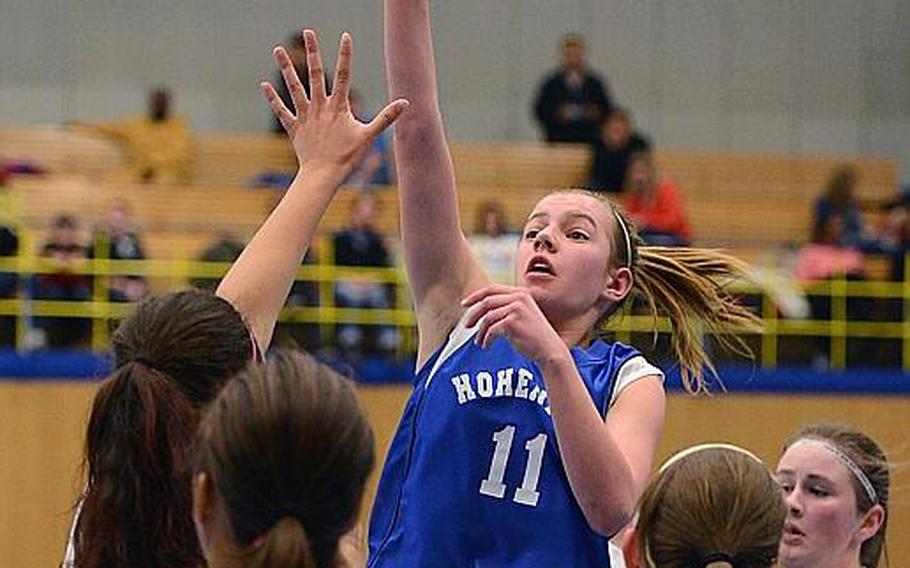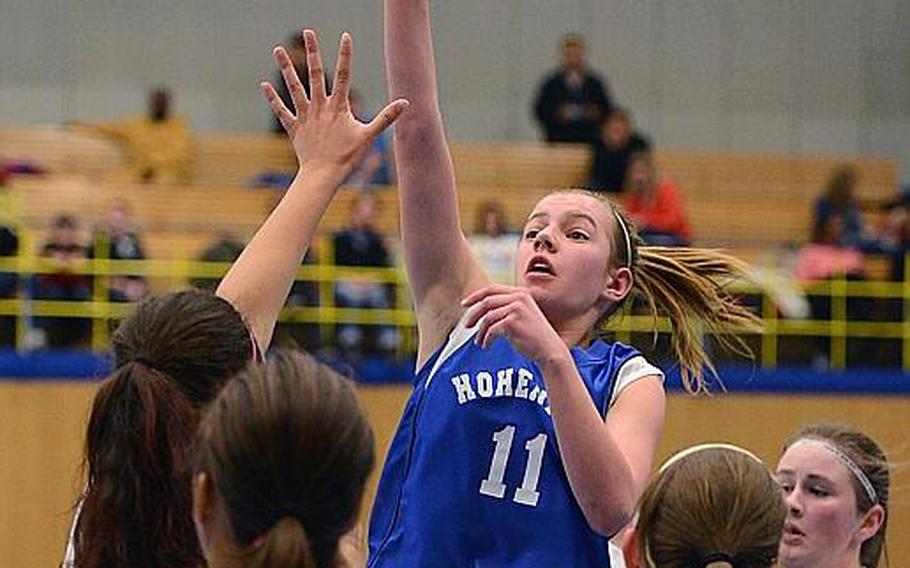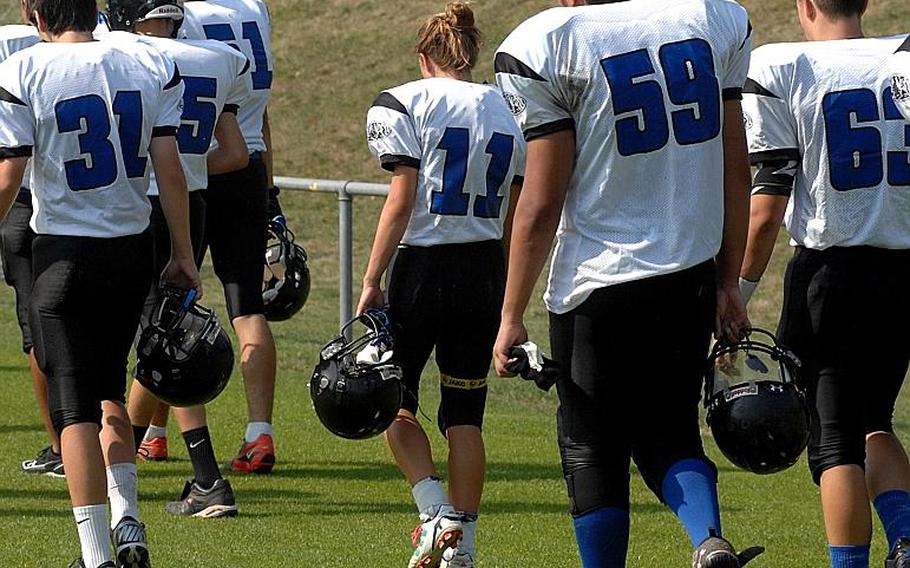 In many ways, the career of Hohenfels junior Shelby Atkinson follows the conventional script for standout DODDS-Europe athletes: one sport in the fall, another in the winter and a third in the spring, followed by a summer focusing on the favorite of the three.
But even in that context, there is nothing conventional about Atkinson. Hers is a story of opportunities presented and seized, of circumstances falling into place, of steady hard work gradually yielding results. Now three years in, her career is evolving into one of the more fascinating even in the quirky annals of DODDS-Europe sports history.
The basis for Atkinson's success is stability, a foundation denied many DODDS-Europe athletes. While many aspiring overseas athletes are disrupted by frequent relocations and adjustments to multiple high schools, Atkinson left her Atlanta-area hometown and landed in Hohenfels in time to launch what she expects to be a four-year DODDS-Europe career as a freshman.
And launch it she did, in an unexpected way. Atkinson pulled football pads over her slender frame, tucked her hair under a helmet and joined the Tiger varsity football team.
Though Atkinson isn't the first girl to play DODDS-Europe football, it was still an unconventional choice. But Atkinson wasn't looking to make a political statement. Her decision to play football stemmed from a challenge - "My brother told me I couldn't play it," Atkinson said - and pure circumstance, namely the fact that DODDS-Europe doesn't offer soccer in the fall.
Once on the gridiron, she kept her initial goals well within reason.
"Not wanting to embarrass myself was the main worry," Atkinson said.
She's garnered sporadic playing time as a wide receiver, in the secondary and on special teams over her three-year football career. But when head coach Larry Daffin took over Tiger sports at the start of the 2013 season, he found in Atkinson a "true competitor" who embodied the "hard work, determination and persistence" he wanted from all of his players.
Daffin said he made no special accomodations for Atkinson's gender, and didn't need to.
"I can honestly say that pound for pound, ounce for ounce, she was as tough, if not tougher than most of the guys on the team," Daffin said, recalling occasions where Atkinson "bounced up" from a hit anxious for another snap. "She gave as well as she took, and never complained."
While her contributions skewed more towards the inspirational and motivational than the tangible on-field variety, Atkinson was rewarded with a trip to the pinnacle of DODDS-Europe football. In November, she and her Tiger teammates won the Division II European championship, capping an unlikely title run with a comeback victory over SHAPE.
"It was amazing," Atkinson said.
Though she's collected three varsity letters and a European title on the gridiron, football is not Atkinson's preferred sport. Basketball is her primary game, the sport where the size of her stat line rivals that of her heart. Entering the weekend, Atkinson is averaging 13 points, five assists, five steals and three rebounds per game for a 6-5 Hohenfels team that has lost just twice to fellow Division II opponents.
Like Daffin, Tiger girls basketball coach Shawn Rodman has had nothing but positive experiences with Atkinson.
"I only have to tell her how to do something once, and she gets it," Rodman said of his star player. "She is always positive with her teammates and works harder than anyone."
Atkinson's role with the team has expanded this season after the departures of All-Europe forward Tashia Golson and All-Region wing Kiana Glenn, two highly productive players who Atkinson called "really good leaders."
The loss of Golson and Glenn highlighted the double-edged nature of Atkinson's unusual stability.
"I think it's lucky being able to be here for four years," Atkinson said, adding that the situation has its challenges. "Waiting year after year to figure out who's moving and who's staying, what the people have to offer."
In spring, Atkinson will move on to soccer, the third sport in which she'll earn her third varsity letter. But she'll bring basketball with her; on many spring days, Atkinson will leave the practice pitch, change her shoes and head into the gym to put up some jumpers.
In fact, the calendar is the only thing that limits Atkinson's athletic pursuits. If DODDS-Europe soccer were played in the fall, as it is in many areas stateside, she said she'd likely play soccer then and softball in the spring, though that arrangement would have unfortunately precluded her football career.
But as long as she has a sport to play, Atkinson is happy.
"I think I look forward to all of them," she said.
Her seniority and growing list of sports achievements have turned Atkinson into a prominent figure on the Hohenfels campus.
"She is an extrovert that will take on any challenge, anywhere," athletic director Kathy Clemmons said. "She's a team player who always takes responsibility for her actions and always supports her teammates and coaches."
If she's become a motivating force for the Tiger athletic program, that's fine with Atkinson.
"I want to show people things can be done if you work for them," Atkinson said. "I just like putting smiles on people's faces."
Twitter: @broomestripes
---
---
---
---