Tabb tops SOFA women's field again in half-marathon
by
Dave Ornauer
January 15, 2003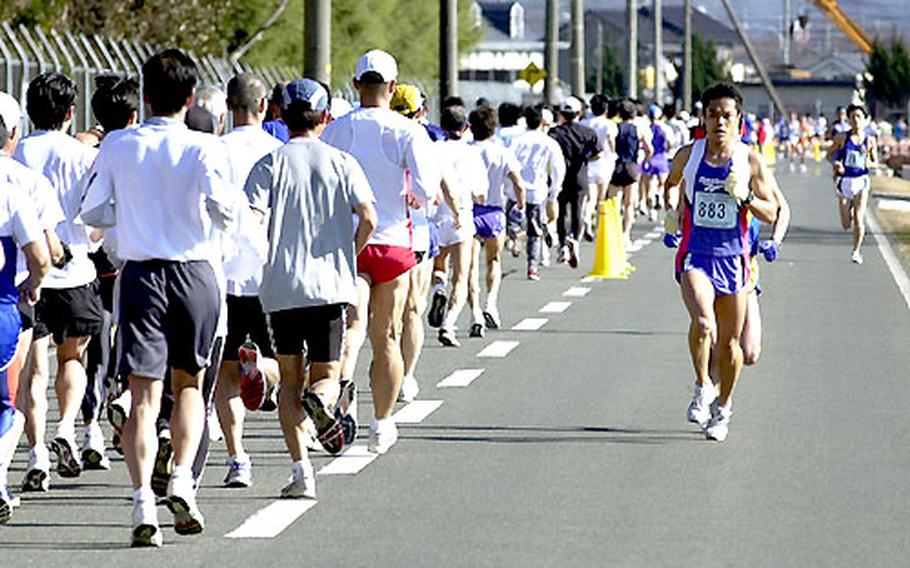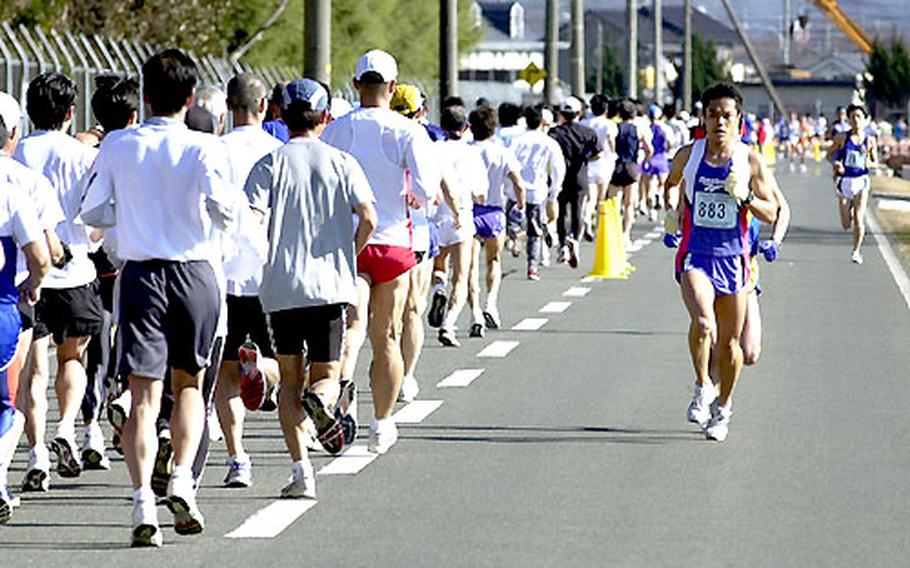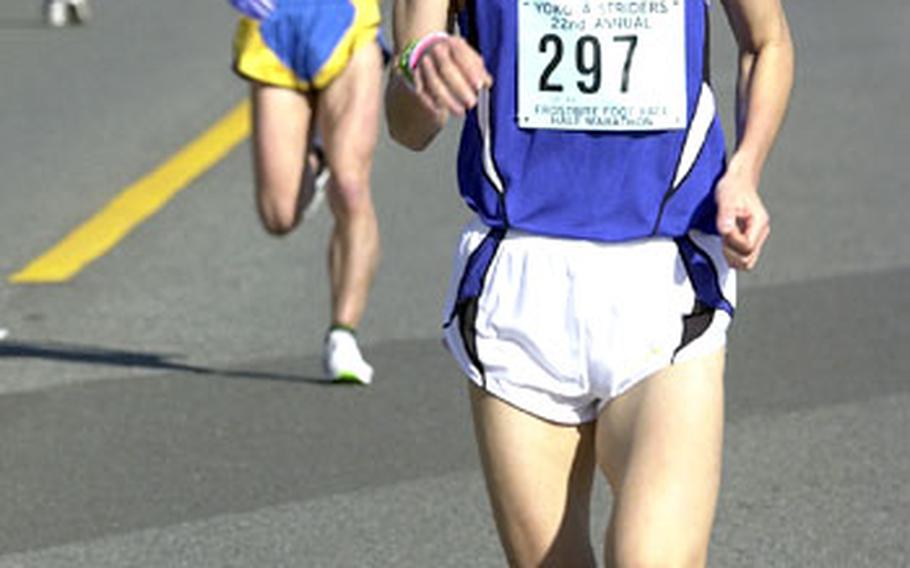 YOKOTA AIR BASE, Japan — Once, twice, three times a champion.
Julie Tabb once more made the Frostbite Foot Race Half-Marathon her personal showcase, three-peating the status of forces agreement women's title in the 22nd annual event sponsored by the Yokota Striders Running Club.
"I keep hoping somebody else will win," Tabb said, half-jokingly, after finishing the 13-mile, 143-yard half-marathon in 1 hour, 40 minutes, 32 seconds. "Not bad for an old lady."
Tabb, 40, an Army major assigned to Camp Zama's 500th Military Intelligence Group, was one of just three women competing in the race's SOFA division, out of 769 women entrants overall. Just 13 SOFA men were entered among the men's field of 2,883.
The predominantly Japanese field, in the largest road race run on a U.S. base in Japan, was led by women's overall winner Yukie Udagawa, timed in 1:23:08. Tabb finished 17:24 behind Udagawa, 50th overall, but well ahead of second-place SOFA finisher Nikki Forrester of Yokota (2:13:25).
"I had sore feet today, and didn't think I was going to do well," Tabb said. "I figured, just show up and do the best I could."
It was her last Frostbite title; Tabb will transfer to the States this summer. "It's a great way to culminate my career in Japan," she said.
David A. Schwarze of Yokota took the men's SOFA title in 1:34:23, 418th overall and 16:17 behind men's overall winner Takayuki Kawamura. Schwarze finished 8:24 ahead of second-place SOFA runner Michael J. Apol.
The half-marathon field of 3,652 runners was well down from the record of almost 5,000 set two years ago, the last time the event was held at Yokota. It was run last year at Tama Hills Recreation Center, due to security concerns in the wake of Sept. 11.
The 2002 race, run on the hilly Tama Hills golf links, "was a killer," Tabb recalled.
Including the 1,823 runners entered in the preliminary 3.1-mile run, the Frostbite Foot Race attracted 5,475 competitors, compared to 8,240 two years ago.
Still, the turnout pleased Yokota Striders President Steve Wright.
Returning the race to Yokota "allowed us to run a full half-marathon, on a flat course, which we've traditionally done," he said.
A major change to the race course, which snakes around the base's flight line perimeter road, was putting cones and dividers up in the road's center to separate packs of runners going in opposite directions.
Two years ago, the lead runners ended up running smack into a pack of hundreds of trailing competitors headed in the other direction. That, and the large field of runners in general, almost creating a logjam.
"The changes we made worked out well," Wright said. "Two years ago was a huge crowd. We took a little too much on that year. This year, we trimmed it down and it worked out better for us."