Switch to D-II no problem for George; repeats as coach of year
by
Rusty Bryan
November 25, 2007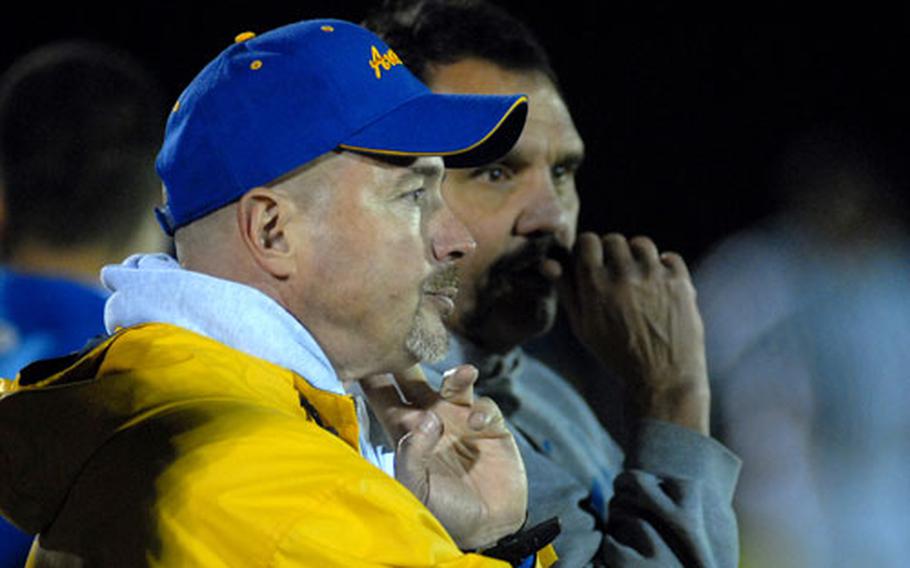 Marcus George and his Ansbach Cougars can't afford to take anything for granted when they begin each football season.
But the rest of us can: We've come, based on experience, to expect them to win.
For the second straight year, for example, the Cougars marched undefeated to a European football title, their fifth in six years. And for the second straight year, George, whose record at Ansbach is 48-4, was voted coach of the year by the European Football Coaches Association.
"Being selected coach of the year is a great honor," George told the EFCA in a thank you e-mail last week. "We have had a run of great student-athletes and we enjoy fantastic school, faculty, administration, parent and community support."
The athletes George referred to include four players voted to this year's All-Europe team for a second time each — quarterback John Willis, running back-linebacker Xavier Sheppard, two-way lineman Jacob Burnside and defensive lineman Storm Freeman. The Cougars supplemented their All-Europe list this year with junior offensive lineman T.J. Dignan.
That nucleus helped the 2007 Cougars run their unbeaten streak to 16 games. George's Cougars teams won a European-record 28 straight from 2002 to 2005.
"This was a special team," George said Monday by phone. "I had six or seven kids who could have started for anybody."
For all its winning tradition, however, Ansbach's success in 2007 wasn't merely a case of same-old, same-old. Instead of competing in Division III, Ansbach this year played for the first time in Division II, composed of DODDS-Europe's second-biggest schools. Ansbach, with an enrollment of around 240 in grades 9-12, defeated all comers by an average of 42-8 and capped its season with a 44-8 triumph over 2006 champion Bitburg in the D-II title game.
The move up to Division II was a contributing factor to George's selection, according to Steve Jewell of Wiesbaden, president of the 67-member EFCA.
"Our members nominate the candidates, and are allowed to put a brief blurb on the form justifying their choices," Jewell said Monday by telephone. "One of the common ones about Marcus mentioned he took a team from Division III to Division II and not only won there, but dominated."
Not, however, without a lot of anxiety, according to George.
"This was one of the most stressful, yet rewarding, seasons we've ever had," George said. "People always said we won because we played the smaller schools. This year, we knew we had to stand up and do it against some schools twice as large as we are. We did."
Ansbach's latest title is a record ninth for George personally. In addition to the five European championships he's won with the Cougars, he previously guided Fulda to three straight before that school closed in 1994. He moved on to establish the football program at Hohenfels when the school opened in 1995 and won his fourth title there in 1997.
Among other candidates drawing heavy coach-of-the-year support this season, Jewell said, were Baumholder's Carter Hollenbeck and Rota's Robert Stovall, coaches of this year's D-III finalists. Baumholder's D-III crown was its first European football title since 1983, and Rota battled the Bucs all the way before falling 14-0 in the championship game.
George, refusing to take all the credit for Ansbach's success, cited assistants Gary Feletar, Tom Dignan, Frank Mayo, Mick and Sue Plummer, "and the hardest-working member of our staff, administrative assistant Jo Barrale" in his e-mail.
"Championships," he said, "are a team activity."
All-Europe selection panel