Super timeout in Kuwait
by
Joseph Giordono
January 28, 2003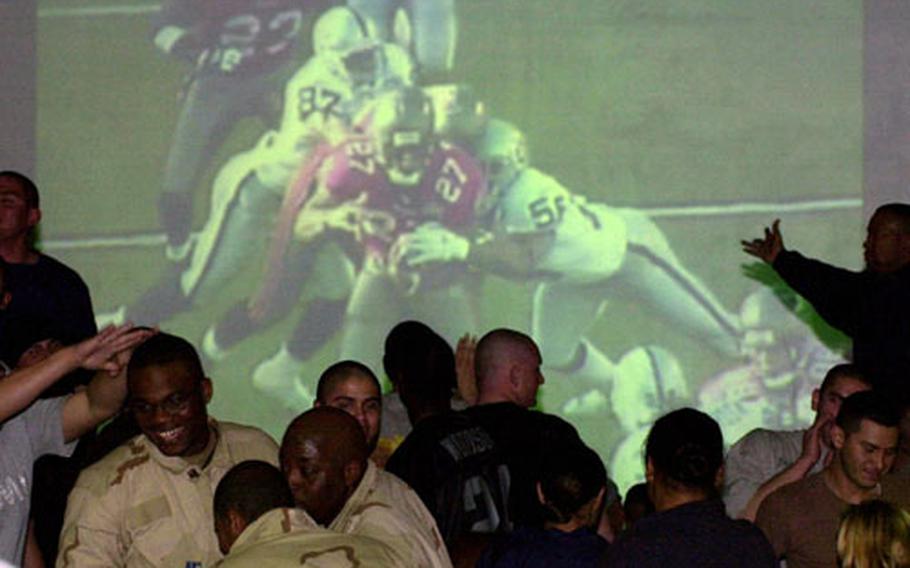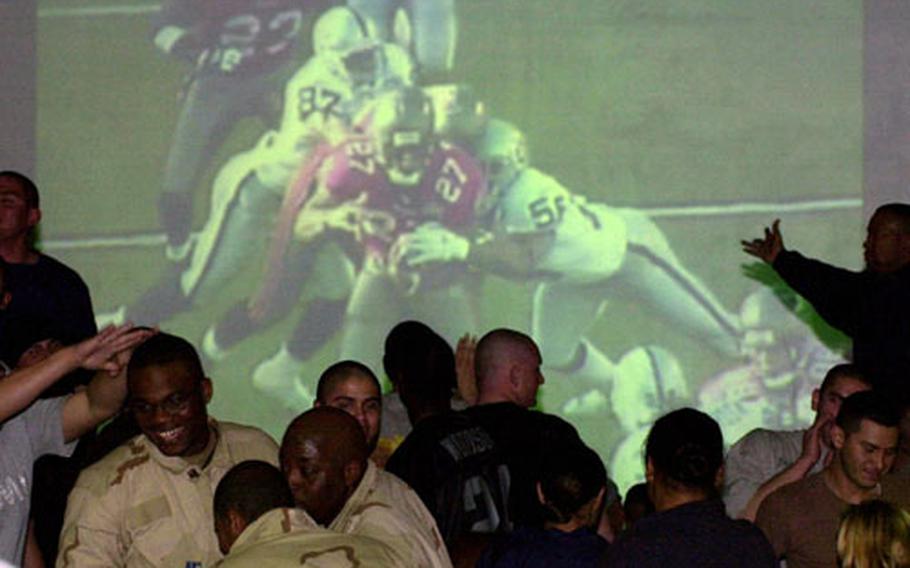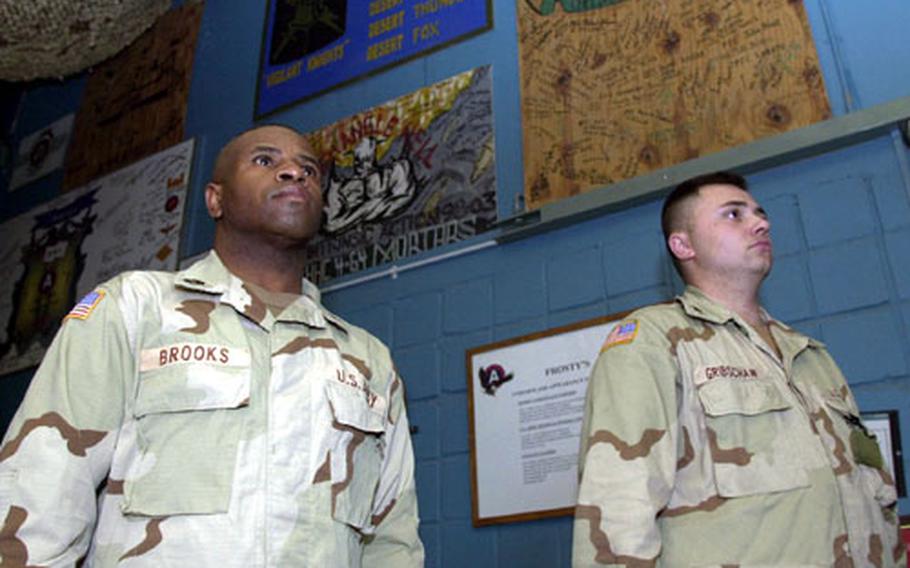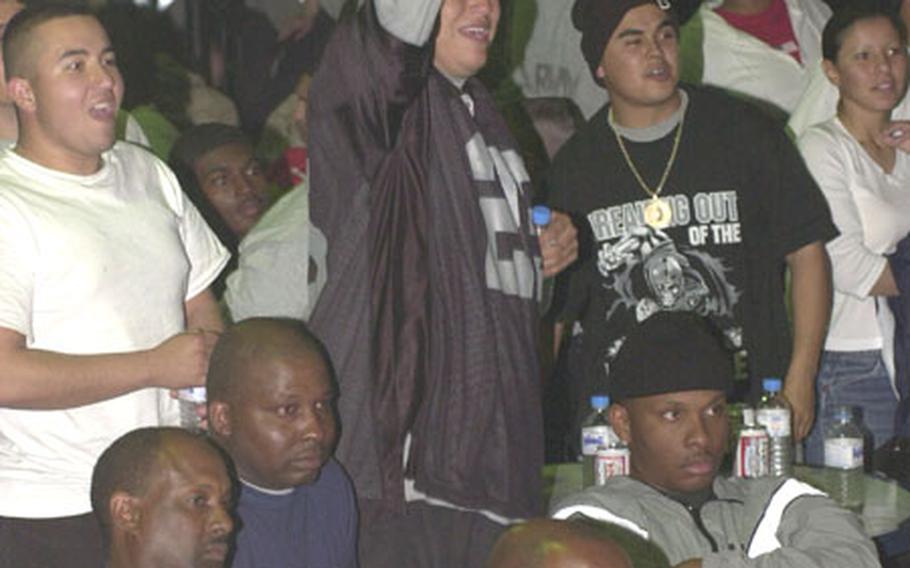 CAMP DOHA, Kuwait — All eyes were on the big screen broadcasting a football game from halfway across the world. But most of the soldiers' minds were focused about 50 miles north, to the Iraqi border.
Super Bowl XXXVII kicked off just after 2 a.m. Monday local time, but the soldiers deployed to Kuwait were more anxious to talk about a kickoff of another kind — a possible showdown with Iraq, where they would likely play front-line offense all the way to Baghdad.
"I don't sit around praying for war, but I want to make this world a better place for my daughter," said Spc. Jason Gribschaw, who had just arrived in Kuwait on Sunday morning with the 11th Engineering Battalion, Combat, from Fort Stewart, Ga. He and his wife are expecting their first child, a girl, in May.
Gribschaw, from Irwin, Pa., was among hundreds of U.S. soldiers — and a handful of airmen — who packed into Frosty's, a Morale, Welfare and Recreation club in a converted warehouse on Camp Doha.
At one end, a projection screen showed a live feed of the game. All around the cavernous building, camouflage netting was draped from the ceiling. The walls were covered with homemade wooden planks commemorating the various units that have been deployed to Doha over the years.
As soldiers walked in the front door, they could see a large board on one wall that presents a brief history of the 10-year U.S. presence at Doha. It was surrounded by the detritus of old wars — inert 500-pound bombs, rotting Kalashnikovs, metal helmets with holes blown in the crown.
The last time this many troops flowed into the Middle East was Super Bowl XXV, when the U.S. military came to Kuwait's rescue and routed an Iraqi occupation force.
Now, thousands of U.S. troops again are pouring into the region for a possible conflict with Iraq over weapons of mass destruction. Officials will not say how many troops are in the area now, but tens of thousands are deploying to "the Persian Gulf region" every week.
Sitting near the back of Frosty's, Sgt. Keenan Holt of the 3rd Armored Cavalry Regiment, 2nd Squadron from Fort Carson, Colo., sipped a near-beer and munched on popcorn. Asked his opinion about the game, he offered an answer to the unasked question.
"The game is fine, I'm enjoying it. You probably want to know about my shirt, don't you?" he asked, referring to the black T-shirt emblazoned with a picture of a mushroom cloud and the logo "Weather Forecast Bighead: 32,000 degrees and partly cloudy."
The Virginia Beach native laughed, winked, and turned back to watching the game.
A couple tables over, Spc. Charles Hatch, of 1st Battalion, 293rd Infantry, a National Guard unit from Fort Wayne, Ind., was decked out in the Oakland Raiders' silver and black.
"We've only been in Kuwait for a month, so the boredom hasn't set in yet. There's always some sort of event coming up to take your mind off training and being out in the desert," Hatch said.
The Super Bowl party was part of a larger effort to provide the troops at Doha with something to take their minds off why they are in Kuwait, officials said.
"We have a pretty aggressive MWR program here, because it's important to give them the opportunity to not think about being far from home," said Col. Ulysses Brown, commander of Camp Doha.
He cited a number of amenities, including 24-hour gyms, food courts, movies and athletic programs.
But Brown, who is six months into a two-year command tour, knows that the diversions, especially the Super Bowl, are only temporary.
"I don't think for a minute that there's any event that can stop them thinking about the reality of why they're here," he said. "Tonight doesn't change why they're here, but it gives them a break from thinking about it."
The game did serve as a welcome distraction for many of the soldiers. While the crowd heavily favored the Oakland Raiders, a hearty bunch of Tampa Bay Buccaneers fans went home happy after Tampa won the game, 48-21.
As the game ended, the sun began to creep over the desert horizon and the first call to Muslim prayers echoed throughout Kuwait City. For most of the soldiers, the Super Bowl break was over quickly.
"We've got to show up for P.T. at 0600, so it's gonna be a long day," said Pfc. Jamie Cruz of the 11th Engineers. "But it was worth it to see the game."
Now, their attention focuses elsewhere.
"None of us wants a war, but if that is what we are called upon to do, then that is our job," Gribschaw said. "And we'll be ready to do that job.
"The next couple of weeks are going to be hard. Am I going to get to head home and see the birth, or am I going to see her a year from now?"