Sumo wrestling making Korean comeback
by
Joseph Giordono
February 17, 2004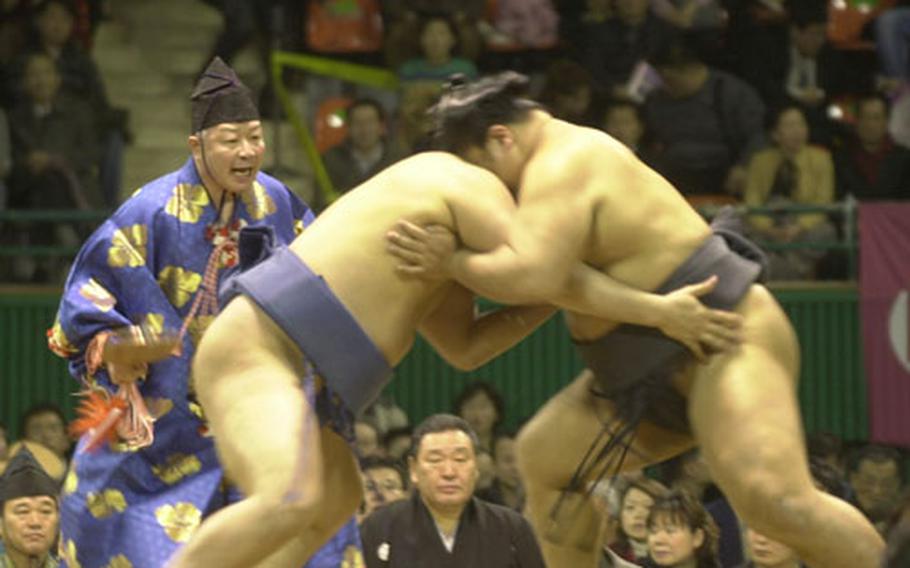 SEOUL — Shin Dong-nyong is old enough to remember when his country was under Japanese colonial rule, a time etched into the collective Korean conscience as one of shame and subjugation.
But, as he sat in the crowd Sunday at the first sumo tournament held in Korea since World War II, the 74-year-old Shin said those days are long gone.
"The time when we were enemies is over," he said. "We watch Japanese movies and listen to Japanese songs, so why not sumo?"
Shin, who has traveled to Japan several times, was among hundreds — including many Japanese tourists — who turned out for two days of sumo matches at Seoul's Jangchung Gymnasium this weekend. And though the matches were exhibitions and did not count in the tradition-bound standings of Japan's national sport, some of the biggest stars were on hand, including a few native Koreans who drew big cheers.
Asashoryu, the reigning Yokozuna, was clearly a crowd favorite. When he approached the 15-foot ring for his first bout Sunday, a group of middle-aged Japanese women shouted his name in unison, then burst into giggles and cheers.
Like many of the Japanese in the crowd, they had planned a weekend trip to Seoul around the tournament. They could get better seats than at nearly any sumo tournament in Japan, they said, and for cheaper, too. The best floor seats this weekend, though, were still going for over $100.
In the second tier of the arena, 34-year-old Min Ki-sook was a bit less into the matches.
"I used to have prejudices about sumo, but now that I've seen it, I realize it's a sport," she said. "But it's kind of boring."
Boring or not, the tournament represents the latest step in a cultural and sporting flow between Japan and South Korea. The previous high point — and the impetus for the sumo tournament — was the two nations co-hosting the 2002 World Cup.
After the soccer tournament, officials from both countries agreed on a series of cultural trade programs, including the sumo tournament (which was delayed a year because of SARS fears). And earlier this year, new South Korean laws reversed previous bans on Japanese cultural imports like comic books, movies and television programs.
But there are still rough spots in the relationship. Tempers heated up again this year in a seemingly annual tussle over a group of islands that both claim. And this week in Seoul, a South Korean actress drew howls of protest when she announced plans to distribute semi-nude photos in which she "portrays" comfort women, the euphemism used for Japanese Army sex slaves.
Nevertheless, tournament promoters — which included the Japanese sumo association and the South Korean Ministry of Culture & Tourism — said the tournament was a means of furthering the relationship, as well as promoting the sport.
"It's not a popular sport in Korea but there are pockets of interest here. Many of the older generation have kept up with it," Oh Dong-hoon, manager of the event's local promotion company, told reporters last week.
Market research showed many young people in South Korea follow sumo news daily via the Internet or satellite television.
On Feb. 18, the tournament will continue for one day at the Sajik Gymnasium in Pusan, starting at 6:30 p.m. Tickets start at 7,000 won (around $5) and range upwards to 143,000 won (around $120). For information or reservations, call 02-1588-7890.
— Moon Hyun-joo contributed to this report.
---
---
---
---