D-I girls
Stuttgart triumphs for fourth consecutive title
by
Gregory Broome
February 22, 2020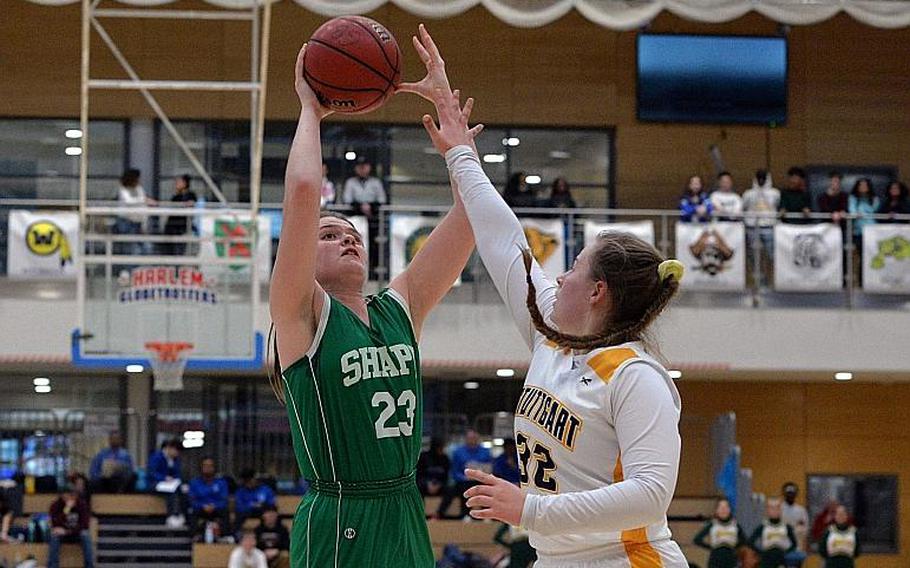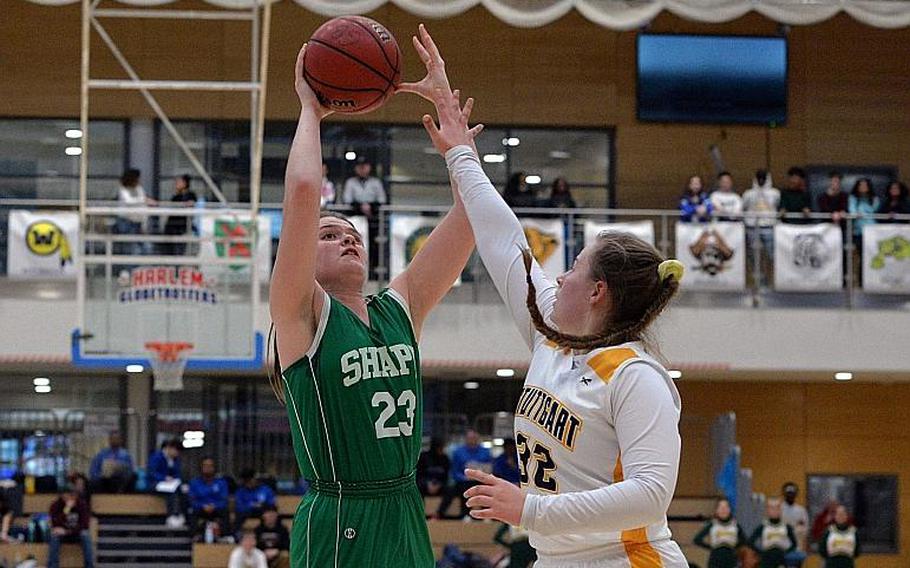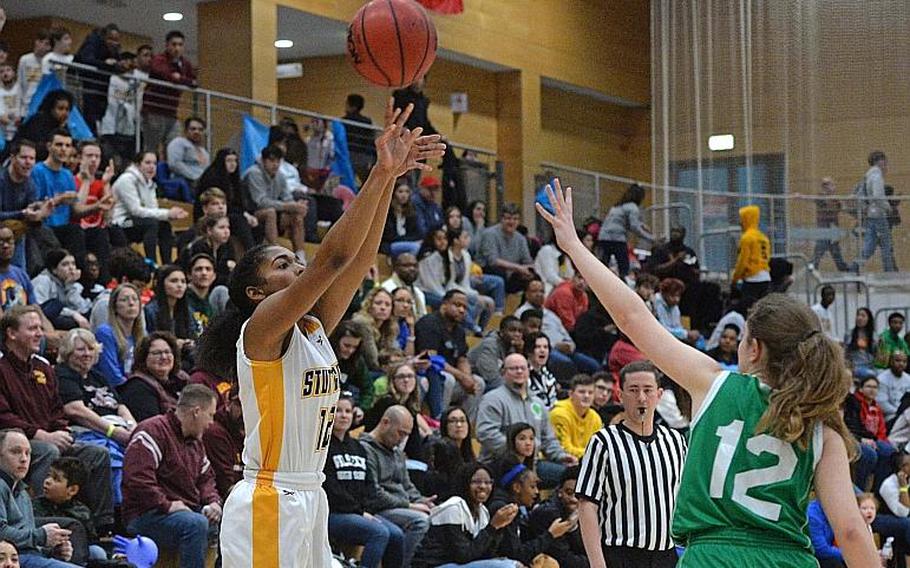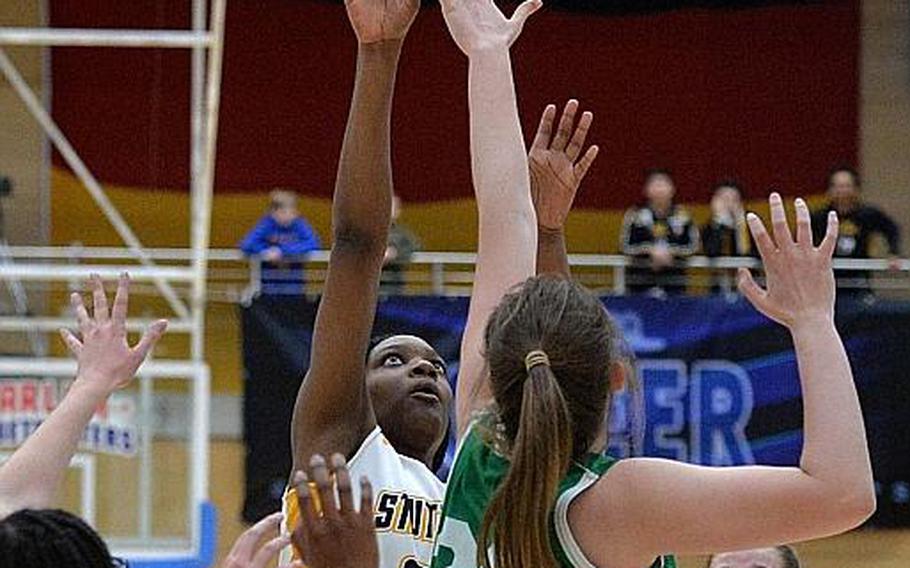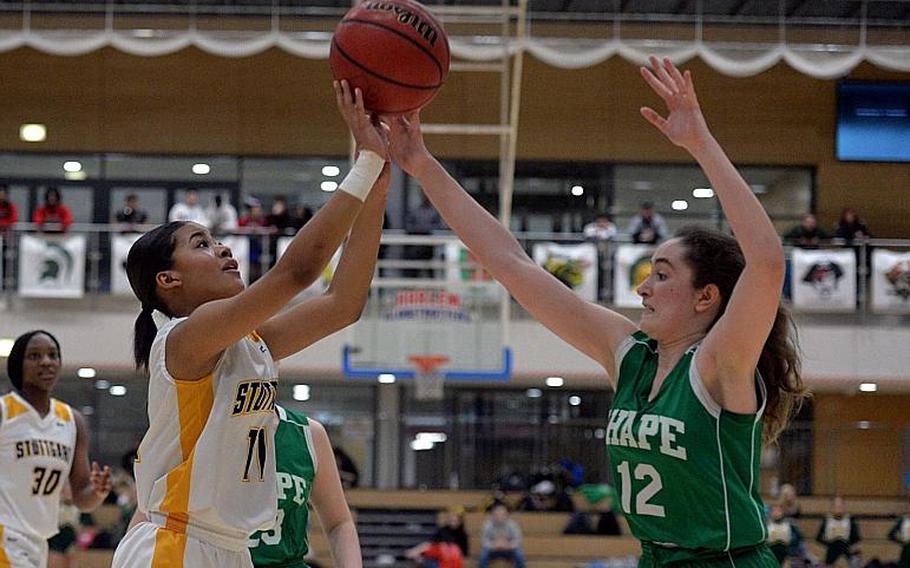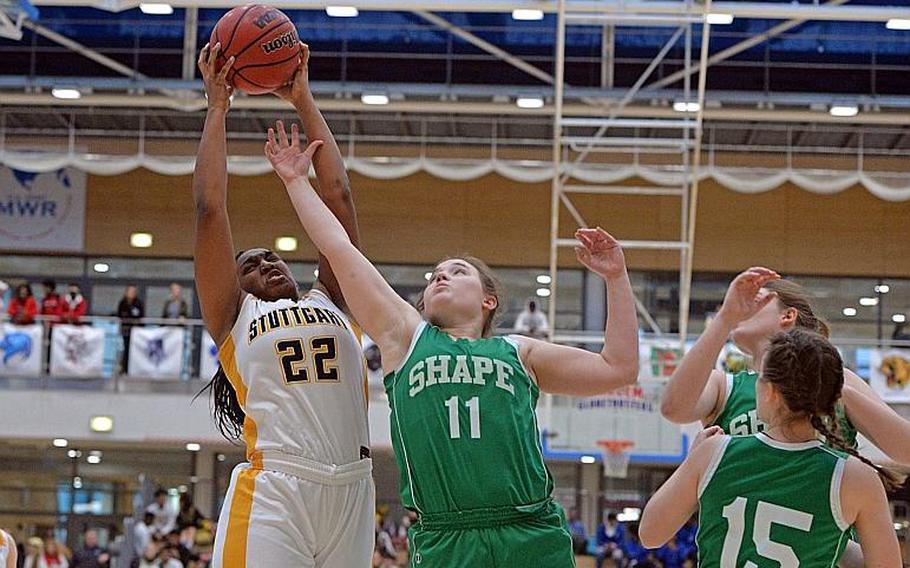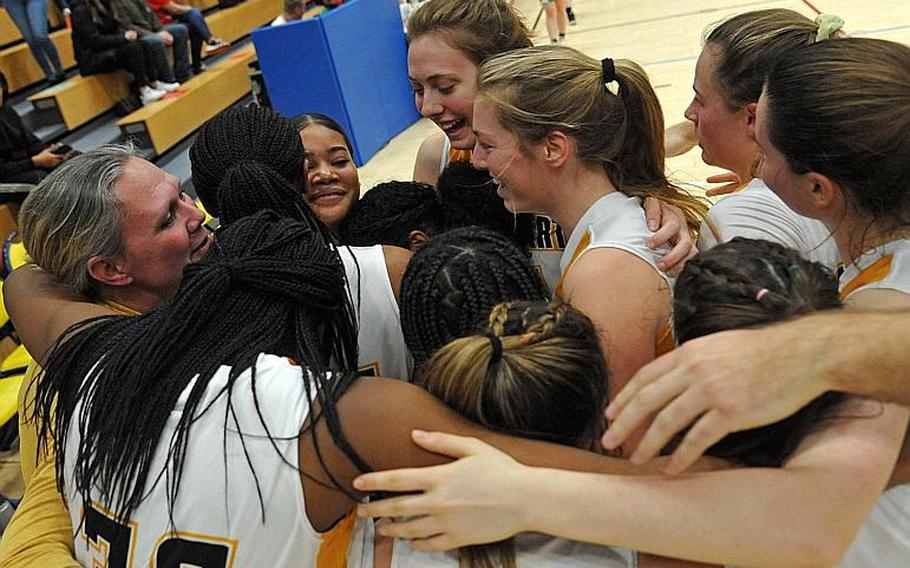 WIESBADEN, Germany – The dynasty continues.
The Stuttgart Panthers won their fourth straight DODEA-Europe Division I girls basketball championship Saturday at Clay Kaserne Fitness Center, finishing off an undefeated season with a 28-23 defeat of the SHAPE Spartans.
While girls hoops titles are becoming an annual tradition for Stuttgart, each year's team is a unique entity. Stuttgart coach Robin Hess said this year's Panthers were built on an unbreakable chemistry that manifested itself on the court.
"They support each other, they encourage each other, they pat each other on the back, they share the ball," Hess said. "They don't get mad at each other. They talk it out."
SHAPE loomed as the primary obstacle to another Stuttgart coronation, particularly after faring well in a 41-36 loss to the champs in the teams' regular-season finale Feb. 15, and the Spartans were very competitive again on Saturday as they played to an 8-8 draw through eight minutes.
But the Panthers were simply the superior team: bigger, faster, better, more productive. A second-quarter burst established a six-point halftime lead, and that multiple-possession advantage held up without incident until the final minute.
A three-pointer by SHAPE guard Gabi Shultz with 30 seconds to play cut the lead to five points, and the Spartans forced an immediate turnover to heighten the threat. But a string of timeouts and fouls over the final seconds produced no more points for either side.
"Unfortunately, we came up a little short tonight," Spartans coach Joe Cherrone said. "We got into our groove a little later than what we wanted to."
The five-point final margin was by far Stuttgart's smallest of an otherwise overwhelming postseason run. The Panthers won their three preliminary games by an average of 31 points and handled Kaiserslautern in Friday's semifinal round by a comfortable 37-24 score.
Ultimately the Spartans, who Hess called "tenacious," were the only team that offered any meaningful resistance. While his team lost the game, Cherrone said these Spartans accomplished the task of putting the program at the "top of the scene" in Division I hoops after years of postseason obsolescence.
"We're definitely trying to make a name for ourselves," Cherrone said.
Success such as SHAPE enjoyed this season can create a self-perpetuating cycle: winning attracts more talent, which breeds more winning, and so on.
"We want to try to keep it like that," Cherrone said. "Hopefully we can encourage girls around our community to come out and continue to play."
Stuttgart represents the idealized version of that model. Jaelyn Page, one of six seniors on the team, enjoyed a triumphant end to a career spanning four years, and four titles, with Hess and the Panther dynasty.
"It's kind of sad that it's over," said Page, who paired an outstanding defensive performance with a six-point outing on the other side. "But I'm really happy that I could spend all four years with her."
Sophomore Rebekah Johnson led six Stuttgart scorers with eight points. Elena Vascos-Lavere produced a game-high nine points for SHAPE, while Shultz finished with eight.
Broome.gregory@stripes.com Twitter: @broomestripes